Having scoured our bookshelves and surveying our docents on their favorites, we've come up with our picks for the 10 best books set in Beijing. From a grisly murder mystery to one dancer's autobiography, these Beijing books offer armchair traveling through engrossing narratives.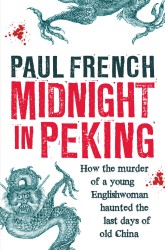 1. Midnight in Peking
A favorite of mine and of docent Jeremiah Jenne's, British expat Paul French's gripping real-life whodunit is the perfect read for the five-hour train ride from Shanghai to Beijing. The tale of Pamela Werner's gruesome 1937 murder is so rich in detail, so transportive, and so engaging that you won't be able to set the book down. Though it reads like fiction, Midnight in Peking is based on a true story—one that Jeremiah recommends as "a great read before heading into Beijing's old legation quarter," just south of Tiananmen Square.
2. Foreign Babes in Beijing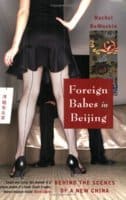 This nonfiction book makes the cut as a lite, funny look at one Columbia graduate's turn as the sultry white face of a Chinese soap opera.  In 1995, Rachel DeWoskin headed to Beijing to work at a PR firm but soon found herself starring in Foreign Babes in Beijing, a TV series that played to an estimated 600 million viewers. Somewhere between a memoir and chick-lit, DeWoskin's story is her coming of age tale interspersed with portraits of people she meets in Beijing and her experiences in the capital as China experienced enormous economic reform and cultural shifts.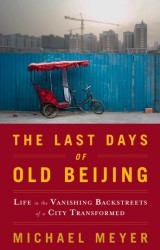 3. The Last Days of Old Beijing
Journalist Michael Meyer's first book was recommended to us by our resident Great Wall expert David Spindler and docent Jeremiah Jenne. Meyer spent a year living in a hutong just south of Qianmen [south of Tiananmen Square], "chronicling how urban renewal and redevelopment is affecting the residents of Beijing's old neighborhoods." Spindler describes the book as "a great education about the hutongs." Meyer skillfully paints portraits of his neighbors and showing through these characters and his research that the type of community found in the hutongs cannot be replicated in the new construction that's taking over.
4. Playing for Thrills
Docent Misha Tadd recommends Wang Shuo's Beijing-set noir, a murder story that pulls the reader through the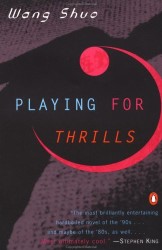 capital's seedy underbelly. The plot will be familiar to murder mystery aficionados—jaded anti-hero searching for the truth and justice—but bad-boy Wang Shuo is far from your typical paperback writer. Misha says, "The translator is the famous Howard Goldblatt who helped Mo Yan get his Nobel Prize, which guarantees a high level of English."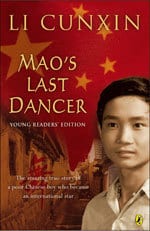 5. Mao's Last Dancer
Li Cunxin's autobiography was published in 2003 and made into a film in 2009; it is the 12th-highest grossing Australian film of all time. Li Cunxin was born into a poor family in rural Shandong Province but travels to Beijing to audition for Madame Mao's Dance Academy. Admitted to the school, he spends the next six years in grueling training, eventually being sent abroad to the US. While there, he begins to question the Communist Party ideals and quickly falls in love with an American ballerina. The story has a happy ending but not without emotional turmoil and, though Mao's Last Dancer is indeed an autobiography, it reads like the best of fiction.
6. Legacies: A Chinese Mosaic
Bette Bao Lord was born in China, raised in the U.S., and returned to China as the wife of the American ambassador in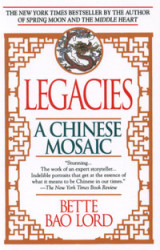 the late 1980s. Part memoir and part character vignettes, 
Legacies
takes place across China, with several chapters set in Beijing. Docent Misha Tadd recommends it as a "powerful collection of stories," and indeed it is, touching on major events like the Cultural Revolution and The Great Leap Forward, but as they related to Bao Lord's characters.

7. Rickshaw
Lao She's eighth book is considered a modern Chinese classic, translated into English by J.M. James. Over a period of five years in 1930s Peking, Rickshaw follows rickshaw puller Xiang Zi through a politically and socially volatile time in Beijing. Though the translation has rendered it a fairly simple read, the book is dark and deeper than it appears on the surface, making it a must for anyone with a keen interest in the lives of ordinary Pekingers.

8. Beijing
Coma
Ma Jian has long been a vocal critic of China's ruling party and began writing 
Beijing Coma
while teaching Chinese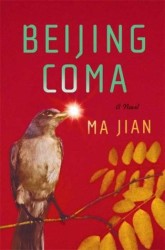 literature in Germany. The book is intense, a look inside the mind of protagonist Dai Wei, who has been in a coma for a decade after being shot in the head at the Tiananmen Square protests. In Dai Wei's memories, we travel from his childhood during the end of the Cultural Revolution to his student years at Beijing University, right up to the moments before the shooting. The book was translated by Ma Jian's partner, Flora Drew, with whom he lives in London.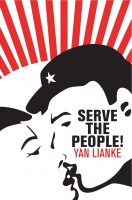 9. Serve the People

Yan Lianke's sultry novel is set in 1967 and tells the story of an affair between household servant Wu Dawang and Liu Lian, the wife of a Communist party commander. The book takes its name from a  Mao-era political slogan; in Yan Lianke's book, Liu Lian tells Wu Dawang that whenver she removes her Serve the People! sign from its hanging place, he must serve her. This is Yan Lianke's first novel to be translated into English (done by Julia Lovell, who also worked on
Lust, Caution
), and was previously banned in China.

10. The Uninvited

Author Geling Yang has quite the background. Born in Shanghai, at 14 she became a dancer with the People's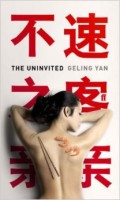 Liberation Army and then, in 1979, a war correspondent covering the Sino-Vietnamese war. In 1989, she was exiled from China and has lived since then in the U.S. 
The Uninvited, 
which she wrote in English
,
is a comedy of errors, a poignant look at mistaken identity in contemporary China. Impoverished factory worker Dan Dong, whose virtuous wife Little Plum is his moral foil, answers a job advertising for a security guard. Mistaken as a journalist, he's sent to a banquet where he's given 
hongbao
, a red envelope stuffed with money. With a stack of business cards, Dan Dong eats his way from banquet to banquet, cashing in and eating well, but soon runs into a host of problems.
Comments