Though Vincent Van Gogh remained relatively unknown for the majority of his lifetime, his artworks have a huge influence on contemporary art and culture, with Amsterdam's Van Gogh Museum seeing more visitors year on year. As the 125th anniversary of Van Gogh's death approaches (July 29, 2015), we sat down with docent and art historian Lora Sariaslan, who leads our Van Gogh Museum Seminar in Amsterdam, to dive deeper into the enigmatic artists's personal history, creative spirit, and cultural legacy.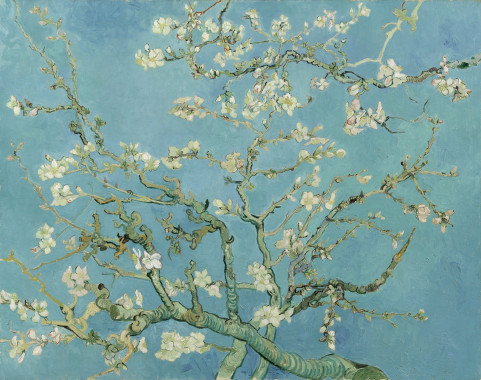 Context Travel: Why do you think Van Gogh has become such a compelling figure for so many people?
Lora Sariaslan: I guess he has every possible characteristic of a great figure: Talent, passion–initially religious and then artistic, love, and ambition. You have to think, we're talking about an individual who decided to become an artist in his late twenties. It's not someone who, from childhood, was determined to become a great artist. He tried to do many things and in the end he said, "No, my true calling is becoming an artist."
It's this journey that I think fascinates the public, but most importantly, it's also the shocking part of cutting off his ear.
CT: Are there notable myths or misconceptions about Van Gogh's life story?
LS: I think it's important to really look into his psychology. Art historians look at it from different sides now. A lot of multi­disciplinary research is being done on this, and there are different ways of reading it. We know that we're not talking about an extremely mentally stable individual–that's a fact. But I think people would like to think that he was just an extremely interesting, eccentric, and fragile character. It would fit into the story much better and people would like to hear about this aspect. All the things that he did in the southern villages of France, the hearsay–I wouldn't call them misconceptions, per se, but they're like the salt and pepper of the story. It's like, art history meets a gossipy way of talking about someone's biography. Plus you have great art.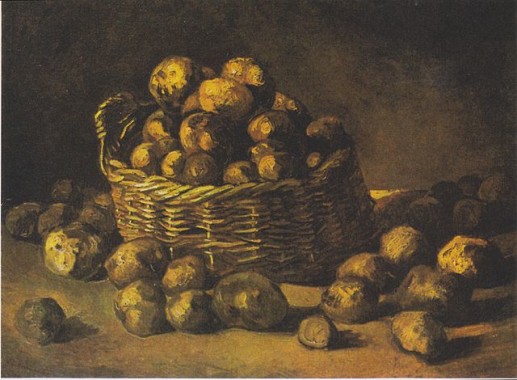 CT: There's a tendency, when you're looking at an historical figure, to try to humanize them. Gossip is a natural result of that.

LS; You have to think within the context. I started by saying that there are so many keywords in his life: Within the context of the geography, the family that he was coming from, and of his times. Religion was a dominant power; let's remember that he was the eldest son of a Dutch Reformed minister. In addition to the religious climate, and his familial surroundings, there is also his physical geography. He was from the dark north. You have to think about it like the cuisine of certain geographies: what you have, you have to use. So in his case, for instance, there was no light. In his initial stages, all the paintings and drawings were extremely dark. This is combined with his psychology, but it's the sheer fact that there is hardly any light for long months in the Netherlands. Then he moved to Paris and from there to the South of France, and the climate changes–and most importantly there is light. Suddenly it's beautiful colors, it's happier, and­ you feel it. All these things you have to think about when you are looking at the outcome, within the context of the artist and his time.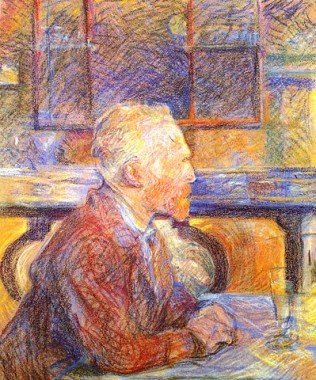 CT: Do you think those things get lost now within this mythology around him? As you say, there are these stories that people are really drawn to, about his ear, and so on. Do you think those everyday, practical considerations get lost when people think or talk about Van Gogh?
LS: It depends on the context, on who you're talking to and how you're talking about it. If you are talking within a museological or an art historical context, it's barely about the cutting of the ear. It gets much deeper because you have to think about the evolution, his milieu,  and through these what sort of story the artist creates. You can touch on certain episodes, in that sense. But obviously, according to the context and the audience, the story that is told about the artist can change radically.
For instance, when I was giving children's tours, even kids that I did not think would know about the ear situation knew about it. I was fascinated. Six­- or seven-­year­-old kids knew about it. I asked them, "What do you know about him?" And that's the first thing that they said. This I find quite fascinating, and once again shows how human memory focuses on this event.
CT: It's so pervasive.
LS: Exactly. It overcomes everything else. And then you [as an art historian] have to build up the myth in a different way, to let people understand that this was not an out-of-the-blue instance.
CT: You mentioned that the scholarship around Van Gogh has become more multidisciplinary. What is the movement like at the moment?

LS: People are looking at criminal issues such as psychology; they're even looking at the love part: That it was not only meant for the opposite sex, but for the same sex as well. These things that have not been popularized or have not been put into the short biography. Now people are really looking at what exactly was the nature of his relationship with the people around him. Could this have caused this psychological tension and the art that we see?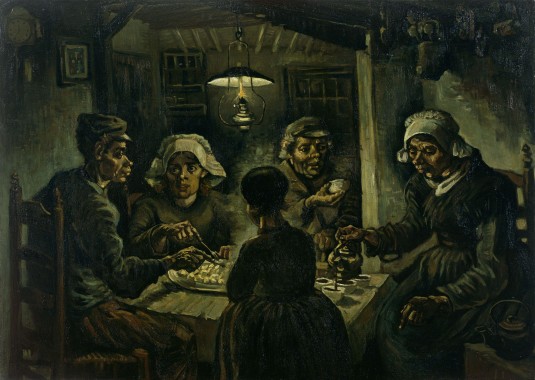 CT: You talked about how, at the beginning of his life as an artist, he was really influenced by his surroundings, by his environment. Do you have other examples from the course of his life, where his works are strongly connected to his life story?
LS: 
I can think of three iconic works immediately, which nicely show the division between the dark and the more uplifting periods.
The first one is one of his most famous paintings, his first multi-figured, large-scale composition The Potato Eaters. When you look at the painting, the first thing that strikes you is the darkness, dark environment around the Netherlands­ it's that landscape we're talking about. In addition, he knows the context of that dinner table, he knows how hard the potato eaters had worked, and he has this wonderful quote that explains how he sought to express that the peasants "have tilled the earth themselves with the same hands they are putting in the dish." When you really think about the painting, and Context clients would have seen (or will see) it in Amsterdam, you really feel the earthiness in the colors, in the tones, even in the way that he's using his brush. You really feel the potatoes still have the soil on them, you sense that natural feeling. I would say that's one where his surroundings, be it his psychological surroundings or physical surroundings, have unfolded in the painting.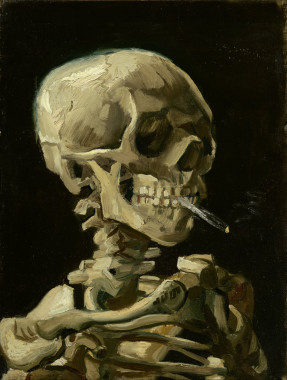 Number two would be the Skull of a Skeleton with Burning Cigarette. It is really special for me, as it stands out from everything else. I think it's hilarious to look at; you would never think that it's a Van Gogh, and it's very, very humourous. It's a distinct work because it's connecting the traditional with the academic way of studying the figure (or in this case a lack of a figure, as the subject matter is a skeleton) through a very Van Gogh perspective with a Van Gogh twist.
Finally,  Almond Blossom (lead image) is the depiction of a sparkling still life of delicate almond blossom against a clear blue sky for his new-born nephew Vincent Willem. It's filled with light and life, something that you don't necessarily equate with Van Gogh. And this, for instance, was done as he was actually going through mental problems and treatment in Provence. Everything else was extremely dark during that period for him, and this is one painting that really stands out. He painted it as a gift to his newborn nephew, who, ironically enough, much later, if you fast forward the story of Van Gogh and his legacy, is the reason that today we have the Van Gogh Museum in Amsterdam, as Vincent Willem was the one to found the museum. I find it all very relevant and interconnected. That's why I'm saying, you cannot necessarily say, "Oh, this is just because ______." You have to think within the context. There is a bigger story, just like in our lives.
CT: How do you think Van Gogh is positioned amongst his contemporaries?
LS: Rather normally. Everyone was moving around. I think his life is a perfect example. They [the artists of the time] knew where the centre of attraction was, and it was Paris, so he moved there.
 But then he also had quite a pioneering idea of starting an artist commune in the south of France, and that's why he moved south. He's not the only one. When you think about other artists like Cézanne, Matisse, or Renoir, light was so crucial for them that they moved even further south, spending time in Algeria, Tunisia, or Morocco. Van Gogh didn't go as south, but I think he went south enough for him.
CT: In comparison with Benelux, he was coming out of the darkness.
LS: And the rain and the cold, definitely!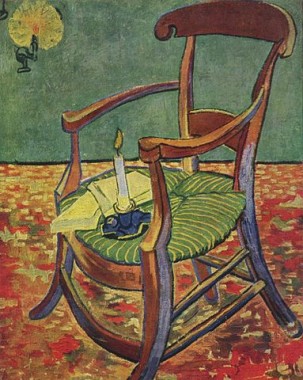 CT: Do you think that those are the key figures to consider (Matisse, Cezanne) ­when thinking about how Van Gogh was related to the artistic movements of his time?
LS: No, just that here is the desire of the artist to get to the sea and to the light. That's why I gave those artists as examples. He [Van Gogh] has a good combination of being sort of a solitary, eccentric figure–which he was at the beginning–and then trying to work within in a big city (Paris) and then trying to create a commune, in a smaller village setting. He went through similar phases that the artists of the period went through in terms of moving, discovering, and encountering.
CT: The Van Gogh Museum is putting on this new exhibit this fall that pairs Van Gogh's works with Edvard Munch. What sort of connections do you see them drawing there? Why do you think they've decided on this combination of artists?
LS: 
I'm curious about it, too. They are two very popular figures, and two "loners"– or shall we say, ones with tormented lives in art history. I think an interesting analysis will come out of looking at their works. Also, the works do not travel very often, so it's truly rare opportunity for people to see this duo. I'm also looking forward to it seeing this range of emotionally charged artworks.
CT: So do you see it as a natural pairing?
LS: No, there's a surprise element. It will be a wonderful discovery! The natural ones would have been, for instance, those that are also on view in the Van Gogh Museum; the artists that Van Gogh had connections with.
That said,  when you think about the bigger geography, they are both sort of Nordic. They both have extremely popular images. And sometimes you really cannot explain why certain images have stood out more than others.
CT: How do you think Van Gogh has influenced artists in the 125 years since his death? This meteoric rise to stardom has happened.  How do you think that has played into the development of art in last century?

LS: There are individuals, I can even say Turkish artists, who have been influenced by him, in terms of using the palette and using different choices of colours to depict a natural setting. Van Gogh does create an optical illusion in a way, through the colors that he uses. The museum has done a wonderful job in terms of showing the scientific research about what sort of colors and pigments he used and how they have unfortunately faded through time.
In terms of effecting contemporary art, we should not only think about painting, but also about videos and cinema. He has been a figure of influence for modern and contemporary artists.
CT: How do you feel his works are relevant today? How do you think they play into the themes that artists are grappling with today?
LS: In the end, we're talking about a human being. The different emotions that he went through–when you look at a self-­portrait of him, when you look into his eyes, the way he depicted them–I think you find yourself, or someone that you know. There is always a connection. It's not only the popularity of Van Gogh, but people do find something in him. Whether he's depicting flowers, a baby, or a peasant, there is something in him that people relate to.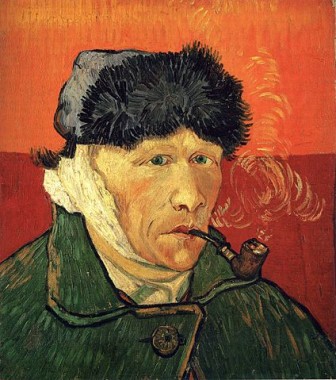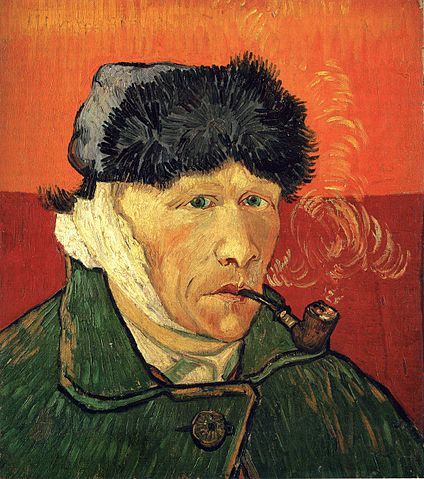 CT: Why do you think Amsterdam is such a special location for interacting with his story and meeting him, as a man? As you say, you look into his eyes, you look at his portraits, and you feel you perhaps know him or someone like him. Do you think there's something special about Amsterdam that enables that?
The Dutch were very forward­-thinking to create the museum. That is their true Dutchness, in a way. They're showing loyalty to one of their masters. They said, yes, if you give us the collection, we will create the building, and now here you have one of the most­ visited institutions, not only in the country or the region, but in the world. I think that through that open mindedness, the Netherlands and hence the public wins Van Gogh.
There are different artist that I would normally associate with the Netherlands. The masters in the Rijksmuseum spring to mind.

Exactly, the Golden Age. And those truly depict the Dutch way of life, through the canals, the landscape, the urban growth that is happening due to the colonial riches. You get a sense similar to the Venetian paintings of Canaletto. It gives you a sense of the city's geography, the movement that's happening in the city, its residents, and its travelers.
CT: It's mostly this Dutch spirit that has enabled Amsterdam to become this location.
LS: It's the afterlife of Van Gogh. I think it's fantastic, because they have rightfully claimed him and they're doing a good job.
To mark 125 years of Van Gogh's death, there are an unprecedented number of events and activities scheduled to honor the artist in France, Belgium, and the Netherlands this summer, making it a great time for art-lovers to travel and experience special exhibits across Europe. Amsterdam, home to the famous Van Gogh Museum is a great city to visit to take part in the celebration. The Van Gogh Museum currently has a special exhibition that features contemporary artists who have drawn inspiration from his letters and stories.
Additional editorial by Muriel Mills.
Comments