When launching a new city there is nothing better than hitting the ground running and taking in the best of what the city has to offer.  In May Context owner Paul Bennett and I traveled to the Czech Republic to run through our walking tours in Prague with the great group of docents we have in that city.  Along with that we were privileged to get an insider's glimpse of the history and culture of the Czech capital.  In pictures and words, here is a wrap up of a great 48 hours in Prague.
Day 1
The location of our accommodation, the Hotel Mucha, by the Florenc metro stop made for a quick bus/metro transfer from the airport.  We were forewarned by all of our docents to be aware of taxi schemes.  It seems that there is an unfortunate common practice of ripping off tourists.  If you must take, the AAA Taxi company is recommended, as they have built their reputation on fair and regulated prices.
After checking into hotel, which offered simple, but large rooms and great WiFi at a good price, we hit the ground running and met with our docents to run through our walk on the rise and fall of Communism in Prague.  This meant a quick bus ride and then walk up the Vitkov Hill.  Though a little steep, the walk uphill was worth it for the incredible views over Prague and the site itself, which has the mausoleum to early Communist leaders and is key to understanding Communism in Prague.
Lunch entailed taking in one of Prague's many grand cafe's, which are all steeped in the culture of the 19th century.  The Grand Cafe Orient is housed inside a fantastic example of Cubist architecture and is actually the meeting point for our walk discussing Prague at the turn of the 20th century.  A light lunch and some delicious dessert later, we used the easy to navigate tram system to head back to hotel and rest up before an evening out.  Prague has a very walkable city center, but trams and metro are a great way to connect yourself over longer distances and run in a timely fashion.  A day pass that will cover all public transit costs just 100 CZK, well worth the expense.
Opera, music, and theater are so integral to Prague's history that a visit would not be complete without taking in a performance at the National Theater (Národní divadlo).  Our performance of Wagner's Parsifal was mesmerizing both for the opulent environment of the theater and the modern staging of the opera.  We were also pleasantly surprised that the performance featured Czech and English subtitles at the top of the stage, allowing us to follow the German dialogue.  Tickets to the National Theater, as well as the State Opera and other venues, are easily bookable online and are even delivered straight to your hotel.
Day 2
After a morning breakfast meeting in the historic Café Louvre, we spent the morning exploring the former Jewish quarter of Prague.  A highlight of that area is the Jewish Cemetery, where thousands of gravestones are packed into a small area.  Visually stunning, the site also allows for discussion of burial customs and traditions.  This particular site, along with the numerous synagogues located in the vicinity will form the core of a tour on the Jewish history of Prague that will launch shortly.
Our afternoon consisted of a run through of our Habsburg walk.  What fascinated me here was Prague's role theological debate and tension during the Renaissance period.  Building on what we'd already learned during an earlier run through of our Charles IV walk, we saw Old Town through a new lens and really got a feel for how these streets have been home to revolts and revolutions continuously throughout time.
Our end to a packed few days was a delicious dinner at Sansho.  Recommended by one of our docents as a new exciting entry on the dining scene, we enjoyed a fixed course meal with a slightly Asian flair.  From a salmon sashimi to lamb sliders, everything was delicious.  The family style seating and dining was only enhanced by how attentive the staff was (even asking when I emailed to reserve if we had an allergies or aversions).  A trip there made the perfect ending to a lovely, though all too brief trip to Prague.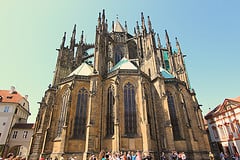 Comments