Putting a lot of effort into seeing contemporary art in Berlin may seem unnecessary. With over 300 galleries it's difficult to walk down a street in the city center without happening upon a few, but these white cube galleries are only one side of Berlin's art scene. Falling in line with artists who occupied buildings after the fall of the Berlin Wall, artists and gallerists today continue to explore the possibilities the city's unused spaces offer, turning bunkers, post offices, and water reservoirs into art venues. The transformation and repurposing of unexpected structures that gives the Berlin contemporary art scene its unique character can also make gaining access to, or even just finding, sites a challenge. Below are five contemporary art spaces in Berlin, some hidden in plain sight and some off the beaten path, that are well worth putting in a little extra effort to experience.
The building itself is now in its fifth incarnation. Built in 1942 as a bunker to protect civilians, it was later used as a Soviet prison, a tropical fruit warehouse, and converted into what was considered to be the world's most hardcore nightclub. In 2003 advertising magnate Christian Boros purchased the structure and five years of work were carried out to convert the building into an exhibition space for his contemporary art collection. The collection is made up of over 500 works and includes pieces by Santiago Sierra, Elmgreen and Dragset, and Damien Hirst. The Sammlung Boros requires a bit of extra effort to view not because it's difficult to find (it is a concrete behemoth right in the center of the city) but because visits to the collection are only available by guided tour Friday through Sunday, and it can take weeks or even months to get a reservation. If you're unable to book a reservation during your time in Berlin, you can always try your luck – tours start every hour and if someone fails to turn up for their reservation the very friendly staff will welcome you to join.
Reinhardtstrasse 20
2. Singuhr Höre Gallerie – Wasserspeicher im Prenzlauer Berg
Since 2007 Singuhr Höre Gallerie has been staging exhibitions in Prenzlauer Berg's two historic water reservoirs. These expansive subterranean structures, with vaulted brick labyrinths and astounding acoustics, serve as the atmospheric setting for innovative projects by both internationally known and emerging artists working with sound. Exhibitions typically take place from May through September and visiting hours can be found on the gallery's website.
Belforterstrasse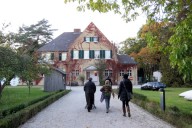 A bit off the beaten path, this exhibition space is more than worth the thirty minute subway trip from the center of Berlin. Constructed as a private mansion in 1923, Haus am Waldsee has been considered one of Germany's most important venues for international and Berlin contemporary art since it staged its first exhibition in 1946. Rejecting the German government's stance on the arts at the time, Haus am Waldsee began showing the work of "degenerate" artists including Oskar Moll. Their progressive stance on art led to an impressive list of exhibitions being held at the site including early shows by Picasso, Max Ernst, and Joan Miro. Today Haus am Waldsee continues its legacy of staging challenging and innovative exhibitions by contemporary international artists.
Argentinische Allee 30
On Rosenthatlerstrasse is Hackesche Höfe, a series of connected courtyards lined with bars, restaurants, and shops. In courtyard three of the complex you will find the A trans Pavilion, a sleek concrete and glass exhibition space. Since 2006, under the direction of architect and curator Isolde Nagel, the A Trans Pavilion has served as a platform for international artistic discourse on urban space and identity. The Berlin contemporary art pavilion's design enables the work inside to be viewable at all times, becoming a part of the bustling urban environment around it.
Hackesche Höfe Courtyard III, Rosenthalerstrasse 40/41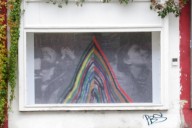 5. Sox
Hidden plain sight, this alternative art space is located on the bustling Oranienstrasse in the heart of Berlin's Kreuzburg neighborhood. In the midst of shops, bars, and restaurants, Sox, a non-profit Berlin contemporary art project, uses a vitrine to present the work of a selected artist. The work is visible to passersby twenty-four hours a day. Exhibitions vary in both form and content and change every six to seven weeks.
Oranienstrasse 175
Interested in learning more about Berlin's contemporary art scene?  Context runs three hour Berlin gallery tours through the Mitte neighborhood, selecting the best of what's on offer in Berlin.
Comments