With over 3 million visitors a year, the Tower of London is one of the city's premiere attractions, yet this bastion of British history shows just one dimension of London. As Samuel Johnson famously wrote, "When a man is tired of London, he is tired of life". Beyond the classic sites, there are pockets of calm where you can enjoy the city in a new light. To get a Londoner's perspective, we asked our docents to share where they like to take time out from the hustle and bustle of city life, giving you some good reasons to skip the crowds at the Tower of London.
Chelsea Physic Garden
It should come as no surprise that some of the most popular retreats for our docents are the city's numerous gardens and parks. Set a short way back from the River Thames, the Chelsea Physic Garden provides a welcome respite from the busy traffic that runs down the Chelsea Embankment. Originally built in 1673 by the Worshipful Society of Apothecaries, it became an important centre of botany as well as providing a place to study the medicinal properties of plants. In addition to the shrubs and plants that fill its beds and glass houses, the garden also has a great cafe which is open from April until October. As our culinary expert Kathy Kordalis told us, "it's a really special place and a great place to stop after a visit to the garden, which is a must!". If you're planning a trip to London between 19th and 23rd May, we would highly recommend booking tickets for the  Chelsea Flower Show, just a short walk from the Chelsea Physic Garden. Running since 1913, this is one of the largest flower shows in the country, with cutting-edge garden design and a range of new plants. Wander through this riverside idyll and you'll be struck by bursts of colour and eye-catching architectural elements.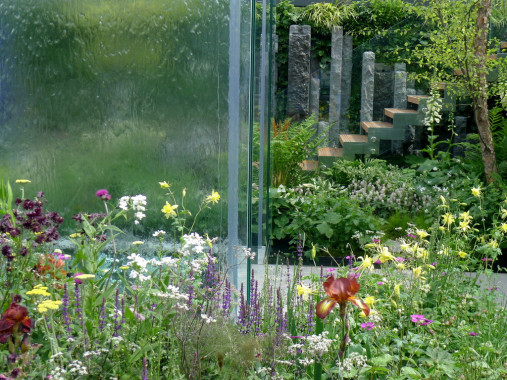 Postman's Park
If you find yourself in the dense streets of the City, our docent Sarah Jane Kitching recommends one of her favourite spots in London, Postman's Park, just a short distance from St. Paul's Cathedral. This quiet garden is not just a pretty place to pause but is rich in history, containing the famous Watts Memorial to Heroic Self-Sacrifice, which commemorates "heroism in every-day life". If you'd like to discover more about the 62 people remembered in this park, there's a free app called The Everyday Heroes of Postman's Park, which provides thoughtful background information.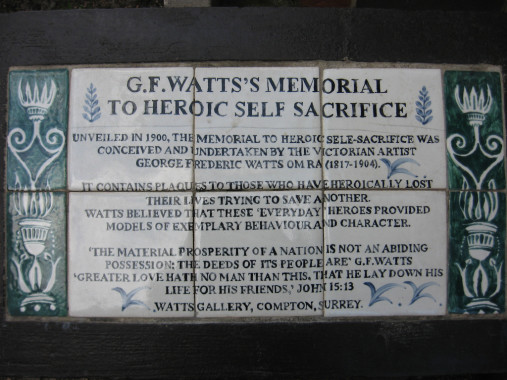 Queen Elizabeth Hall
In recent years, the trend for rooftop gardens has hit London and our docent Philippa Owen has a particular favourite: "I love the allotment garden on top of the Queen Elizabeth Hall in the summer. There is a cafe there and you sit surrounded by cabbages and beans and tomatoes and climbers. Heavenly!". Designed by the Eden Project, this unique spot is that open until late September, and offers incredible views across London, making is a great way to start your evening on the popular South Bank and end a riverside stroll.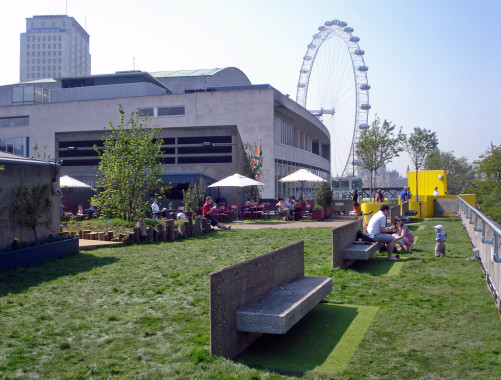 St. Stephen's Walbrook and St. Margarety Lothbury
We all know that you can't always rely on London for perfect sun but there are plenty of indoor spots where you can sit, relax and be inspired. Our docent and music specialist Ruth Shlovsky shared that St Stephen's Walbrook "has lunchtime organ recitals on Fridays. Designed by Christopher Wren, this is a particularly beautiful church and has wonderful acoustics". You can even take your lunch in with you! This is also one of our veteran docent David Thompson's favourite places to escape, often taking clients here on his tour of Christopher Wren masterpieces, "the new seating arrangement 'in the round' is centred upon a Henry Moore marble altar. Many have found solace in St Stephen's where its rector Chad Varah founded The Samaritans in 1953." David also recommended another of Wren's stunning churches, just a stone's throw away, St Margaret Lothbury. "This is my favourite place for peace and atmosphere – a haven from the modern world in a quiet street behind the Bank of England". David explained that the church contains a spectacular collection of woodwork salvaged from other Wren churches that did not fare so well and were demolished as a consequence.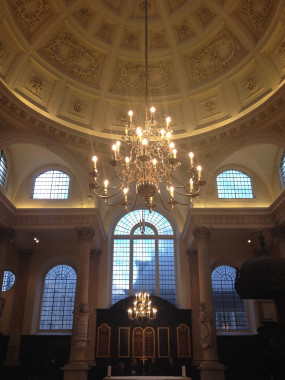 Wallace Restaurant
On the other side of town, the Wallace Restaurant comes highly recommended from our food docent Kathy. "This is the loveliest place to have a cup of tea in the inner courtyard away from the hustle and bustle of Oxford Street". Once you've refreshed and refuelled, be sure to visit the fabulous collection itself and absorb yourself in the enormous variety of paintings (its 8th century French paintings are outstanding), porcelain armour, furniture and decorative arts that make this one of the richest collections in the city.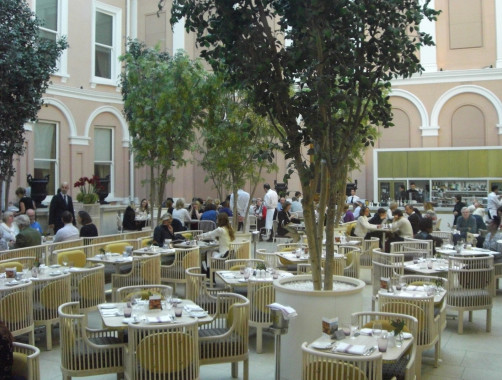 Visiting a city as big and as busy as London can be a tiring business but with these oases of calm throughout the city, you'll find plenty of opportunity to relax and reflect on your day's activities.
Comments