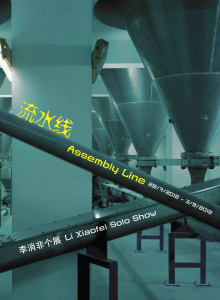 We sat down with Marissa Fox, a young curator in Shanghai, to chat about the city's contemporary art scene, what's on now, and some of the assumptions people make about Chinese art in general. Marissa is one of several docents who lead our Art in China Today walk in Shanghai, which focuses on the M50 art center.
Context: What is the biggest wrong assumption that people make about Chinese art?
Marissa: People often assume that Chinese contemporary art has had a longer history. However, contemporary art in China really only started in 1979, at the same time that Deng Xiaoping set forth his Open Door Policy. Prior to 1979, the majority of art was produced as government propaganda, like the iconic Mao posters. However, with the cultural and economic reforms in the late 1970s, China's artists had more freedom to to create and exhibit their works.
Context: A lot of the city's best galleries are concentrated in the M50 art zone. What is the most surprising thing about M50?
Marissa: M50 used to be a textile mill. While this former industrial park used to offer rents at only .4 RMB (6 cents) per square foot per day, it is now Shanghai's center for contemporary art and design.
Context: What's happening now there? 
Marissa: The exhibition I'm most excited about this summer is Li Xiaofei's "Assembly Line" solo show at OV Gallery. Li creates videos that explore the conceptual significance and the often overlooked aesthetics of manufacturing in modern China by using the factory worker, the foreign boss, and the factory itself as entry points into the mechanics of the assembly line.
Context: What are 2-3 three things you need to know about Chinese art before you visit M50?
Marissa: While "contemporary Chinese art" is a relatively recent phenomenon of the last 30 years (and a market phenomenon of the last 10 years), Chinese art stretches back thousands of years. The earlier traditions of Chinese art – from Shang bronzes to Tang Calligraphy to Ming ceramics – are often recalled in contemporary Chinese art as a means of referencing the past.
The government has the power to censor Chinese art and exercises that power frequently. Art exhibits in China today are heavily vetted by the Cultural Bureau. Thus, it is far more difficult to display controversial art or even art that could potentially be perceived as controversial. This makes exhibiting art especially tricky for curators and gallerists.
The Chinese art market is still going strong. For example, total auction sales for Chinese artist Zhang Daqian topped $500 million last year – more than Picasso! Last year, China accounted for 41% of international art auction sales. In other words, China is no longer a minor player in the global art market.
To learn more about Chinese art in Shanghai, join us for our Art in China Today tour.
Comments