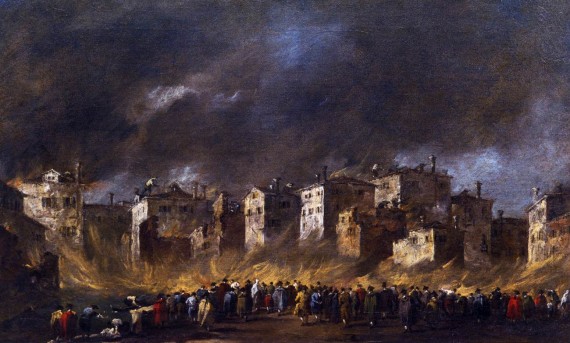 If you take an interest in Venetian art you're likely to know the work of Titian, Tintoretto and Veronese amongst others. But what about some of the city's lesser known artists? We asked our docent in Venice, art historian Susan Steer, to shed some light on the wider network of artists who have made important, if neglected, contributions to the city's artistic heritage.
1. Lorenzo Lotto (c.1480-1556)
Lorenzo Lotto was the Italian Renaissance's great under-achiever. His career had started brilliantly and he looked set for fame and fortune when he won a major contract to re-decorate rooms in the papal palace at the Vatican. But something went wrong: maybe it was a combination of bad luck and a difficult personality which conspired to frustrate his career and, as the influential writer and artist Giorgio Vasari observed, pious Lotto never enjoyed the success of his more worldly rivals. The Vatican frescoes were soon covered up by Pope Julius II, in the famous stanze redecorations he commissioned from Raphael and co. Posterity was unkind to Lotto too. His psychologically-penetrating portraits were attributed to celebrated masters like Titian and Holbein – attributions which reflect the Venetian and Germanic influences on Lotto's work. It was only at the end of the 1800s that Lotto's reputation was rehabilitated by American art historian Bernard Berenson.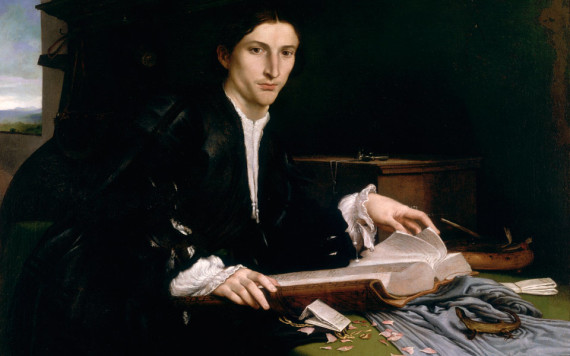 During visits to the Venice Accademia on the  Arte Veneziana walk, we sometimes stop by Lotto's intriguing Portrait of a Young Man (above), one of the most significant portraits in Venice's premier art museum.
2. Giambattista Cima da Conegliano (c. 1460-1517)
Crystalline light and mountainous landscapes which intimate the divine, are Cima's contribution to the development of early Renaissance painting. Because his exquisite paintings superficially resemble those of Giovanni Bellini, Cima's reputation has been overshadowed by that of the more famous artist. Yet Cima's poetic and limpid Baptism of Christ, which brings the river Jordan to the foothills of the Italian alps, clearly inspired the more senior Giovanni Bellini when he was asked to paint the same scene for a church in Vicenza.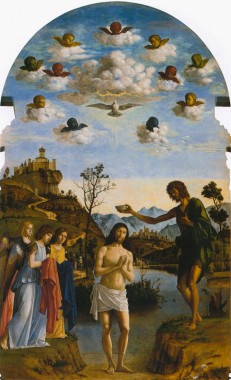 Cima's Baptism can be viewed in the church of San Giovanni in Bragora, which sometimes features in the Art and Society in Historic Venice walk.
3. Pietro Longhi (1700-1785)
Does Pietro Longhi gently mock the habits, pretentions and amusements of his fellow Venetians? Less obviously satirical than the English Hogarth, like his Anglo colleague, Longhi had aspired to gain repute in the more prestigious field of grand history or mythological painting. Instead, Longhi made his name in every-day subjects inspired by Dutch and Flemish genre painting, which he translated into the Venetian tongue: the lusty groping couple in a dark tavern, grandees promenading in masks, a quack peddling his dubious remedies to gullible customers, the hapless rhinoceros Clara, who was brought to Venice as a carnival side show.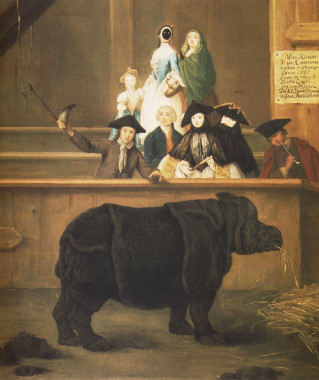 Nothing evokes the atmosphere of Venice of the 1700s like Pietro Longhi's paintings. We can enjoy many examples of Longhi's work during Casanova's Venice, which entails visits to the collections of the Querini-Stampalia or Ca'Rezzonico.
 4. Francesco Guardi (1712-1793)
Francesco Guardi's atmospheric evocations of Venice anticipate the developments of impressionist painting in the nineteenth century. The more famous Canaletto beguiled with azure skies and picture-postcard perfect architecture, appealing to the tastes of the aristocratic tourists who came to sample the delights of Venice on their grand tour. By contrast, Guardi's views of Venice are more impressionistic, as he captures the ephemeral effects of heat haze, mist or even smoke on the light and water.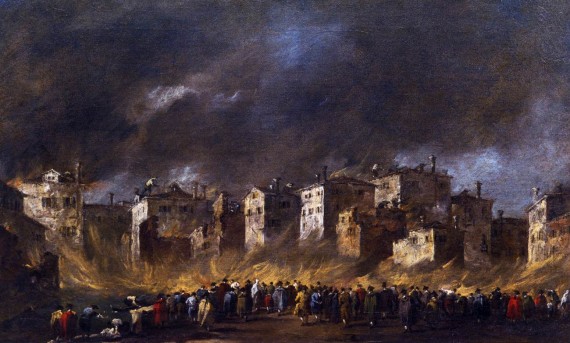 Guardi's Fire at the San Marcuola Oil Depot (above), may be seen on the Arte Veneziana visit to Venice's Accademia museum. Black smokes fills more than half the canvas, as the fire devours the fragile fabric of the city; the watching crowd are diminished and helpless.
 5. Giandomenico Tiepolo (1727-1804)
To be sure, Giandomenico's paintings are less glamorous and less technically brilliant than those of his international-superstar dad, Giambattista Tiepolo. Yet Giandomenico is the more edgy and, arguably, the more interesting artist.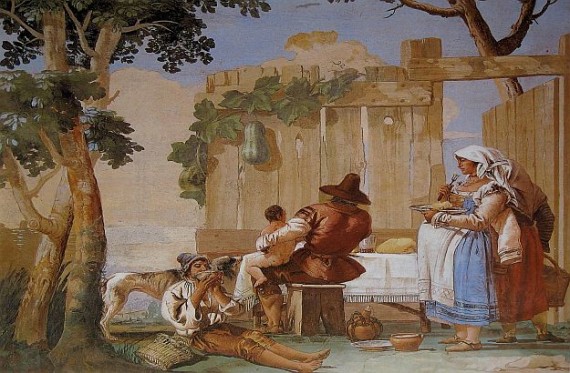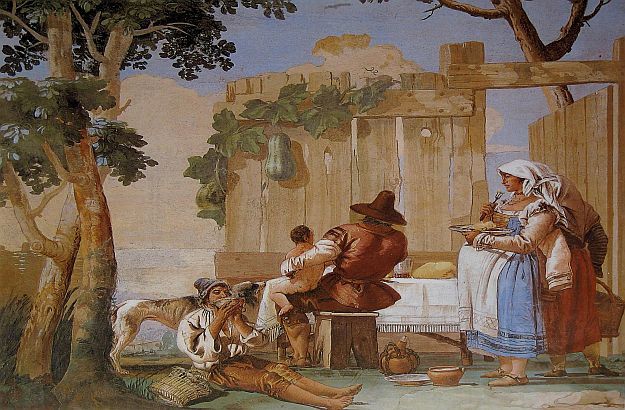 Frescoes by Giandomenico found in situ in the foresteria of the Villa Valmarana ai Nani near Vicenza can be compared with those of Giambattista in the main house. While his father had painted glamorous gods, antique superheroes and heroines in a shimmering silvery light, Giandomenico gives us a variety of scenes, from an improbable evocation of the Far East to earthy views of peasant life closer to home. In one scene a robust peasant family eat their polenta, the pregnant mother supporting her plate on her great swollen belly and the father balancing their toddler son on his immense thigh (above). With Giambattista we're up with the gods, with Giandomenico we're down to earth.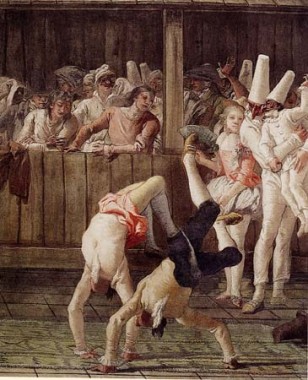 The frescoes which Giandomenico made for his family's villa are now displayed in Ca'Rezzonico, and may feature in Context's Casanova's Venice. In one small room we see the drunken, cavorting Punchinello (Punch), multiplied across the walls and ceiling (above), a nightmarish vision where party tipsiness has soured into a bad trip. Some critics have perceived a fin-de-siècle melancholic excess in Giandomenico's imagery, a harbinger of the imminent fall of Venice itself.
Comments