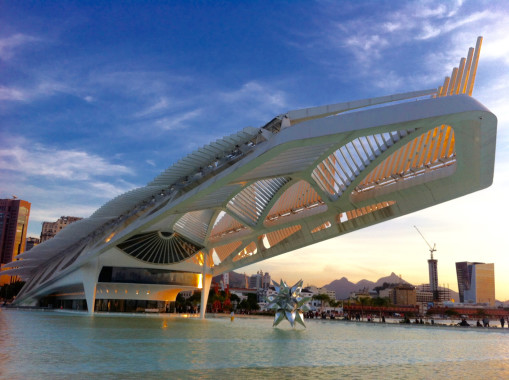 Are you hoping to rely on your guidebook from 2012 and your clear-as-yesterday memory of this city's transportation system to get you around during the Rio Olympics? Forget it. A lot has changed here. With an estimated 480,000 visitors, 15,000 athletes, 45,000 volunteers, 93,000 staff arriving for the Rio Olympics and Paralympic games and the 6.45 million locals trying to get around in August and September, Rio has to find transportation solutions for them all. The city has responded to these needs in many ways, and the largest of them, not surprisingly, occur in or between the four Olympic zones. These zones correlate roughly to the four corners of the city: Maracanã to the Northeast, Copacabana to the Southeast, Barra da Tijuca to the Southwest, and Deodoro to the Northwest.
Here is a summary and a few tricks to navigating the Rio Olympics and the big transportation projects the city is undertaking to prepare for this incredible influx of people.
Light Rail
Perhaps the largest infrastructure change prompted by the Rio Olympics is happening within the Maracanã zone, which covers the oldest part of the city, Centro. Just north of Centro is the port zone which, despite its rich Afrobrazilian history, was something of an industrial wasteland. It was here where millions of slaves were brought into Rio and consequently, it was here where samba was said to be born. It is also where the cruise ships dock, so the city finally decided to do an urban renewal project. It is a controversial and challenging project on many levels, due to the historical significance, the many stakeholders, the timeline, and the sheer complexity of the work. We offer a fantastic up-close study of the port zone on our Porto Maravilha Tour, but in summary, the renewal began in 2012 with the demolition of a double-decker highway that now gives way for bike lanes, a pedestrian greenway and a light rail system, the VLT. The old highway now runs underground through a 1.5 km long tunnel named "Túnel Rio 450" for the city's 450 year anniversary celebrated in 2015. The VLT has just begun to run in selected areas, but most importantly it connects the regional bus station Rodoviário Novo Rio to the domestic airport Santos Dumont. This is the best way to get to "Parada dos Museus," where the Museum of Tomorrow and an Olympic Live Site is, so there will be many events here during the Rio Olympics. You would take the Metro to Cinelândia (another historic square, covered in our Founding Rio walk), and transfer there to the VLT. In this initial test phase, entrance is R$3.80 and runs Monday to Friday from 8am-5pm.
Metro
Another massive undertaking was an extension of the Metro, called "Linha 4," or Line 4. It's a desirable project because it finally gives Rio's wealthier areas a reliable public transport option (yes, there are buses, but we'll get to that in a minute). Previously, the Metro's terminal station was in General Osorio Square, on the eastern edge of Ipanema. In order to reach western Ipanema or the beaches beyond – Leblon and Barra da Tijuca – you had to either catch a cab or bus, or take a long, long beach stroll. Line 4 is a stretch of five stops, and is just this week opening for testing. During the Rio Olympics, it will serve only limited people with special access, either ticket holders or staff with credentials.
Bus Rapid Transit
A third Olympic-centered infrastructure change is an extension of the bus rapid transit system, the BRT. This system serves mainly the working population who live far outside the areas along the coast. Here in Brazil we call it "the interior." For the first time, however, the BRT created a "Transolímpica" which will run directly from the interior to Barra da Tijuca, a chic neighborhood with vacation homes, towering condominiums, an endangered mangrove wetland, and a beautiful stretch of white sand beaches. For some, this is a project long-time coming, cutting commute times down 78%, and for others it is sure to be the ruin of the neighborhood. No matter which side of the coin the local resident falls on, the tourist is sure to find this extension a blessing since it connects the Olympic park in Barra to the Radical Park in Deodoro, the two largest venues during the Rio Olympics.
One-pass-fits-all
So far, we've mentioned three public transportation options, but fear not, there are still the buses, the train, and the ferry. All of these systems operating independently yet simultaneously have created a tourist navigational nightmare, since all of them cost different amounts, require different passes, and use different maps, signage and hours of operation (all in Portuguese, mind you). However, now for the first -and perhaps only- time, you can buy a Rio2016 games card, which unites all of these systems into a single pass. The pass costs R$25 for a day pass, R$70 for three days, and R$160 for seven days. There are also convenient, bi-lingual pocket-sized maps available for free at any city information booth.
City Bus
The buses, so what about the buses? You look on any city map, and there is no trace of them, yet you stand on the road and you scarcely see anything else. The short answer is, they are for the locals. It's not that they're bad or dangerous (they're actually a thrill if you like roller coasters), it's that they are victim to a system that tries to cater to multi-millions of people where each one is trying to get to a unique place without ever needing to transfer. The result is hundreds of bus lines, many of them going almost the same place, but not the same enough to just take any bus going west, for example. It gets even more complicated when you add the private bus lines, many operating nearly the same route, but with express options or hours. The city recently tried to simplify things by terminating several similar lines and creating a new numbering system called "Troncal." But the jury is still out on whether this actually helped or added to the confusion. It has many bus drivers asking passengers for directions, and Google Maps has yet to catch up, so it's probably the least tourist friendly transport option. Plus, during the Olympics you are best staying off all transportation that does not have a dedicated track, lane or rail to escape road traffic.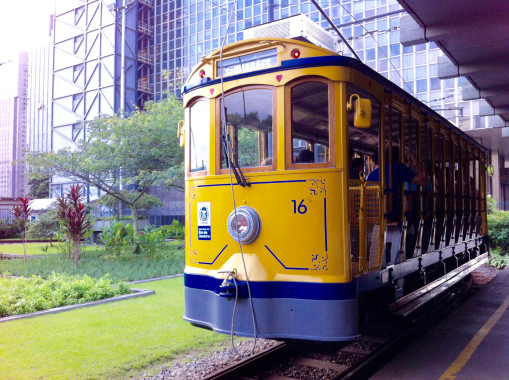 Tram
And finally, there is the beloved Santa Teresa Bondinho. There isn't time in this blog to tell the full story of this cute yellow tram (for that, you should join our Santa Teresa neighborhood tour & bondinho ride), but suffice to say that after four grueling years of grassroots neighborhood effort, the tram is partially running again. Sure, there is still over 60% of tracks to lay, but the most important section that takes you up the hill began test runs in July of 2015. The point of departure is tucked away on a small street in Centro, Rua Célio Gama, at the base of the infamous Petrobras oil company's world headquarters building. The train takes 32 passengers every 20 or 30 minutes on a pleasant 10-minute journey over the legendary Lapa Arches and winds its way through the quaint side streets of Santa Teresa before terminating its journey just two stops later at the neighborhood's main plaza Largo de Guimarães. It is currently free to ride and runs Monday to Saturday from 11am to 4pm, but show up well before it closes to guarantee a seat, since most everyone here for the Rio Olympics will also want a ride.
These new transportation options are sure to effect Rio's look and feel in a big way. Populations will move along the path of least resistance, and now more than ever there are news ways of moving through the city. At a time when there seems to be not enough good news about Brazil, these efforts to connect distant areas of the city might, eventually, prove to be it's salvation.
Happy Rio Olympics 2016 to all!
Comments