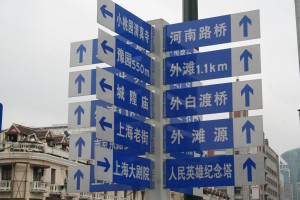 On a small plot of land wedged between the southern end of the Bund and a densely packed neighborhood of ramshackle structures—a fantastic remnant of old Shanghai—dozens of construction workers run cranes, pour concrete, and shuttle wheelbarrows frenetically about as they erect yet another skyscraper. American architect Jason Holtzman shakes his head in amazement. A veteran designer and project manager who has built buildings large and small on four continents, he's no stranger to the building process.
"This is amazing," he remarks. "A structure like this would take 3 years to build in New York. Here, it will take 14 months."
This is the pace of Shanghai—and China generally—where buildings rise overnight and an entire city morphs and evolves faster than American suburban contractor can remodel a bathroom.
Paradoxically, my favorite strategy for approaching Shanghai is to slow down and take my time. Yes, the city is moving at a harried pace. But, by going against the flow you open your eyes to amazing details.
First, let's start off with a typical Shanghai breakfast, steamed buns. These can be had at any number of street stalls in the city, such as those in the crowded alleyways near Yuan Gardens or in Xingfu Lu, next to Huashan Park. Although Shanghai police have been cracking down on street food stalls in the wake of several public health scandals last summer, street food culture is simply too integral to life in Shanghai to disappear. This is how most Chinese eat breakfast, and a good steamed dumpling is plenty safe in the morning when they're fresh.
Next, we head to the Jing 'An Temple, a Buddhist temple built by the Burmese in the middle of Shanghai. If we get there early enough in the day we're likely to catch faithful burning incense and praying to the four directions. Or, if we're super lucky, there might a funeral or other right taking place.
One of the wonders of this site is how it's ringed by modern skyscrapers and retail. Shanghainese like to joke that it's Buddhism in a mall, since international retail brands like Zara and Uniqlo lean up against the golden and wood walls of the Temple, creating a wonderfully jarring juxtaposition that says much about China today. (To learn more about Chinese Buddhism, join our Pure Land: China and Buddhism tour of Shanghai.)
From Jing 'An, it's a short walk down into the French Concession, a leafy "Greewhich Village-like" district that was occupied by the French in the wake of the Opium War when Shanghai was carved into international settlements. At that time, the British and Americans took the Bund. The French settled in this area and left on it an indelible imprint of sophistication and urban elegance.
If we wander down Fumin Lu (Lu means "street" in Mandarin) we'll pass a number of Shanghai's better art galleries, some of which feature China's top artists. Again, comparisons to New York (SoHo, in this case) come to mind, as Chinese contemporary art and the scene in cities like Shanghai and Beijing, is widely regard as the most exciting in the world, currently.
Art+, located just beyond Yan'An Lu (22 Fumin Lu, House #2), curated by Canadian Diana Freundl, features mix media by a range of artists from China and beyond.
For lunch locals head to Peoples 7, a hidden oasis at 805 Julu Lu. There's no sign. Just walk up the stairs and at the top, where you see the 9 illuminated holes, stick your hand into the middle one and whoompf a door to the left will slide open. Pick a table upstairs in the glass-enclosed sunroom that looks down over a bamboo garden and enjoy the fixed price lunch of noodles, spare ribs, and green tea.
In the afternoon, we'll make a walk of Shanghai juxtapositions, starting at near the river at Yuan Garden, we'll throw ourselves into the hurly burly of old Shanghai. While the gardens are fairly touristic, a little south of there is a densely packed neighborhood of alleyways and small homes that retain the flavor of Shanghai from yesteryear. This is one of my favorite views of the city: a maze of courtyard apartments—some without running water—with enormous skyscrapers bearing the names of international brands like Citibank or Aurora gleaming just beyond.
Taking the path of our Accelerated City walk, we'll head over to the South Bund and hope a ferry across the narrow Hangpu River, as Pudong looms ahead. Transformed in less than 20 years from farmland to financial center, we'll lose ourselves among the skyscrapers and urban canyons of Pudong before taking the bullet elevator to the top of the Shanghai World Financial Center, the tallest building in Shanghai, for a drink in the bar on the 91st floor and breathtaking views of the city.
Comments