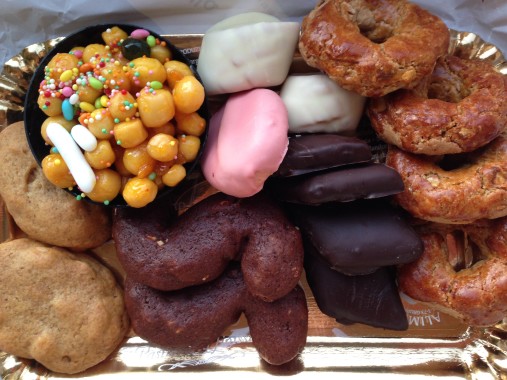 Wherever you celebrate Christmas, every meal culminates in a sweet treat that speaks to the palate as much as to the soul. Symbolic shapes and interesting ingredients are intended to evoke feelings of joy, peace and good wishes. Italy's regional culinary traditions provide a rich variety of dessert options to choose from to celebrate the holiday season with friends and family.
Naples and the region of Campania prepare as many as eight dolci for this special time of the year. Some used to be made by nuns in their convents and still bear their names: Paste Reali of San Gregorio Armeno, the sugary treats of Divino Amore, the spicy and soft biscuits of Sapienza. Others, such as struffoli, have their origins in the eastern Mediterranean; marzipan is believed to have been introduced by the Arabs and mostacciuoli were held together with the ingredient of the Aztecs: chocolate.
Stay with us to discover more about these special treats which have been incorporated in the culinary tradition of Naples and find their way on the city's and region's generous Christmas tables.
Struffoli
The quintessential Christmas dessert in Naples. Crunchy on the outside and light in the inside, these are deep fried balls of dough mixed with honey and dressed with diavulilli (colored sprinkles), cinnamon, and bits of candied orange peel. One (of many) variations also contemplates candied pumpkin: the so called cucuzzata. They are usually served cold, but it is not rare to enjoy them warm.
The name struffoli is generally believed to come from the Greek word strongulos meaning "round in shape". Most would agree they originate from Greece, though some argue they come from the Middle East. According to tradition, struffoli are considered good luck, the small balls along with the sweet ingredients are a symbol of abundance. For centuries these sweets were prepared in convents by nuns and then distributed to noble families at Christmas, as a thank you for their acts of charity and donations.
Zeppole Sorrentine
Typical of the Sorrento coast, these are fried donuts made of flour, water, milk and anise. They are seasoned with honey, diavulilli (colored sprinkles) and candied orange peel.
Among the crafts of the Neapolitan tradition existed also that of zeppollara, a woman sizzling the zeppole in lard or animal fat in the streets and serving them covered with honey.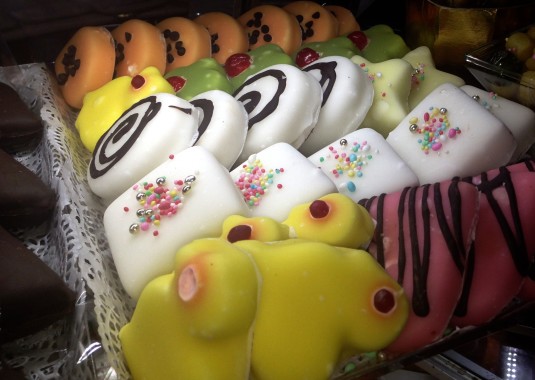 Paste Reali
Paste Reali also have their origins in the Neapolitan convents and consist of almond paste arranged on a wafer, the same wafer used for the sacramental bread or hostia. You will find them in every shape and in a variety of pastel colors ranging from pink to green, from pale yellow to light blue.
This is a Christmas Eve dessert. The sisters prepared them respecting the low-fat regime of the Vigil since they are prepared without any animal fat.
The stories surrounding these specialties would have King Ferdinand IV to name the almond paste used for these sweets, "marzipan". It is said that the king went to an afternoon visit to the convent of the sisters of San Gregorio Armeno and, after visiting the chapel and convent, was accompanied by the sisters in the refectory, where a large table was laid out with culinary delicacies such as lobster, roasted fish, chicken and pheasant, as well as exotic fruit. The king was a big eater but apologized, saying he had recently finished lunch and was not capable of facing such a meal. But the nuns supplicated him to at least taste some of it. He gave in and was utterly surprised to realize that all there was on the table was sweet almond paste beautifully carved and painstakingly hand-painted.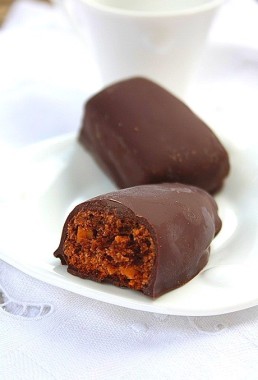 Mustacciuoli
Rhomboidal biscuits made of apple and candied fruit mixed with honey and covered in chocolate icing. Their name is to be linked to an old peasant recipe that used must instead of honey to blend the ingredients, but it is also Neapolitan for "moustaches", as their shape reminds remotely that of a moustache.
Susamielli
In the shape of an "S" these sweets were prepared with flour and liquefied honey. Different variations of these biscuits were offered to different classes. Susamielli nobili were made with white flour and honey and prepared for the upper class acquaintances. Susamielli del buon cammino ("of the right path") were specially made for the clergy and filled with sour cherries jam. A simpler variety made of flour and left overs was usually offered to pipers, street musicians and servants.
Sapienze
Are a slight variation of the susamielli and they owe their name to the cloistered nuns of the convent of Santa Maria della Sapienza, who prepared them with flour, honey and cinnamon. Along with the roccocò, susamielli and mustacciuoli, they are usually served on Christmas morning.
Divino Amore
A base of sponge cake to which are added candied orange peel and pumpkin covered with pink icing. They also derive their name from the omonimous cloistered community of nuns.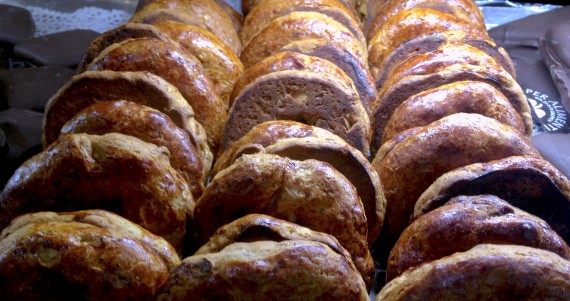 Roccocò
Donut-shaped, rock-hard biscuits made with flour, sugar, almonds and pisto (a mix of cinnamon, cloves, coriander, nutmeg, star anise) and usually served with Marsala or sweet wine to soften them. It seems that their name draws its origins from the French rocaille and would hint at their rock hard consistency.
Comments