On a recent trip to NYC we experienced the infinite possibilities that the city offers to locals as well as visitors.
Thanks to well informed friends, we discovered a gem of Grand Central Station: a tennis court! It doesn't happen often that I play tennis while visiting New York, but this opportunity could not be missed!
Hidden on the 3rd floor of the station, reachable by fancy elevators is the Vanderbilt Tennis club. The club, that opened in Sept 2011, is open to all but hiring the court in this unique location can cost from 90$/hour to 250$ at peak time.  This amazing space- a true luxury in Manhattan-used to be an art gallery, and then a CBS recording studio. Now it's a tennis court with high tech facilities (like a slow motion video-analysis), a practice court and a stunning Palladian window with views of Park Avenue South.
After a restoring shower we continued the evening… in the same building!  We celebrated our victory with drinks and food at The Campbell Apartment . This bar, little known to tourists but very popular with the busy crowd of commuters,is incredibly busy in the early evening, but it gets quiet and intimate around 10PM.
The Campbell Apartment used to be the private office of millionaire financier John W. Campbell. Today the bar has been beautifully restored while retaining an air of a wealthy 1920s club. The cocktail menu reflects this feeling boasting drinks like the Prohibition punch and the Kentucky Ginger.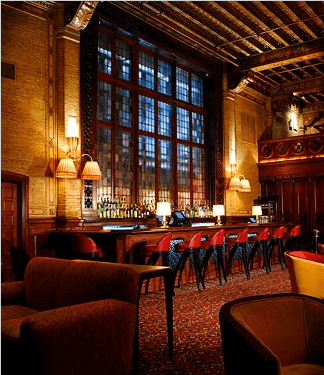 While the Campbell Apartment was never the residence of Mr. Campbell, it used to serve a similar purpose to the one it does today. In fact Campbell was famous for opening up his office to friends and business partners and entertain them at private concerts held in this grand space.
Note:
The Campbell Apartment has a dress code. Make sure you are dressed appropriately.
The Vanderbilt Tennis Club is open every day from 6AM to 1AM. Book your court!
Comments