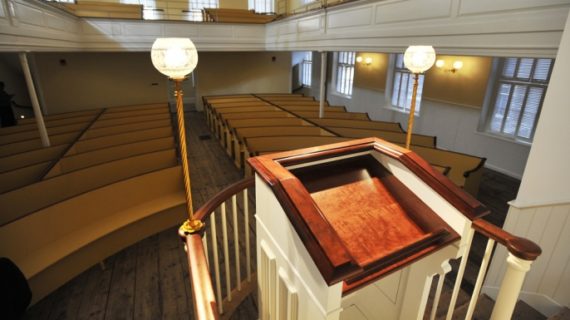 Last week, the African Meeting House, located in the Beacon Hill neighborhood of Boston, reopened after a multimillion dollar historic restoration. The Meeting House is part of the Museum of African American History which has campuses both on Beacon Hill in Boston and on the island of Nantucket. The National Historic Landmark had be closed to the public for 6 years during the restoration.
The African Meeting House was built in 1806 and is the oldest remaining African American church constructed by free black artisans. This structure was so much more than a church for the community, also serving as a school for local children, in a addition to functioning as a space where public, historic meetings were held. The space saw founding of the New England Anti-Slavery Society in 1832, and heard Frederick Douglass speak out against slavery. The restoration included returning all pews, wall finishes, cost-iron posts and 19th century architecture details to their original appearance circa 1855.
The African Meeting House, along with the rest of the Museum, is open Monday through Saturday, 10 a.m. to 4 p.m., and is included in our African American History Tour of Boston. You can learn more about African American heritage in Boston by reading docent Alex Goldfeld's blog post on the topic here.
Comments