When we think of Athens, predictable images come to mind: the iconic Parthenon, ruins in the Agora, maybe traffic-clogged streets of the modern metropolis. But, what we don't picture is an idyllic Cycladic village replete with sun-dappled streets, blue-washed walls, and winding stairways. Enter Anafiotika, a picture-perfect Greek village smack in the middle of modern Athens.
Where is Anafiotika
Anafiotika is a cluster of tiny cubic white houses built in the fashion of a Cycladic village, unusual for Athens. (To learn more about architecture in the city we recommend taking an Athens architecture walking tour.) If you've ever walked up to the Acropolis, you've probably passed by Anafiotika without knowing it. It is nestled between the steep northern slope and the touristic old neighborhood of Plaka, where most tourists head for a meal. (If you'd like to eat like the locals instead, join our Athens food tour).
Anafiotika, the old carpenters' village
The original core of the settlement dates back to 1841, when King Otto I decided to refurbish his palace, which later housed the Greek Parliament. Bricklayers and carpenters from the Cyclades, and specifically from the island of Anafi, answered the call to work and quickly established their headquarters at the foothill of the Acropolis. They erected the tiny, modest white houses with flat roofs in record time, allegedly by taking advantage of a law by which you could claim ownership of a building if you could assemble it between dawn and dusk. The name, Anafiotika of little Anafi, commemorates the place of origin of the dwellers, among which were G. Damigos, a carpenter and M. Sigalas, a builder, both from Anafi. This is also the area where, in 1922, Greek refugees from Asia Minor came to live.
Anafiotika today
Archaeological research conducted in the 1950s on the Acropolis severely impacted Anafiotika and today only about 45 original houses have survived destruction. Luckily, today the village is now protected under Greek law.
Perched as it is on the side of the slant, Anafiotika represents a quiet corner away from the crowds heading to the Parthenon nearby. The peacefulness alone makes the visit worth a short detour from the main road. Bright pink bougainvilleas and colorful doors dot the narrow alleys, which unwind with sudden turns and steep ramps. Don't expect to find businesses catering to tourists, such as restaurants and cafes, as this is still, to this day, a residential area, where cats have a safe and tranquil haven to roam free. From here, you'll also get some of the best views of the city of Athens sprawling underneath. Street art lovers may also want to head to Anafiotika, as some of the abandoned houses are covered with vibrant pieces.
A local anecdote
There's a popular anecdote about this area, which refers to the church of Saint George of the Rock.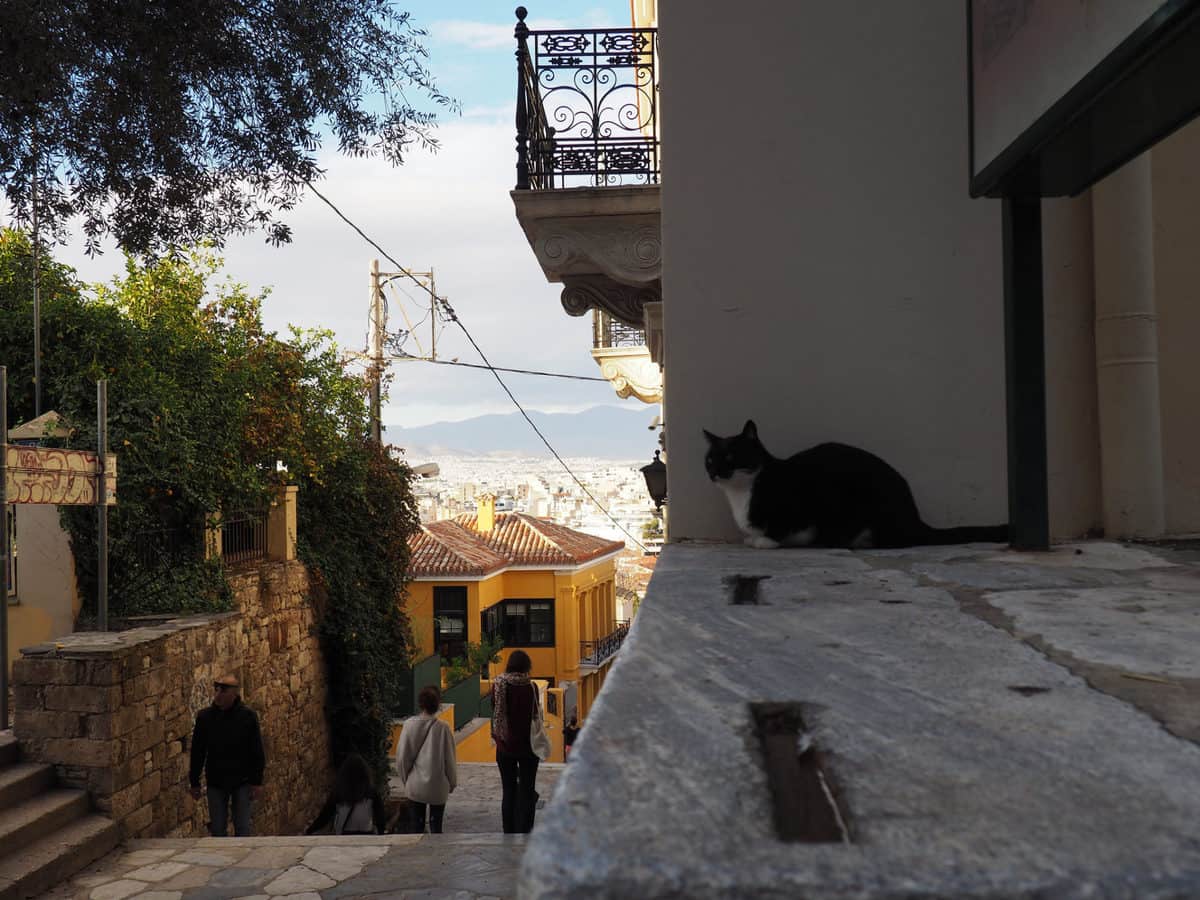 "According to the local tradition", says Vassilios Dalmagas, a historian who leads our Byzantine Athens Church Tour, "a Greek soldier, Konstantinos Koukidis, who was guarding the Greek flag on the Acropolis, jumped off the rock with the Greek flag wrapped on his shoulders, not wanting it to end up in Nazi hands, after they occupied the city."
"It's a nice, touching story," he concludes, "But…well…many say that it is not 100% true!"
Comments