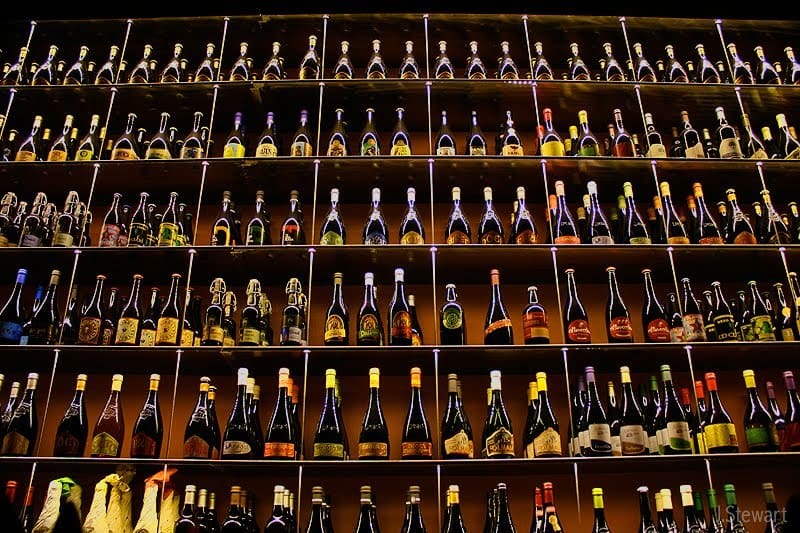 Beer in Italy? We normally think of red wines like those from Chianti or we think of prosecco, the Italian sparkling white wine, as the drinks of Italy. But, as in many other parts of the world, there's an artisanal beer movement happening here that's surprising and unique. Recently, a group of us from Context's Rome office got together with a number of our docents to learn about this beer revival in Italy. What we learned is that more and more restaurants and bars are now selling craft beers as their main beverages, and it is becoming a drink of choice among younger crowds. It's also really good.
Our guide for the evening was Katie Parla, historian and longtime Context docent who is also a certified food and drink connoisseur with a degree in culinary history. The tasting took place at the bar/restaurant, Open Baladin (near Campo de Fiori). Katie began the evening by explaining the history of beer in Italy and announced that we would be tasting three different types of Italian craft beers: Rat Weizen, Nora, and Ghisa along with some tasty appetizers to pair with our beverages. But before we could put the glasses up to our mouths, Katie gave us a basic primer on how to taste beer properly, which, as it happens, is a lot like wine appreciation: first, she advised, one should gently swirl the beer around the edges of the glass and then sniff it.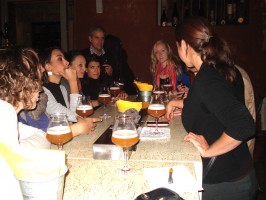 Italy now boasts over 500 breweries throughout the country, compared to ten years ago when there were less than 100. We were all pretty amazed by those statistics. Katie explained that beer is becoming a popular especially for Italian men between the ages of 25 and 35, who are now going out for a beer and a bite to eat with their friends after work instead of a glass of wine. Unlike in the USA, where people drink beer casually, watching sporting events or just hanging around the house, in Italy beer is a more expensive beverage, so people select it with care and attention. Most of the beers at Open Baladin (and other restaurants and bars) have the flat price of €5 a glass and a bottle (75cL) costs between €13-19.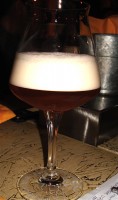 Though it may seem like beer is a new product on the market, it actually has been brewed in Italy since antiquity. Interestingly, in those days it was considered a poor man's drink or something that was consumed by barbarians in the northern part of Europe. It was only produced in the outskirts of the Roman Empire where wine was difficult to obtain and in the regions up north, where there were influences from northern Europe. But, we've come a long way in 2,000 years. With 500 breweries and sophisticated, lively places like Open Baladin, beer has transformed itself in Italy. Bacchus (the wine god) has welcomed Silenus (the beer god) into the neighborhood with open arms.
Comments