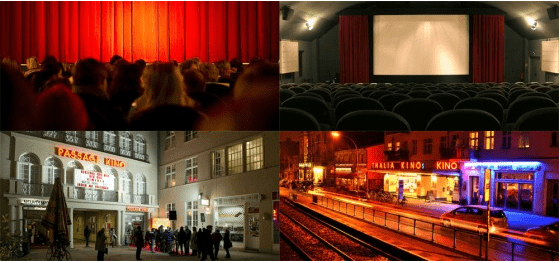 Well, it's that time again.  Ice floes are drifting slowly down the Spree, a light dusting of snow blankets Berlin's roofs and trees, and the world's largest publicly attended film festival is about to get underway.  If the weather isn't necessarily worth a visit (though they say it "builds character") the movies certainly are.
The 62nd Berlin International Film Festival (or the "Berlinale," as it's usually called) runs from the 9th through the 19th February and will feature more than 400 international films.  Founded in West Berlin in 1951 by Oscar Martay (the "Film Officer" of the American military administration in Germany after WWII), the festival is divided into seven sections.  The eighteen films in the Competition section – including films from the U.S., Senegal, Germany, Hungary, Greece, China, Brazil, and other countries around the world – are the only ones eligible to win the much-coveted "Golden Bear."  In addition to the Competition section, however, there are also the independent and art house films shown in Panorama, films for young audiences in Generation, new discoveries from the German film scene in Perspektive Deutsches Kino, avant-garde and experimental works in Forum, and an exploration of cinematic possibilities in Berlinale Shorts.  The program is rounded out by Retrospective and Homage sections that focus on the œuvre of a great personality of cinema.  See the Berlinale's website for the full program here.
Given the fact that a long list of luminaries – Jean Luc Goddard, Martin Scorsese, Robert Altman, the Coen brothers, Oliver Stone, etc. – have chosen the Berlinale to premiere their latest works, there is always a considerable amount of attention and excitement devoted to the competition films.  The variety this year is as impressive as always.  Among them are Benoït Jacquot's historical drama Les adieux à la Reine (set in the early days of the French Revolution); Alain Gomis's Aujourd'hui (the reverse emigration story of an American man who returns to Senegal, the land of his birth); Paolo and Vittorio Taviani's Caesar Must Die (a documentary exploring the production of Shakespeare's Julius Caesar by the inmates of Rebibbia, one of Rome's maximum security prison); and Chinese director Zhang Yimou's The Flowers of War (based on Yang Geling's novel 13 Flowers of Nanjing about the Nanking massacre in China in 1937).  With such a diverse array subjects and themes, it will be interesting to see what British director Mike Leigh (president of the jury) and his team of six international actors, actresses, and filmmakers decide.
And if you're interested in exploring Berlin's neighborhoods while also seeing some good flicks, the "Berlinale goes Kiez" section of the festival will be screening films in a variety of art house cinemas in more out-of-the-way parts of the city .  A perfect way to explore the more local side of Berlin!
Comments