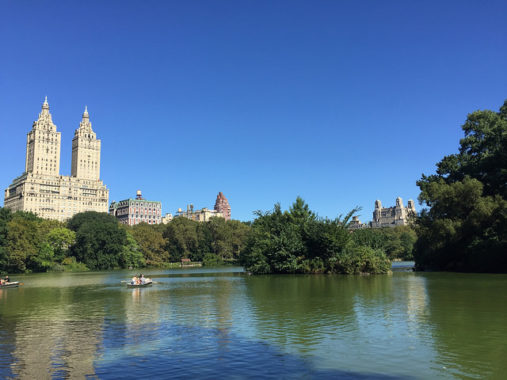 After what seems like weeks of rain in May, June has finally brought 85+ degree heat to the northeast corridor. When it's sunny and steamy like this, sometimes it can be hard to get excited about being in the city with miles of asphalt trapping the heat. And sometimes, we find ourselves dreaming about remote, cooler, leafier climes. The good news is, we don't just have to dream. If you're city bound this summer like we are, here are some of our favorite day trip escapes right within the city limits—our list of the best urban parks in America
Boston
Located in the neighborhood of Forest Hills in Boston, Arnold Arboretum is the oldest arboretum in North America. This small 265 acre gem was designed as part of the city's Emerald Necklace between 1878 and 1896 by Frederick Law Olmsted, and is both a living museum (under the administration of Harvard University) and a public park (under the administration of the Boston Park Services.) The park boasts some of the world's best examples of maples, crabapples, lilacs and rhododendrons, as well as the one of the finest views in the city from atop Peters Hill.
Philadelphia
If you are looking for shaded, unruly, seclusion, descend into the 7 mile long ravine that is Wissahickon Valley Park. With over 1400 acres of stunningly scenic hiking trails and lookout points, you can amble up to Cucumber Meadow or the Treehouse, or rock hop along the creek when the water isn't too high. Let yourself get lost in the woods, and you won't be surprised that artists and writers such as Edgar Allen Poe found the valley to be mesmerizing and inspirational.
New York
Although Central Park is a very reliable go-to for green relaxation in New York City, Prospect Park in Brooklyn is certainly its equal in beauty, covering over 585 acres. Designed by the same landscape architects as Central Park, Olmsted and Vaux, in the 1860's, it is now home to Brooklyn's last remaining forest.  From picnicing, to hiking, birdwatching or horseback riding, your day can be as active or as laid back and secluded as you'd like.
In honor of the summer season, we're offering a discount on walks which incorporate public parks and spaces in our US cities. Enjoy 15% off our High Line Tour and Meatpacking District, Beacon Hill Tour, and National Mall Washington Tour with Historian in July and August. Just mention PARKS when booking.
Comments