Cherry blossoms are among the most iconic and beautiful sights in Kyoto. The perennial return of the lush, pink flowers—called sakura in Japanese—provides a tangible signifier of the return of spring, and has become an attraction for tourists not just across Japan, but throughout the world. For those in the latter category wondering the best places to see cherry blossoms in Kyoto, our experts in Japan have compiled an insider list of their favorite viewing spots away from the crowds—with a few tips thrown in for good measure.
Philosopher's Path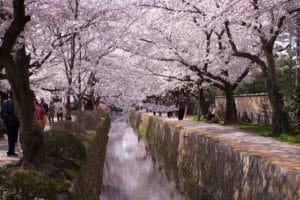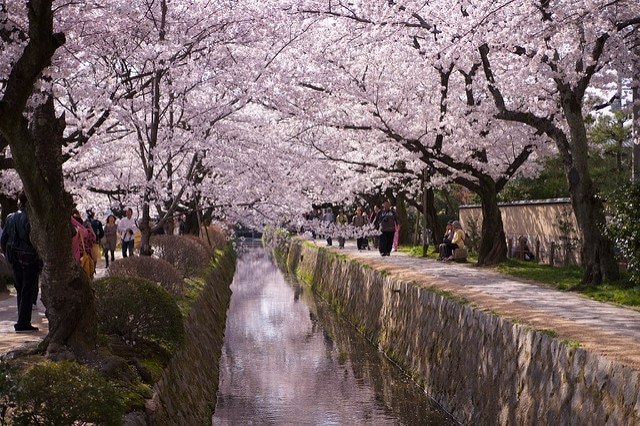 Among the most famous places to see cherry blossoms in Kyoto is the 2 km tunnel commonly known as the 'Philosopher's Path'—named in honor of Kyoto University professor Nishida Kitaro, who is said to have used the path for daily meditation. Begin at the famous Silver Pavilion (Ginkakuji), followed by a stroll on the Philosopher's Path, and ending at the splendid monastic complex of Nanzenji with its beautiful gardens. The path eventually leads into a residential area, so keep your eye out for the signs pointing to Nanzenji.
Kamo River
Next, we'd suggest a stroll north along the Kamo River from Demachiyanagi Station as far as the blossoms extend. Since the river is not a 'sight' in the traditional sense it remains relatively calm with fewer tourists than the Philosopher's Path, making it a perfect backdrop for photos of the sakura. Combined with a visit to the Shinto shrines Shimogamo and Kamigamo (a subject explored further on our Kyoto Temple Tour), and perhaps to Kyoto's Botanical Gardens, located about halfway between the two, this is one of the best places to see cherry blossoms in Kyoto.
The Imperial Palace Park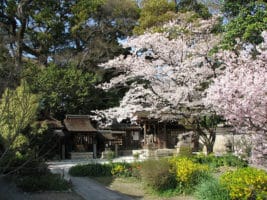 The sprawling Imperial Palace Park contains a host of cherry blossom trees that, thanks to its size, can be easily viewed with smaller crowds. The park also receives fewer visitors than other sakura spots, making it one of our favorites. It's also a well-known local custom to watch people enjoying their sakura picnic, or hanami. While you're there, we'd also suggest checking out Kaninnomiya Mansion, the former home of Japanese nobles that's open to the public, as well as a small branch shrine of Miyajima's famous Itsukushima Shrine.
Best Places to See Cherry Blossoms in Kyoto – Bonus Tip
The cherry blossoms are particularly distinctive at night and are best seen from a few different temple locations, which stay open later—until 9.30 pm—for the occasion. Especially famous for their blossoms are Kodaiji, Kiyomizu, and the bamboo forests in Arashiyama. Nijo Castle (which we visit on our World of Warrior walk) is also well worth a visit.
Comments