Milan has a reputation in Italy for having a very efficient, albeit limited metro system. But the city is also a leader in the country when it comes to shared means of transportation. Bike sharing in Milan and car/scooter sharing in Milan are two trends that have blossomed lately have made exploring the city more fruitful and sustainable than ever.
We sat down with the experts who lead our Milan walking tours and got the skinny on how these sustainable travel options have evolved lately.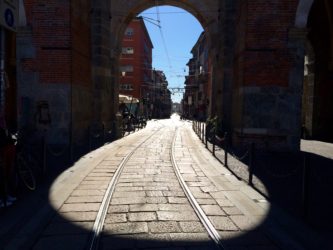 Bike Sharing in Milan
Many of us enjoy, or are used to, riding a bike in the city, and would love to continue doing so also when traveling. BikeMi allows you to rent a bike for free in a fairly easy way, and is a great option for bike sharing in Milan. The fleet counts over 4,500 bicycles, and includes both traditional and electric bikes, which was quite pioneering when it was first introduced in 2008. Kids bikes are available too.
The first 30 minutes are free, so the service is expressly intended for short trips, but you can keep the bicycle for up to two hours, by purchasing a subscription (daily, weekly, annual). The cost for each half-hour is 0.5 EUR. After two hours, you'll be charged a penalty if you do not return the bike. However, if you wish to continue pedaling, you can easily give back the bicycle you're riding and pick up another one: all you need to do is wait five minutes.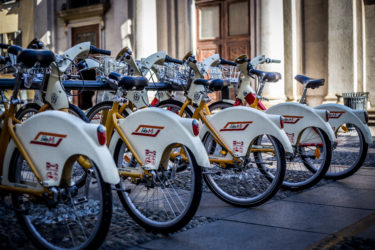 BikeMi's bike sharing in Milan is usually active from 7am to 1am, but during the spring/summer months the operative hours extend to 2am during the week, and non-stop on Saturday and Sunday. Also for special events the schedule follows a different timetable. You can sign-up in advance through the BikeMi website, which seems the easiest way to proceed, or via app. If you prefer to do it in person, you'll be able to do so at major subway stops (you'll find the full list on their site). Curious to see how many bikes are available at any given time? Go to this website and scroll down to where it says "bike sharing". If you're looking for specific bike paths, you can peruse the list here.
…or drive around
If Bike Sharing in Milan isn't your thing, you might consider car sharing, which is pervasive. The city boasts six different providers. The first-ever created, back in 2010, was GuidaMi, but soon others followed, such as E-Vai, Car2go, Enjoy, Share'NGo, and DriveNow. There are different advantages to each, depending on the situation. Enjoy, which employs bright red Fiat 500 cars, seems to be the cheapest. However, you may want to consider Car2go if you're looking for something easy to park, as the cars are small Smart cars, perfect for just two travelers with no luggage. E-Vai and Share'NGo instead offer electric cars. Head to DriveNow if you're looking to drive a BMW.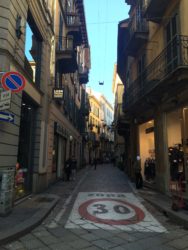 Each of these services require a registration before utilizing the car. Some of them are more flexible in terms of pickup and drop off points. If you prefer two wheels to four, Enjoy also offers scooters with its program.
Milan has much to offer when it comes to places to visit for fashionistas, architecture buffs, and foodies.
While we do love walking from place to place and take our time to enjoy each and every aspect of the city, sometimes you need to move at a faster pace. Using shared means of transportation allows us to do so, while also being more respectful of the environment.
Comments