Since it lies below the hurricane belt of the Caribbean and directly on the path to enter the Panama Canal, Cartagena, Colombia has emerged as a popular cruise destination. Over 400,000 visitors disembark from 200+ cruise ships annually during the high season (from October to May). We sat down with some of the experts who lead our Cartagena walking tours and pulled together some tips to help you get the most out of your Cartagena cruise visit.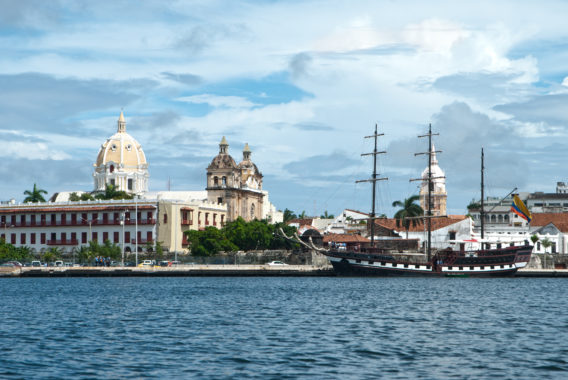 Pre-docking on a Cartagena Cruise
The approach to Cartagena port is pretty spectacular. So, we suggest preparing for your landing ahead of time and with your day bag packed in hand so that you can head to the viewing deck of your ship a few miles out, before docking. You'll be rewarded with vistas of a series of forts on both sides of the ship: first come the ancient Spanish forts at the entrance of the bay near Bocachica (Small mouth); then you'll pass Castillo Grande and Manzanillo (Big Castle and Little Apple, respectively) where Spaniards would defend against pirate attacks by raising an underwater chain to capture the ships and then sinking them with cannon shots before they could land on firm ground. The final fort in the series, and one of the most spectacular fortifications of the New World, is Fort San Felipe de Barajas. This fort is further inland than your ship will take you, but it can be visited and could be part of a personalized private tour in Cartagena.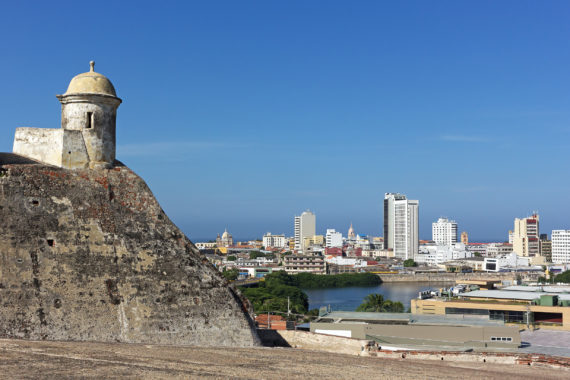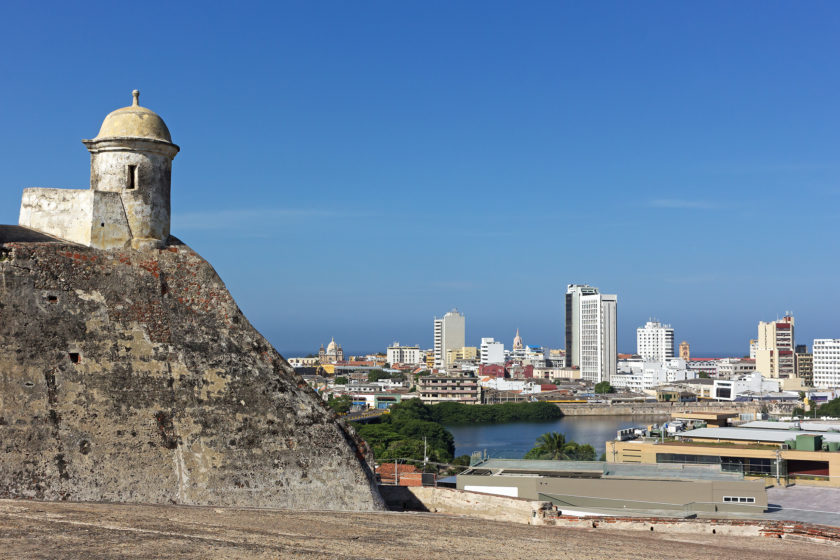 Docking in Cartagena
It should take about 10 minutes to disembark your Cartagena cruise and maybe another 10 minutes to find the taxi station in the port (there are plenty of signs, and the drivers are in uniforms of light blue shirts and dark blue pants). You'll need to be clear with the taxi driver exactly where to go and that you are not interested in any extra sightseeing, so it would be helpful to have an address on hand, for example one of the main squares in Old City named Plaza Santo Domingo. Most people in town, including drivers speak at least basic English. The taxi ride should not take more than 15 – 30 minutes, depending on traffic, though we'd recommend allowing 60 minutes from docking time to reach Old City, lest you should encounter any complications.
Touring in Cartagena
Once landed in in the Old City from a Cartagena cruise, it is easy and safe to stroll around. Colombia's currency is the Colombian Peso (COP), though US dollars are widely accepted. The exchange rate as of January 2017 is approximately 1 USD to 3,000 COP.
Cartagena is known for emeralds, and you'll probably be directed to various emerald shops from your cruise ship. Most are in the Plaza de Bolívar, and one of them has a small but interesting Museum of Gold attached to the side of the store.
If you're here for just a short while, however, our favorite museum is the Museo de Arte Moderno, Museum of Modern Art in Plaza San Pedro Claver. It has several interesting halls related to art of the area: the hall of great Colombia masters, the hall of Latin American artists of the 1950's, and two halls featuring local artists Enrique Grau and Cecilia Parras.
You can expect to find great food around every corner in the old city of Cartagena. The typical local dish is ceviche, seafood marinated until cooked in lemon juice and other spices. Around Plaza San Diego you will find a handful of cevicherias. If you're looking for a restaurant slightly off the beaten tourist path, give Oh-la-la a try in Getsemaní. Run by a French chef, his plates are colorful, inventive and the perfect mix between local and international fare.
Of course, we recommend taking a tour in Cartagena—and especially a Context Cartagena walking tour. It's a good idea to book your tour at least 90 minutes from the time your ships docks to allow for disembarkation, travel, and a quick snack or stroll to the meeting point.
The Bell Tolls, Cartagena's Colonial Legacy
For the Cartagena cruise ship visitor with limited time, we recommend a historical stroll in Old City to explore its fascinating colonial roots, such as our Cartagena Old Town Tour. This walk focuses on the foundation and evolution of Cartagena in relation to the Church the Afro-Caribbean religious culture in Colombia.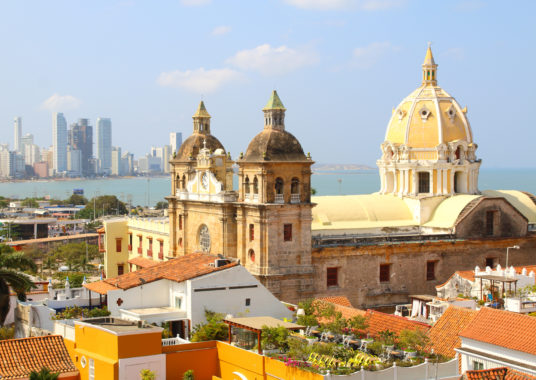 Deep Travel in Barrio San Francisco
If you are interested in a deep travel experience which takes you to the outskirts of the city, a great option is a Cartagena Barrio Tour like the one we organize to Barrio San Francisco. Led by a community leader, this tour focuses on the neighborhood's history and challenges before spending some time volunteering at a youth center and finishing with a home-cooked meal with our host.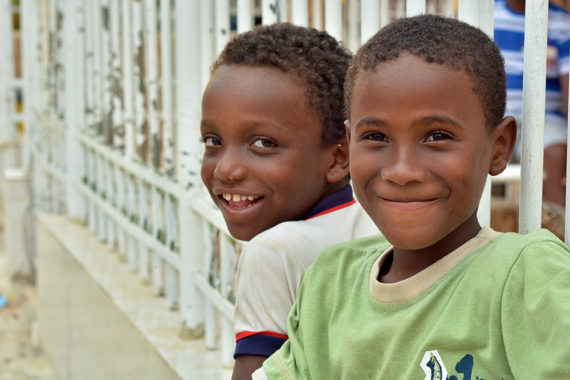 Cartagena at Twilight
For those lucky enough to spend a night in Cartagena we highly recommend our Cartagena City Tour in the Evening. On this pleasant, 3-hr stroll through the streets of the Old City and Getsemaní lead by a professional musician, we will savor the local flavors the way locals do: a casual beer at sunset, salsa music wafting in the air, a snack of street food, and finally a stop for a taste of aged Colombian rum. This tour might be especially pleasant for those not suited to heat and humidity during the day.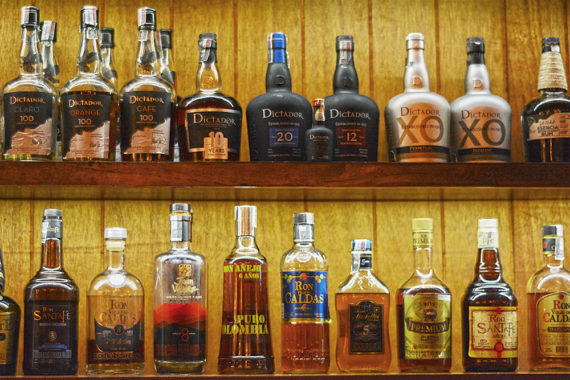 Comments