Planning a day out of London can prove quite difficult, as there are so many destinations to choose from. But if you are looking for a fairy tale getaway, a bit of Medieval feel with a castle and plenty of things for the family to do, you are in luck. Southeast England offers some of the best castles in the country, all easily accessible from London. Here is a selection of our favorite medieval sites around London.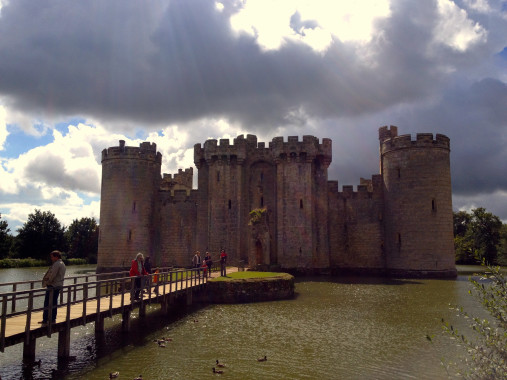 Bodiam Castle:
Driving up to this small, but beautifully preserved castle, is like stepping back in time. The surrounding countryside, the gentle hills of East Sussex and the steam railway nearby make Bodiam a really picture perfect place. Managed by the National Trust, this 14th cent. castle is one of Britain's most picturesque and romantic ancient monuments—and one of our favorite medieval sites around London. The grand gatehouse is the castle's original wooden portcullis, an extremely rare example of its kind. The grounds nearby are perfect for running around or for a picnic. Just make sure you have enough to share with the resident ducks!
Bodiam, near Robertsbridge, East Sussex, TN32 5UA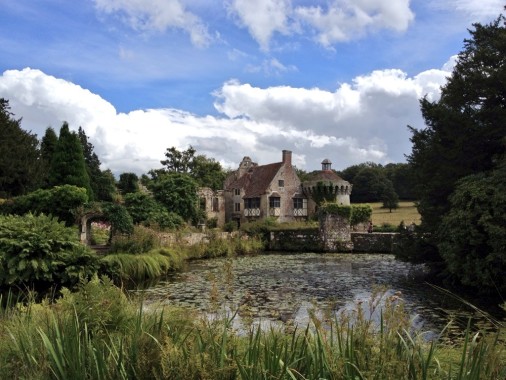 Scotney Castle:
Another National Trust property and one of our medieval sites around London with not one but two castles—the first, is the house built by Edward Hussey III from the sandstone quarried from the grounds of the Old Castle. The second, the Old Castle, is a moated ruin that evokes romantic walks by the water and lazy afternoons reading in the shade. If you are keen for a more active visit, in addition to the beautiful gardens, there is 770 acres of parkland and woodland to explore. Don't miss the amazing Azaleas ranging in shades from pink to purple and make sure to pop by the cafe for a taste of the local Scotny Bitter and delicious honey. Scotney castle has a working walled garden where veggies and fruit are grown.
Scotney Castle. Lamberhurst, Tunbridge Wells, Kent, TN3 8JN

Leeds Castle:
This stunning site is probably the best known castle in England. Located in Kent, not Leeds, it offers visitors a wide range of activities, from a maze to a 9-hole golf course and even a run club. For real Middle ages geeks, the Castle hosts a Medieval Festival from Saturday 23 to Sunday 31 August 2014.The castle was first built by a Norman baron during the reign of William the Conqueror's son Henry I, since then it was property of Queens and a royal residence for several centuries, before becoming private property again. Today the castle belongs to a private charitable trust whose aim is to preserve the castle and its grounds for the benefit of the public.
Leeds Castle Maidstone Kent ME17 1PL
Hampton Court:
Although not much remains of the medieval manor of Hampton Court, from 1494 and the renovations desired by Giles Daubeney, later Lord Chamberlain, Hampton Court becomes a major courtier house and a place to entertain members of the royal family. Along with the fantastic Tudor and Baroque buildings, Hampton Court is the home of a tennis court built in 1526 and the most famous maze in the country. The Hampton Court Maze covers a third of an acre, is trapezoid in shape and is the UK's oldest surviving hedge maze. It's known as a puzzle maze, with lots of twists, turns and dead ends.
These are just a few of the many wonderful castle that can be visited around London. Get in touch with us if you would like to organize a visit to one of them, or let us know what is your favorite castle to visit!
Comments