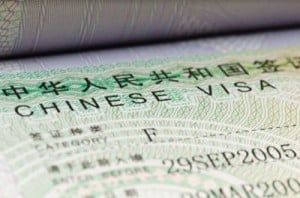 Given that we operate in 19 cities worldwide and I spend a good chunk of the year traveling between them, you'd think that I'd be pretty expert in all the ins and outs of visa requirements and travel planning. And yet, on a recent trip to Beijing and Shanghai from the U.S. I was caught out at the last minute without a visa for China.
China requires most foreigners, including U.S., Canadian, British, and Australians, to obtain a visa in advance of travel to the country. The visa costs $140, lasts one year, and is relatively painless to obtain. Technically, you have to visit your local consulate in person, in order to get one. However, when I discovered I needed one I was in Los Angeles two days before my flight from San Francisco to Beijing. Living in Philadelphia, my consulate is in New York. There was no way I could skip across the country in 48 hours and get it done.
Luckily, there are other absentminded procrastinators out there, and a lively business of last-minute Chinese visas processors has sprouted up. I used China Visa Service Center, a Houston-based outfit with offices in San Francisco and New York. The process was relatively simple. I had to submit an official visa application from the Chinese government (available on the China Visit Service Center website) along with my passport and two passport photos by Fedex, along with a processing fee.
The Chinese consulate tacked on an extra $30 for same-day processing. China Visa Service Center added a $109 fee plus $10.41 for paying by credit card online. Since I was passing through San Francisco for a day on my way to China, I elected to pick it up in their offices on Post Street in Japantown, saving myself a $68 express delivery charge. All told, it cost me $289.41, including the $140 cost of the visa itself.
I sent my package to San Francisco on Monday at 3 pm PST and picked up the visa on Wednesday at 9 am. Obviously, in the future we'll practice better planning. But, like many things in China this was pretty efficient and easy to do. It was also relatively painless, especially with having to explain to my wife why I was home ten days early with an unused ticket to China in my pocket.
More information is also available on the Chinese Embassy website.
Comments