Visiting Philadelphia during the holidays is a great way to enjoy the spirit of the season without fighting the crowds that throng nearby New York. Christmas in Philadelphia is home to an animatronic Christmas Village, a parade of wintry demon figures, and daily Christmas concerts played on the largest operational instrument in the world.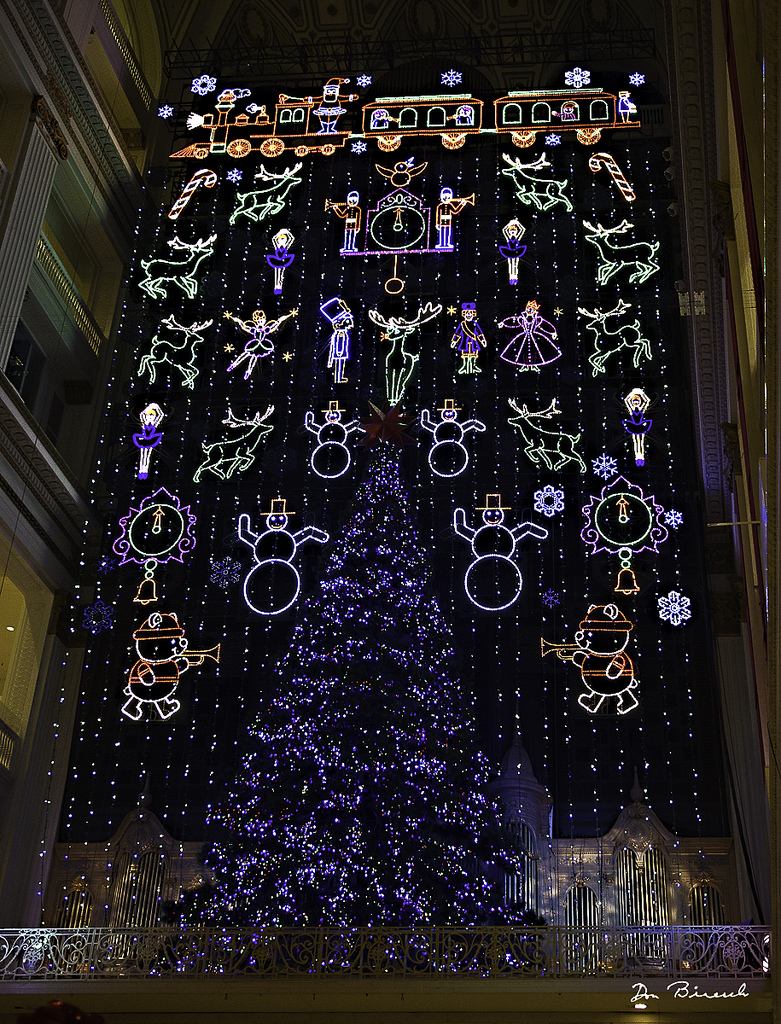 The epicenter of Christmas in Philadelphia is at the former Wannamaker's department store, now occupied by a Macy's. Wannamaker's was the nation's first department store, and as such, it was a place to see and be seen. The Wannamaker's Organ was purchased after its debut at the 1904 World's Fair in St. Louis. Though the organ was well received, it bankrupted its builder and was put into storage until it was bought by Wannamaker's to provide music for the store. When it arrived in Philadelphia, it was decided that the organ (which was then the largest in the world), was insufficient to fill the store's grand court, so 40 full-time employees went to work creating more pipes. The organ is still the largest operational musical instrument in the world, with 28,750 pipes, the largest of which was once photographed with a Shetland Pony inside of it.  The organ was designed to sound like an entire orchestra and is maintained by two full-time curators year round. During Christmas in Philadelphia, Macy's Light Shows run through December 31 at 10am, 12pm, 2pm, 4pm, 6pm, 8pm. The 11 minute show is concluded with the help of a live organ recital for the 12pm and 6pm shows every day except for Sunday. The light show and organ recitals are free. There is also an annual Christmas in the Grand Tradition concert on the Wannamaker's organ. This year, it is scheduled for December 9th at 7pm.
Upstairs, a slightly more recent tradition is on view in the store's Egyptian Room, an area hidden on the third floor, and only open to the general public during the holidays. There, you will find an animatronic diorama of Charles Dickens' A Christmas Carol, (here's a video) complete with a replica 18th century village. The village was completed in 1985 by a puppeteer and retail display artist so dedicated to recreating the feel of 1885 London that they took a trip to the city while building the village.   
Philadelphia is also home to the Santa Express trains and trolleys, an annual festooning of regular transit subway cars and trolleys. Transit Authority employees volunteer to decorate and on one day per year, dress as Santa and Mrs. Claus.      
Christmas in Philadelphia is also home to quirkier, newer traditions. The Parade of Spirits in Liberty Lands was started as a "of a Krampus-type of parade for the holiday season. Something safe, secular, collaborative and noncompetitive. A kid-friendly event, but with monsters, and noisemakers." It has become a more general wintertime folklore parade that they describe as "community ritual — a tableau or meditation — a voluntary village coming together briefly to acknowledge the significance, the necessity, of "darkness", in a season that promotes (however forced) cheer and light." Many participants create their own wintry costumes complete with LED lights and large cardboard masks.
Want more holiday spirit? See our recent guide for spending Christmas in Paris. 
Comments