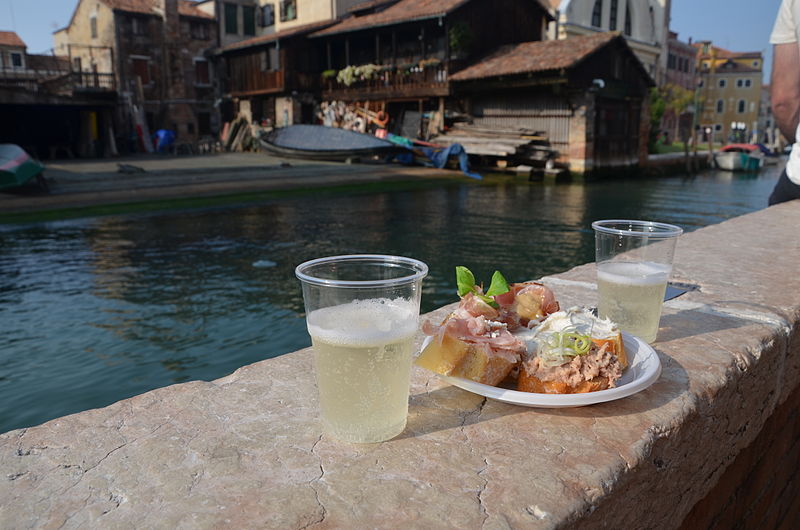 Many of Italy's culinary traditions, like Neapolitan pizza, have become ubiquitous the world over. Others, like Milan's afternoon tradition of aperitivo, are beloved throughout Italy by locals and travelers alike. However, many localized Italian food traditions have remained firmly entrenched in their birthplaces, beckoning travelers to seek out the flavors that make its many towns and regions distinct. Ranking among our favorites of these regional eats are cicchetti (pronounced tchikˈketti): an assortment of snacks akin to Venetian tapas.
To get a taste of one of the few unspoiled local traditions still present in Venice, we suggest strolling to some of the city's bacari, small local taverns, to sample cicchetti paired with a glass of wine, either for an entire meal and or as an antipasto (starter). You can find a wide range of cicchetti depending on which bacaro you drop in on, but they usually consist of crostini, sardines, baccalà (salt cod), polenta, salami, and cheeses, almost always for a more reasonable price than the glut of tourist-oriented restaurants inside Venice. Before going, remember that bacari close between 8:00 and 9:00 pm, so make sure to start early. Additionally, any good bacaro will usually be crowded with Venetians relaxing and socializing after work, so be prepared to wait a bit.
Our Cicchetti Picks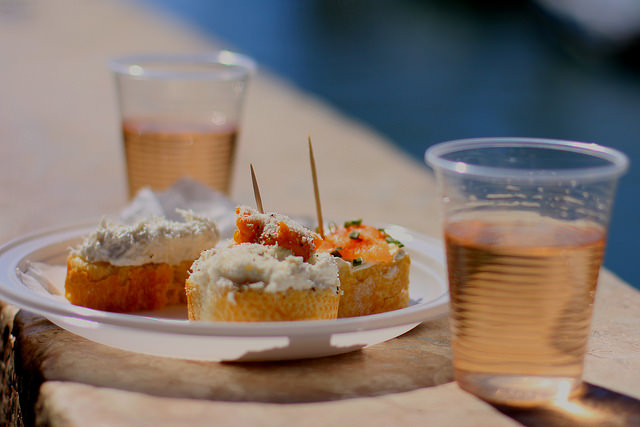 Now that you're acquainted with cicchetti, here are our picks for four essential bacari: an abbreviated list of the best cicchetti in Venice.
Located in one of the most characteristic areas of Venice, Cantinone già Schiavi assumes the dual roles of osteria and wine cellar. In addition to the stellar selection of vino, patrons can snack on cicchetti inside the shop or out by the canal.
This little bacari among the most welcoming in the city with its charming narrow entrance. The polpettine (meatballs) are their specialty, so don't miss them (and ask for one with baccalà mantecato (salt cod). Be sure to also enjoy their excellent selection of wine.
While this bacaro may be situated close to the famed Rialto Bridge, it's no tourist trap. They offer a variety of cicchetti and sandwiches that we think are best paired with prosecco. We're also suckers for it's backstory: apparently, Cantina Do Mori is known for being frequented by Casanova himself. 
Located in the Rialto Market area, this location offers a wide range of cicchetti, from the traditional baccalà mantecato to the marinated anchovies.
If you don't want to go it alone, try our Rialto Market Tour, which includes various tastings in the Rialto Market and a stop at a local eatery for cicchetti and an ombra, or small glass of wine, which is a local ritual. For a closer look at another fascinating facet of northern Italian culture, see our post on Murano glass.
Comments