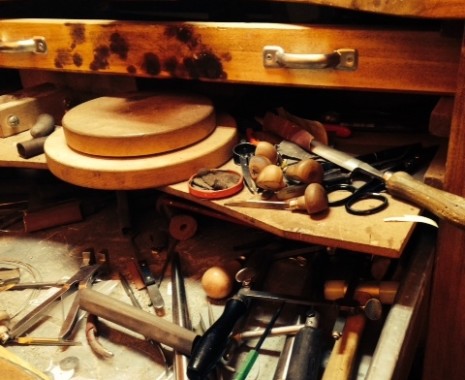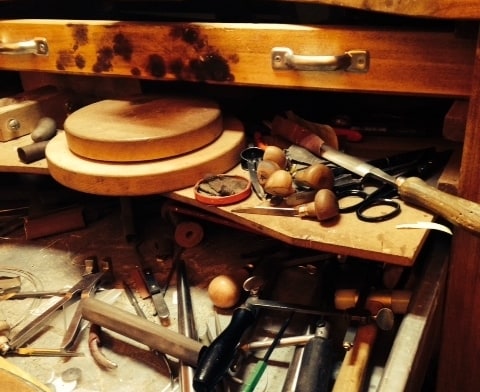 For the past four years the Context Foundation has funded a co-operative learning scholarship at Arti Orafe Jewellery School and Academy that enables one student to spend a year as an apprentice in a local workshop in the Oltrarno neighborhood of Florence. Artisans have based their workshops in this area since the medieval period and the neighborhood has been known as an epicenter of papermaking, silversmithing, metalwork, and other artisan crafts. These traditions are as vital to the cultural identity of Florence as the fine art contained within the Uffizi. And, yet, they are severely threatened.
As Florence becomes a more significant center of tourism, and the tenor of that tourism tends more and more toward large groups that spend shorter periods of time in the city, and so the economic pressures on artisans increase. In the past five years a number of prominent artisans who have inherited their workshops have had to close down. This program offers a unique opportunity to support apprenticeships in local workshops through a scholarship in a local trade school that is community based and has strong ties with the artisanal community.
2012 winner, Ludovica D'Amico, has just finished her internship at Negar Azari's workshop, our 2009 Scholarship winner. Negar has worked hard on her craft and has finally make her way into the professional world of jewellery making by starting her own company NAA-Studio. We had a chat with Ludovica and Negar about their experiences, as a student and as a real artisan.
Context Travel: Ludovica, how was your experience at Arti Orafe School? Did you enjoy the experience?
Ludovica D'Amico: I had a wonderful experience studying at the Arti Orafe School & Academy of Florence. During my three years I learned a lot of things and met wonderful people from all over the world.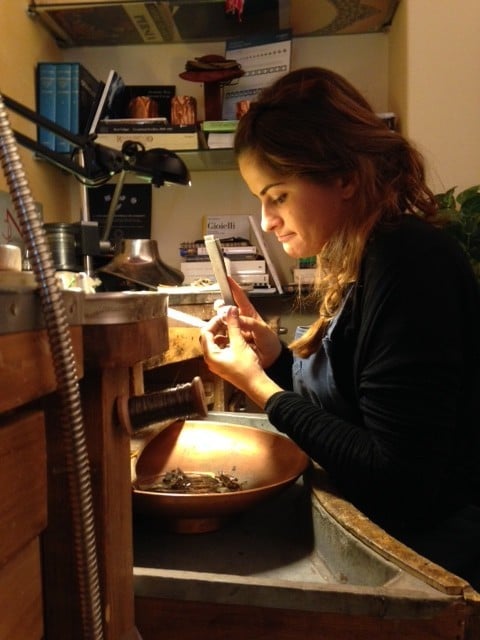 CT: What skills did you acquire?
LA: At Le Arti Orafe I took many courses such as jewellery making, wax modelling, gemmology, contemporary history, technology and some skills of CAD. On top of that, I learned the importance of individual experimentation that helps you to become more creative and happy.
CT: You have just finished working as an intern in Negar's workshop, so you passed from school to real practice. How does it feel to enter the jewelry making world?
 LA: Arriving to NAA-STUDIO and working with Negar has been a big jump, she has taught me so much and I feel really lucky to have had this amazing experience. It is very interesting  to understanding the link between the jewelry piece and the person who falls in love with it. I have had the opportunity to see how a real goldsmith workshop functions, and be part of it!
CT: What is the most precious thing that Negar has taught you so far?
LA: Negar has taught me so many things. Of course a lot of technical skills but mostly the importance of putting passion and love into all the things you do.
 CT: Where do you hope that this will take you in the future?
LA: I would like to reach a point where I will feel comfortable with my work. Some day I would like to start doing my own pieces of jewelry and hopefully see them worn by people who have fallen in love with them.  A piece of jewelry is only material if it remains unworn. To me it's the link with the body that creates the passion.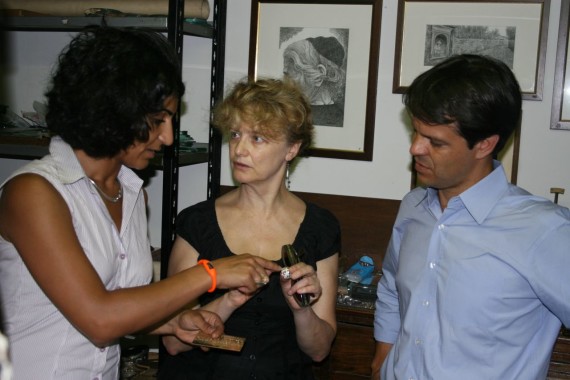 Negar Azhar-Azari was the 2008 winner of the Context Foundation Scholarship, the first year of the program. We spoke to her about her experience and how it helped her to progress in her career.
CT: Negar, congratulations, you finally opened your own shop! How did the Context Foundation scholarship help you to realize your dream?
Negar Azhar-Azari: I was so lucky to win the first Context Travel Scholarship. That was decisive for my career as I had the chance to attend my first course at the Arti Orafe School which was on "Incisione a Bulino" (a type of burin engraving). The "Bulino' is a tool that it is only used in Florence and the area just around the city' and is known as the "Stile Fiorentino" (Florentine Style). I fell in love with jewelry making so much that I decided to take more courses and complete my training at the School. When I say it is relevant to have taken the course offered by Context Travel it is because in my collection today you can clearly see the influence of the Bulino style.
CT: Can you tell us about some of the challenges you faced when starting your business?
NAA: The biggest challenge was the bureaucracy; it took me five months just to get all the permissions I needed to open my workshop. The other big problem was  access to the credit. Banks don't really want to take a chance on you when you are young and opening a start-up, which is the most risky thing to do. I was lucky to get some funds from the Regione Toscana, which at that time issued grants to women opening businesses. In 2011, I participated in the "PUBLIC NOTICE" to access funding for projects creation and enterprise development in the productive sectors of artistic and traditional areas of urban and social decay, which I won again this time.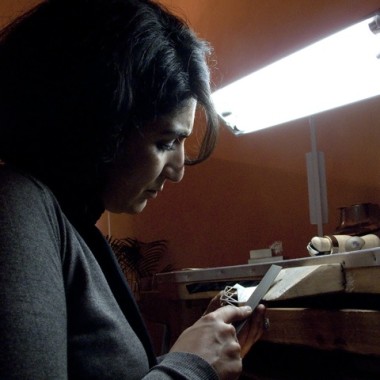 CT: Tell us more about Ludovica's experience in your workshop. What did she learn?
NAA: Ludovica is very young and it was her first experience in this environment. The first thing we had to do was to work on self-confidence. We did a lot of practical tasks: we selected some of the pieces I created, disassembled them, analyzed and then reconstructed them. She tried three times before she was able to do this on her own. By the second month she could already work independently. She acquired a lot of self confidence. She created some rings by herself which we actually sold! She was a very fast learner.
It was the first time I had taught my skills to someone else, and I must say, I discovered that I loved teaching!
CT: What advice would you give to her about making her way in the goldsmithing trade?
NAA: The most important advice I can give is "don't give up". Be strong and desire it with all your heart. Don't let bureaucracy knock you down. The Arti Orafe School teaches you all you need to know about techniques and materials but the rest, how to deal with the public and how to deal with the bureaucracy of opening a workshop on your own is something you must learn by yourself. I must admit, it is scary at the beginning as it all looks bigger than you but the difficulties and the stress you have to go through are nothing compared to the joy of seeing your own creations in your shop window. It is the most beautiful feeling in the world.
Discover more about Context Travel for Sustainable Tourism here.
Comments