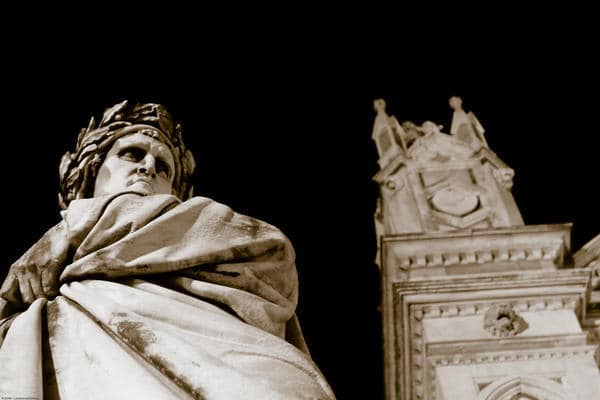 The release of Da Vinci Code author Dan Brown's latest novel, Inferno, a Dante-centered thriller set in Florence, has prompted discussions about the possible consequences for the city's image and tourism industry. In the past, Brown's bestselling, pot-stirring novels have earned attention for their exploration of alternative religious histories and conspiracy theories. Eugenio Giani,  head of Florence's city council and president of Italy's Dante Society, recently told The Guardian that although Dante scholars have urged him to be wary of Brown's motivations, "it's important that people get interested in Dante, then they can figure out what is true or false."
Wondering what all the buzz is about? As the first author to write in the common vernacular of his day, Dante is widely considered the "Father of the Italian language." His influence has extended beyond literature and linguistics to religion, art, philosophy and nearly every cultural sphere imaginable. His three-volume magnum opus, The Divine Comedy, is significant not only for its broad influence, but for the light it sheds on the medieval world and Florence's key role within it.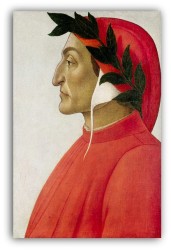 Born in Florence in 1265, Dante Alighieri was baptized at the iconic Battistero di San Giovanni in Piazza del Duomo, right in the heart of the city center. At the tender age of 9, he first met Beatrice Portinari, who would later become his muse, inspiring and even appearing in many of his major works. Though she was first the impetus behind his Vita Nuova, she also appears in The Divine Comedy as Dante's guide, replacing Latin poet Virgil for the Paradiso portion of the iconic text. Walking around contemporary Florence, you can still get a sense of their old stomping grounds: 19th-century English artist Henry Holiday's carefully researched painting of Dante and Beatrice depicts the two standing next to the Ponte Santa Trinita, one of the Arno-spanning bridges that has hardly changed since.
A man of prominent political importance, Dante was heavily involved in the conflicts of his day regarding papal influence on Florentine affairs. Dante was aligned with those who called for more autonomy, which, through a series of events explored further in our Dante's Florence walking tour, ultimately resulted in his 1301 exile from the city. Though Florence's profound role in Dante's work is unmistakable, it's interesting to note that The Divine Comedy was not actually written until well after his exile. The Divine Comedy, of course, eventually became arguably the West's most influential text with regard to views of the afterlife. USA Today recently noted that Dan Brown read a condensed Italian version as a high school senior, calling the Inferno portion "the darkest, scariest thing I had ever read…nothing was as vivid as Dante's hell."
The sheer volume of Dante students and scholars today is a sufficient testament to the poet's remarkable legacy, but the fact that his role is now being explored in pop literature may bring him to a broader audience. Dan Brown's book could temporarily enliven or damage the image of Dante's Florence, but time is certainly on the poet's side.
For those interested in further reading on Dante, the World of Dante is an excellent online resource recommended by Dante scholar and Context docent Molly McIlwrath.
 – Mary Gray is interning at Context this spring. A 2012 graduate of the University of the South, she studied religion and art history. In Rome, she studies Italian, teaches English, and works as a freelance writer. This summer she will begin pursuing her M.A. in Italian Studies at Middlebury College.
Comments