In the mind of many travelers, Hong Kong is a city saturated with skyscrapers, busy streets and glamorous rooftop bars. In this article, we look at some of our favorite day trips from Hong Kong where one can find a surprising number of unique things to do.
Density
Hong Kong is dense. Simply have a look at the skyline of Victoria Harbour from Kowloon and you'll see a plethora of skyscrapers that have popped up since the development of this outstanding metropolis. Building up is a necessary government solution in dealing with the challenge of land unavailability, and Hong Kong is at the forefront of the skyscraper race. To put this into perspective, it is ahead of its American cousin, New York City, by about 70 material giants.
(Note, if you're hungry in Kowloon you might take a look at our new Kowloon Street Food Tour.)
As a result, Hong Kong is one of the most densely populated areas in the world, yet only 25% of its land is developed. This slightly bemusing statistic means one thing in particular: there are plenty of places to explore outside the hustle and bustle of the city and options for day trips from Hong Kong are plentiful. This is highly encouraged when visiting Hong Kong. Our Asia-Pacific Manager has teamed up with the Hong Kong docents to come up with a list of recommended sites to see outside of the regular spots within the city. Where should one go to escape the madding crowd?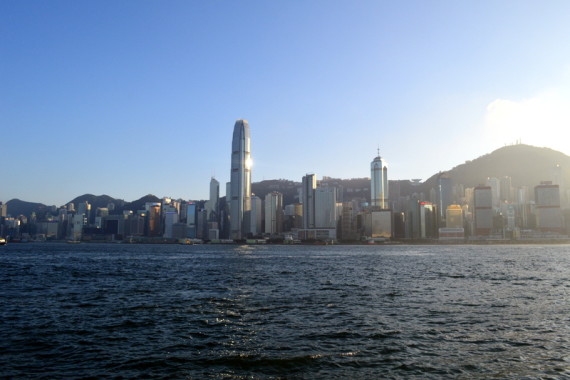 Day Trips from Hong Kong
Tai Long Wan is a beach located in a National Park. Consequently, it is only accessible by boat or on foot (a 90-minute hike from Pak Tam Au). It offers pristine sands, camping perfection and some of the cleanest waters in Hong Kong. Sharp Peak's impressive outline is clearly visible rising in the distance amongst other mountains hugging the beach enclave. Because this is one of the furthest beaches from the reaches of the city, it offers a special retreat from the rigors of the crowds and is well worth the trek. Take the 29R minibus from Sai Kung Bus terminus to the Sai Wan Pavilion or the 94 bus to Pak Tam Aun to the start of the walk. (Or a taxi will take you to Sai Wan Pavilion). To leave the beach, book a space on a local sampan (small boat) to take you back to Sai Kung. This early evening boat trip, as the waves lap on the sides and the colors reflecting on the water, is one our top recommendations among all day trips from Hong Kong.
Top tip: bring plenty of food and water. Sometimes the little beach cafe is open, sometimes it's not. Best not risk it.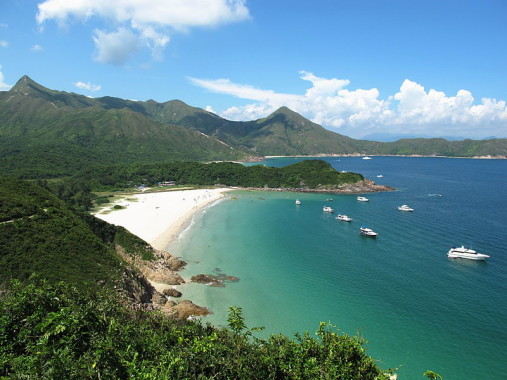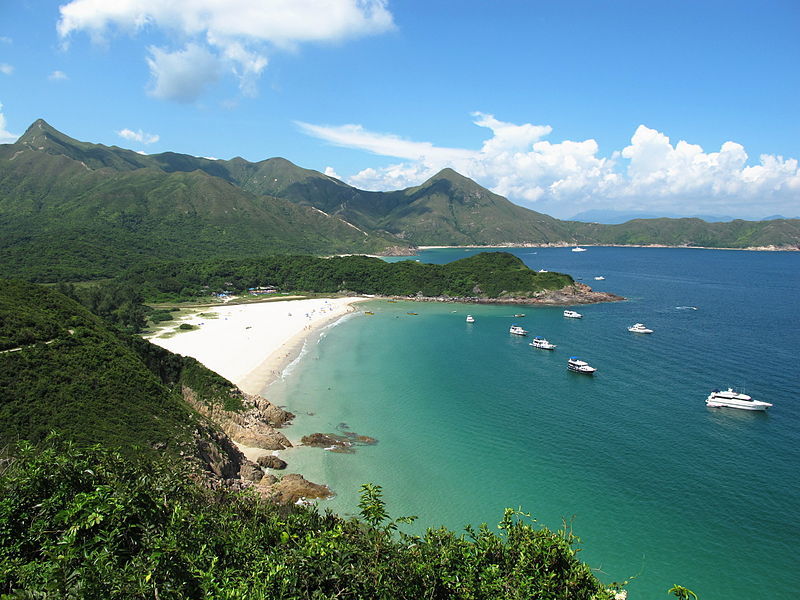 Lamma Island
Lamma has a ban on buildings higher than three stories. There are no vehicles (other than emergency services) on the island, which also makes it one of our top day trips from Hong Kong. The island has a mere 6,000 inhabitants. All of these features are sensed immediately when you hop off the 30-minute ferry at Lamma: its lush green landscape offers a peaceful escape from what can sometimes be a chaotic city. Docent Adrian chooses Lamma over the other 262 outlying islands because of its array of offerings – "small villages, natural green spaces, endless seafood, traditional temples and family hiking trails". If we ignore the rather large eyesore in the form of an enormous power station on one side of the island, it's possible to spend a day happily pottering around this green oasis of calm. Ferries go regularly from Central pier 4 and Aberdeen.
Top tip: head for So Lo Shing beach if you are looking for a quiet and secluded beach. (It even has showers and changing rooms)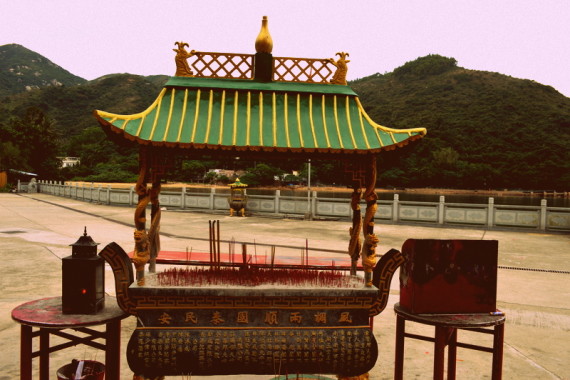 Cheung Chau Island Day Trips from Hong Kong
Cheung Chau is an island well worth a visit and a favorite of docent Yvonne. "I like Cheung Chau for its combination of good food, atmospheric main town, varied walking and hiking trails and choice of beaches. It's one of my favorite day trips from Hong Kong." More compact than Lamma, it offers an array of traditions that have survived and have been preserved. It still retains a sense of fisherman village life in both practice and produce in the form of dried seafood, essential in Cantonese cuisine. Another notable tradition is Cheung Chau's buns, and, by extension, the bun race. A bun race? This sui generis event happens every year. Thousands of buns are stacked up high and racers compete to climb to the top of this vast tower to collect the most buns. The higher you reach, the better your fortune. It is part of a larger traditional Chinese festival in May and draws thousands of tourists. There are regular ferries to Cheung Chau from pier 5 in Central.
Top tip: in sunny weather, make sure to ride on the outdoor "deluxe" class deck of the "ordinary" ferry for a serious spot of relaxation and some pleasant views.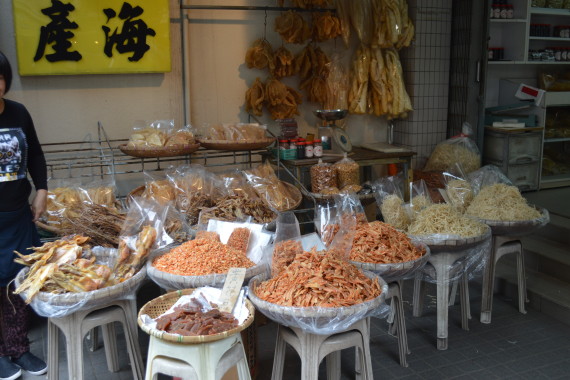 Cheung Sha Beaches, Lantau
Lantau has a number of beaches, but those a little further away from the ferry give an increased feeling of distance from Central and Kowloon. This 3 km stretch of beach is the longest in Hong Kong and is a preferred stop for those who appreciate an off-the-beaten-track location. It is devoid of almost all infrastructure minus a few beachfront restaurants and bars. It's not unusual to have to dodge a cow or buffalo as they amble along the sandy expanse. There are ferries from Central to Mui Wo or the MTR to Tung Chung. Both have onward buses or green taxis you can hop onto, or into.
Top tip: rent a paddle board and try your luck at balancing out and wobbling around on the sea.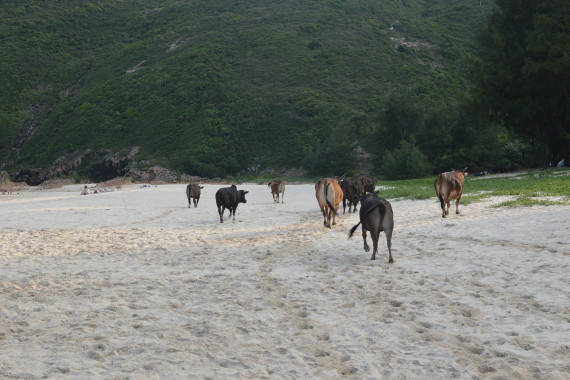 Macau
Although not officially part of Hong Kong, Macau is still one of the easier day trips from Hong Kong (but remember your passport) and offers both great food and great culture. Macau resident docent Adelina regularly nips back and forth on the short ferry ride (it takes just an hour). Her advice is to visit Macau on a weekday when possible, in particular, Pousada de Coloane. The southern part of the island offers a nice getaway because of its proximity to the beach. Docent Walter concurs with Adelina and has recently spent two days there – "it is a great place to hide because it's away from the casinos and there are hills and beaches". Coloane is an island south of Macau and said to be home to the creator of the infamous Portuguese Egg Tart, Lord Stow's Bakery.
Top tip: hunt out Fernando's Portuguese restaurant and order the clams.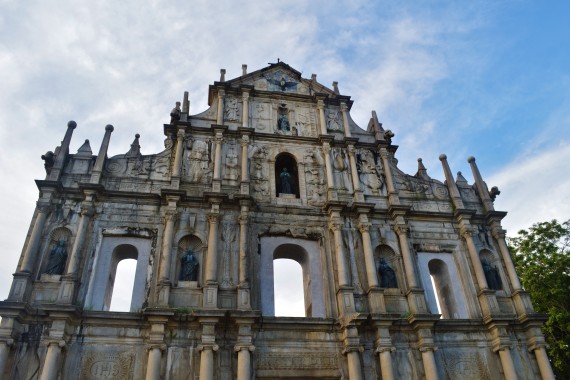 We offer a number of Hong Kong tours, including a Day Trip from Hong Kong to sites off-the-beaten path.
Comments