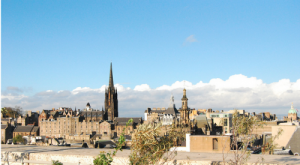 Scotland is a land of exceptional beauty and fascinating history. While researching Edinburgh and for our Context program, we met Coinneach Maclean, archaeologist and Scottish history expert. Coinneach hails from South Uist, in the Western Isles, but now shares his time between Edinburgh and Glasgow, and is a docent for Context travel in Scotland.
We decided to get to know him a little better, and explore the city of Edinburgh with the eyes of an archaeologist, discovering many fascinating sites:
CT: What brought you to make the choice to dedicate your academic career to archaeology and how is archaeology relevant in Scotland?
CML: I grew up in the Western islands in communities where there was a huge respect for the remains of the past. As a child, I was surrounded by the remains of ancient monuments tumbling out of sand dunes and from an early age had a fascination with the remains of man in landscape. I went on my first excavation at the age of 13 and it was almost axiomatic that I would become an archaeologist.
CT: Is Scotland an "easy" archaeological site?
CML: For a variety of reasons, not least differing agricultural practices, Scotland boasts one
of the richest archaeological landscapes in the whole of Europe. Because of that it is
possible to "read" the landscape from the earliest period of farming settlement through
to the remains of some of the earliest complexes associated with the very beginnings
of the Industrial Revolution of the 18th century. Without an understanding of its
archaeology it would be difficult to understand the Scottish landscape.
CT: Are there hidden or lesser known archaeological sites in Edinburgh (or nearby) that
people can visit to understand the history and development of the city?
CML: One might say that Edinburgh is just one huge archaeological site. I can think of many un-noticed sites such as the Cat Stone, a prehistoric standing stone in the forecourt of an office complex, and its nearby Newbridge chambered tomb now serving as a roundabout. But what is most important for Edinburgh's development as the most strategic hill fort on the Scottish south-east coast was the almost 2,000 year old Roman road from York to the sea-fort at Cramond on the Forth, whose faint lines in the cityscape can still be traced.
CT: Your experience at the National Trust for Scotland must have given you a fantastic knowledge of the cultural and natural heritage of Scotland, what are your favorite places? And why?
CML: Working for the National Trust for Scotland was a great privilege and afforded me an invaluable opportunity of getting to understand the wide range of both the natural and built heritage of which Scotland boasts. Perhaps my favourite places are those where you have the feeling that the occupants have simply close the door and gone out for a while leaving everything as it was. You have that sense of suspended time in places like Newhailes, on the edge of Edinburgh, Kelly Castle, in Fife and the Tenement House in Glasgow as well as in some of the Trust's magical gardens, such as Branklyn, where you still have a sense of the care and attention lavished upon them by their original owners.
CT: I am fascinated by your interest and knowledge for Scottish Gaelic clans and
traditional music and song. Can you tell us a little bit about where this passion comes
from and how it comes through in your tours?
CML: My home is South Uist, in the Western Isles, where, as I grew up the only language
was Gaelic and the only entertainment was the traditional stories and songs associated
with a history of a culture that had survived there for 1500 years. I suppose because
it is part of my DNA, it is a culture and language which is regrettably poorly
understood and presented in Scotland today, because there is a great story to tell, as
well the wonderful stories, songs and music, that I feel such a passion to communicate
that rich legacy which was gifted to me by my parents. I therefore wherever possible
seek to deliver the narrative of Scotland as it were through the eyes of a Gaelic
speaker. In other words I attempt to tell the story, through their songs and stories,
of a people who were once a widespread presence in the Scottish landscape but have
been largely erased and silenced in the march of history.
CT: Finally, can you share with us some of your favorite places in Edinburgh and
Glasgow?
CML: Some of my favourite places and in Edinburgh must be the 17th-century Laird's house on the edge of a housing estate, a fine 18th century Adamesque mansion tucked away from view, a tiny Jewish cemetery or a fragment of the 16th century city wall which all can tell amazing stories. But best of all I love of the closes of the Old Town, such as White Horse or Tweeddale where it is possible to weave an extraordinarily rich and entertaining narrative of the past lives of Edinburgh's residents. Much in the same way, the Glasgow story is that of the river Clyde and its parallel development with this great Victorian City. Just a brief walk along its banks can conjure up many arresting as well as amusing tales.
Thank you Coinneach, we cannot wait to come back to Edinburgh!
If you are interested in learning more about our Edinburgh and Glasgow program, email us.
Comments