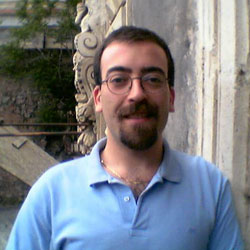 Andrea Viviani
Andrea is a doctoral candidate in linguistics at Roma Tre, one of Rome's universities, where he studies the history of dictionaries and, in particular, English-Italian translation dictionaries. In his free time he teaches Italian to aspiring foreigners (including the staff and customers of Context|Rome!). Andrea was born in Rome and has lived his life in this city. We caught up with him after a recent lesson to ask a few questions about being Roman.
CR: In this space, we usually ask people if they can recommend any sites in Rome that are off the beaten path or advise travelers coming for a visit as to what they might see. Can you offer any suggestions?
Andrea: This is a bit difficult because Romans rarely visit the monuments. You see, we learned all of that in school and so we have this idea to leave these things to tourists. It's really kind of a shame. People who live here mostly go out to see the art exhibitions, of which there are more and more here each year.
CR: Really?
Andrea: Yes, Rome has become quite a center for temporary exhibitions, both modern and historical. There's the great Maesta Roma show right now that's taking place at three locations—the Accademia Francese, the Vittoriano, and the Scuderie Papale. This is the type of thing that Romans make an effort to see. And in contrast, you hardly see foreigners, tourists, coming out to see them. Which is a shame.
CR: So, obviously, you'd recommend going to see one of the exhibitions. But what about the monuments? Can you put yourself in the shoes of a visitor and give us some advice for tackling touristic Rome?
Andrea: Certainly. Visitors to the city for the first time must see the traditional symbols of Rome: the Colosseum and the Ancient City (Forum), and the Vatican. Of course. But I think it's a great mistake to pack too much, to do it all at once.
CR: How would you approach it?
Andrea: I would probably spend one day doing the Colosseum and Forum because they are very complex and there is a lot to take in. And the same for the Vatican.
CR: Good advice. Now where would you, a typical Roman, go if you had a free day in the city?
Andrea: Romans typically like to visit the parks and relax in the city. My favorite place is the Giardini degli Aranci, which is a small garden of orange trees situated above the Circo Massimo. It has an amazing panoramic view of the city. It's romantic, very Roman, and not overrun with tourists. You can sit there and look out over the Palatine hill at the palaces of the emperors. Also in the summer there's an outdoor theater there with performances in Roman dialect. Often, in summer, I go to the sea, to Ostia, like everyone else.
CR: It's interesting how Romans use their city.
Andrea: Yes, you see people using the parks and outdoor spaces. It used to be even more this way, but three years ago they put in the new driving restrictions and now it is very difficult for average Romans—who live in outlying neighborhoods—to get into the center. As a result, the center of Rome is increasingly becoming a touristic place only. There are some old Romans there who've never left, but my guess is that the number of foreigners living in the center is higher than native Romans.
CR: When you go out in Rome, for dinner, where do you go?
Andrea: I'd go to Trastevere, because it's lively and although there are lots of tourists there now, it's still very typical and traditional. There are also lots of places to eat.
CR: While we're on the subject, what's your favorite Roman dish?
Andrea: Pasta Carbonara (pasta with pancetta, cheese, and egg). It's one of the main staples of Roman cuisine. Carbonara means coal-carriers. But it was also the name of the partisan fighters under Mazzini during the Risorgimento.
CR: OK, so where's the best place for Carbonara in Rome?
Andrea: Hmmm. That's tough. I'm a student, so I don't go out to eat very often. Let me try Mathia. [Andrea pulls out his cell phone and calls his friend Matthia, who works at the Beehive, a small hotel nearby, and therefore—Andrea assumes—might have a better idea of the good restaurants in town. They chat for a few minutes, Andrea jots down a name, and then starts cracking up.]
Andrea: When he answered, he said 'Ciao mio pisello.' Which, literally means, 'Hi, my little penis.' It's very Romanesco, very typical of how people use language in Rome. We have a lot of vulgar sayings like that that you would never use outside of Rome, particular toward the South where language is more formal. But in Rome it's sort of part of the culture and the language.
CR: Interesting.
Andrea: Anyhow, he recommends L'Archetto. There are several restaurants with this name in town, but the one he says has the best pasta is near the Trevi Fountain on Via dell'Archetto.
CR: Great. Also on food, it's spring now. What are the kinds of dishes people eat at this time of year.
Andrea: Well, soon is Pasqua, or Easter. On Pasquetta, which is the day after Easter and a national holiday, it is traditional to have a picnic. Most people go to the Villa Doria Pamphili. And they eat three things: pecorino cheese, red wine, and raw fava beans.
CR: Odd.
Andrea: Yeah, I don't really like fava beans. They have a funny enzyme in them that make them hard to digest.
CR: On another topic. Rome has become a city of flags—in particular a city of rainbow colored peace flags. We're in the middle of a war in the Middle East. Travelers are anxious about this. But also interested in the Italian response, which is pretty decidedly—the last polls we saw were hovering around 90 percent—against the war. Can you give us a perspective of what's on the mind of Romans.
Andrea: It's tricky. Romans are above all individualistic. They interested mostly in what concerns them directly. We have a word for this, orticello. It refers to anything that falls outside of one's immediate concern, which we leave alone. The war is sort of like this. It's not happening here, it doesn't involve Italians. So, you see the outward signs of concern—political signs. But it's really orticello. Inside, Romans are mostly thinking about their families, their work, their lives.
CR: One last question. If someone wanted to learn more about Rome—about the real Rome—how would you advise him or her to go about it.
Andrea: Oh wow. That's a wonderful, complex question. You see, Rome is different today. It's not really Rome. After World War Two, it changed a great deal as people from the countryside and the south—peasants—began flooding into the city. It lost some of its identity. True, old Romans still live in parts of the center and in the Trastevere, but most people live out on the periphery and they have very different lives than what you'd consider traditional Roman. The interior of Rome, in contrast, is becoming very touristy and looking almost like Firenze, a museum, which isn't authentic. My advice would be to find an old person, maybe in the Trastevere, and ask him or her to tell you about how Rome used to be. They are there. They are like islands.
Comments