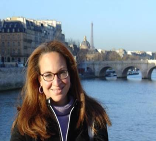 Liz teaches art history and Christian symbolism at John Cabot University and at the Rome program of Duquesne University. She has lived in Italy for thirteen years, six of them in Rome. In her spare time Liz leads walks through the Vatican collections for Context:Rome (see Tours). We caught up with Liz at Café Doria Pamphili, a tea house in the lower levels of the Palazzo Doria Pamphili, which houses one of the better private collections of Baroque art in Rome.
Context|Rome: What's the gossip at the Vatican these days?
Liz Lev: The Vatican has begun a systematic restoration of some of its most important collections and rooms, including the Raphael Rooms and maybe even—there's some talk—the Borgia apartments. There's a great feeling that this might become another great cleaning up of the collection.
CR: Another cleaning?
LL: Yes, on par with the cleaning and restoration of the Sistine Chapel that finished up in 1999. If so, this would be incredibly exciting from my perspective. All sorts of new information will come out of the work, didactic information that will lead to new scholarship. It could be very interesting in the next few years. At the same time, I am a little peeved at the way they're going about it right now.
CR: How's that?
LL: They are doing too many projects at once, so that you feel like you're constantly running into scaffolding while you're in there. And there are certain sections that are closed. I know the work is important, but the museum has a responsibility to the public—a historical responsibility—to make their collection accessible. And right now there are some problems.
CR: What are you studying these days?
LL: Funny you should ask. I'm actually studying the institutional history of the Vatican Museums. It's a really interesting story. They were first organized in the 1780s when the discipline of art history was just being born and when the Grand Tour visitors from northern Europe were coming into Rome in great numbers—although nothing like what we see today. The museum we see today—open to the public in this form—dates from the 1920s.
CR: Is there any event or recently opened site in Rome that you're particularly excited about these days?
LL: I'd like to see the Borgia show at Palazzo Ruspoli [see See/Do]. I'm ashamed to say I haven't been yet. I've just been too busy.
CR: If you had one day to spend in Rome, and you didn't have to work, what would you do? Imagine you were a visitor with the freedom to design your day in any way you wanted.
LL: I'd probably start my day at the Galleria Borghese because it's beautiful and magical . . . and limited. It only takes two hours. A full and happy two hours. Then I'd walk through the Centro Storico and visit the Pantheon and San Luigi dei Francesi. I'd check up on my favorite stores, like the cartoleria near the Pantheon and the candy store displays. I'd probably have lunch around there as well since there are so many good places. After lunch I'd visit St. Peter's because for me coming home to Rome means coming to St. Peter's.
CR: What about at night?
LL: I'd go to bed early. You said it was a free day, right?
CR: OK. What about advice for travelers? What's the one mistake you see visitors consistently making when they come to Rome?
LL: Trying to see to much. I'd say slow down and savor the experience more.
CR: You came to Italy thirteen years ago to study Baroque art. Why have you stayed?
LL: I live in Rome in order to live with pulsating history. There's just so much here. It's humbling and exhilarating.
CR: Still?
LL: More so now.
CR: What you think is the key to living here?
LL: Understanding that time is relative.
Comments