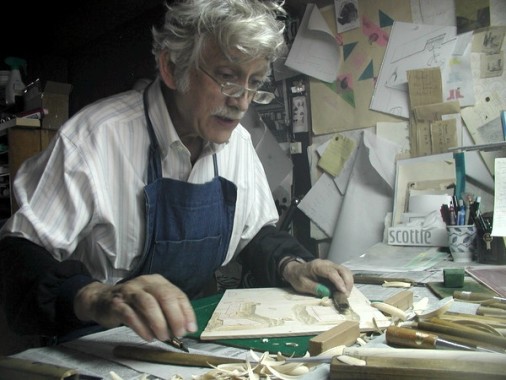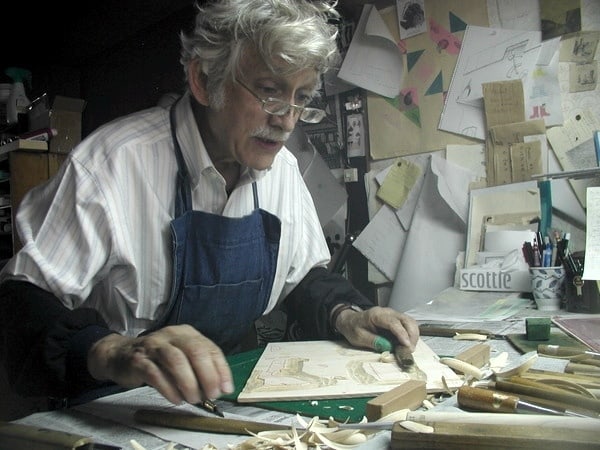 American-born Richard Steiner has lived in Japan for over 42 years, working as a woodblock printmaker. He brings a wealth of experience to the Context Kyoto networking, having studied for 10 years under printmaker Masahiko Tokumitsu.  Between his work as president of the Kyoto International Woodprint Association and teaching at Kyoto Seika University, he runs our woodblock printing workshop.  We have tapped his expert advice on artisan life in Kyoto in order to discover how artisans are currently living and working in one of Japan's most picturesque cities.
Context Travel:  You lead our Woodblock Printing Workshop in Kyoto. Can you tell us a bit about why woodblock printing is important to Japanese culture?
Richard Steiner: It goes without saying that mokuhanga (woodblock printing) is at the heart of Japanese culture. Along with pottery and weaving, woodblock is known and treasured by every Japanese adult. Remember, before the Western printing press arrived in Yokohama in the late 1800s, every book, poster, advertisement, public notice, business form, social communications, newspaper, etc., were carved and printed by wood. If you go to a used book store in Kyoto, you will find piles of book, texts, schoolbooks, Buddhist chants and more up to the ceiling. The carving is amazingly fine and perfect. And no one is unaware of the Edo Period's Ukiyo-e picture prints. I'd guess that in every Japanese family's home today there are books or calendars or greeting cards or wall decorations featuring ukiyo-e prints. You cannot separate mokuhanga from the Japanese spirit.
CT: If there's one book travellers should read before visiting Kyoto, what would it be and why?
RS: Perhaps Judith Clancy's books are the best start for an understanding of Kyoto sites and foods, and restaurants. And Mark Keene's books on gardens are a must to read for those visitors interested in that subject. And, of course, there are books on mokuhanga, history and present. Pottery books are also readily available.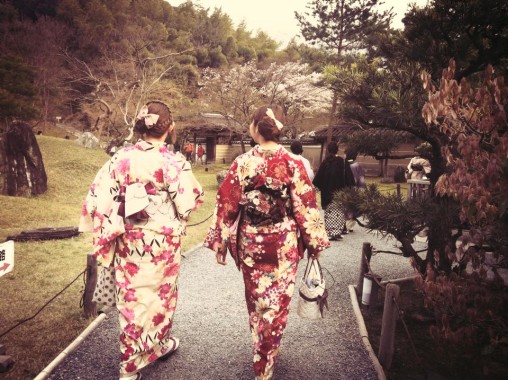 CT: In many cities artisan culture is rapidly changing and is even at risk of extinction. What's your feeling on the state of artisan culture in Kyoto, and Japan? Is it still valued as a strong part of the culture with young people continuing to carry on the traditions or is it at risk as well? 
RS: Some industries are declining. Metalworking, for instance, and kimono weaving/dyeing are losing their artisans and audiences. But on the other hand, paper making, woodblock's professional carvers and printers, ceramics, and more are increasing, with young people, Japanese and foreigner, entering and training and carrying on the craft. As for whether the average middle-class Japanese person is aware of the decline/increase of some of the country's cultural aspects, I doubt there is any awareness or interest there. Certainly amongst the young, there is no interest whatsoever. Manga, anime, pop music have captured their hearts, leaving no room for history or culture.
Here in this city, there is a wonderful introduction and shopping floor for traditional crafts in the Industrial Arts Exhibition Hall in the culture park, Okazaki. Also, out to the northwest of Kyoto, Kyoto Prefecture has build a huge college devoted expressly to teaching and preserving the crafts of Kyoto. Several hundred students attend the courses there. One of my print students took the three-year pottery course and just graduated this past month. I went to the graduation exhibition in the Kyoto Prefecture Showroom in city center. Very, very impressive arts and crafts. One might think the craft world was alive and healthy. Well, it is. But if you compare it to what society must have been like a couple hundred years ago, alas, not the same. Long ago, very young children would apprenticeship themselves at age 8 or 10 or 15 to some craft, and devote their lives to it. Nowadays, no child is allowed to do that. Public schooling education comes first by law, followed by college or speciality school (computer, graphics, business, fashion, hair dressing, etc.).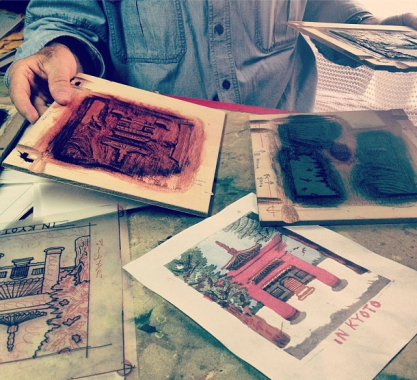 CT: Japan is known for its incredible artisanship. Where can people still find authentic artisan-made pieces in Kyoto? Is there a particular neighborhood or area people should visit for this?
RS: As I mentioned above, there is the center in Okazaki, and the Prefecture exhibition hall. These are wonderful and complete. Individual craftspeople do sometimes open their workshops to visitors. Small groups are welcomed. If a visitor wishes to purchase an item, that is greatly appreciated, of course. But just visiting and asking questions and showing respect is enough.
Comments