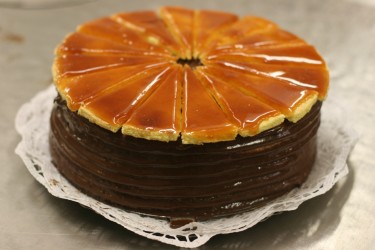 We were fortunate enough to meet with journalist, author, and food expert Carolyn Bánfalvi in May during a trip to Budapest, where we caught up over coffee and she shared some insights on Hungarian wine and cuisine.  Having lived in the capital since 1999 and written two award winning culinary guidebooks, including Food, Wine, Budapest, she has a wealth of information to share on eating in Budapest.  Recently, we asked Carolyn some questions to help unravel the intricacies of the city's culinary scene.
Context Travel : For first time visitors to Budapest, what traditional dishes are a "must try" in order to get a sense of the local cuisine?
Carolyn Bánfalvi: Set aside plenty of time for eating in Budapest! First-time visitors are amazed by the variety in Hungarian cuisine. Soups are very important to a Hungarian meal, so you could start with a goulash (gulyás), fisherman's soup (halászlé), or consommé (húsleves) with dumplings or pasta. Some of the most iconic traditional main courses are chicken paprikás, stuffed cabbage and stuffed peppers, the stews (pörkölt), and many foie gras and pork dishes (be sure to try the Mangalica pork if you come across it). If you find yourself at the market—and visiting the Central Market is something that should not be missed—you could try the lángos, a big piece of fried dough topped with garlic, sour cream or cheese (or all three).
I do love traditional Hungarian food, but I would also suggest trying some of the more modern Hungarian restaurants which are becoming popular in Budapest and add a little imagination to the classics. Definitely save room for dessert. Visit a cukrászda (bakery) or a kávéház (café) and try the rétes (strudel), krémes, Eszterházy torta, or Dobos torta.
CT: What is the most common misconception about Hungarian cuisine?
CB: I would say that one of the biggest misconceptions about Hungarian cuisine is that it is all about paprika. Of course, paprika does play a strong role, but there's much more to Hungarian cuisine than that. Also, many people think that Hungarian cuisine is very hot, but very few dishes are actually prepared hot (though most of the time you will be offered hot pepper at the table to add your own heat).
CT: In your book "The Food and Wine Lover's Guide to Hungary" you go into quite a bit of depth about how the country's political history has shaped its culinary story.  What are a few of the most interesting examples of how outside cultures have influenced Hungarian cuisine?
CB: Since Hungary is located right in the middle of Europe and has a history of invading and being invaded throughout the centuries, today's Hungarian kitchen has incorporated flavors and cooking methods from many places. Even ingredients that are so essential to Hungarian cooking came from elsewhere. The Romans, for example, introduced viticulture. Paprika, tomatoes, and potatoes are New World ingredients. The Turkish occupation brought corn, cherries, and coffee and introduced Hungarians to the dishes which inspired strudel and lángos. Fifteenth-century King Mátyás' Italian wife brought garlic, onions, and chestnuts. The Austro-Hungarian Empire added a French touch since the cuisine of the Habsburg court was French. And then Communism happened and there was much harm done to the culture of food in Hungary. During the past few years, however, there has been a wonderful burst of energy and creativity in the food scene in Hungary, particularly in Budapest.
CT: Any favorite restaurants in the city for a special dinner?  What about a eating in Budapest more generally?
CB: Lots of them… For a nice dinner I would recommend Café Kör (a good Hungarian bistro), Borkonyha (which has a great wine selection and a modern take on Hungarian cuisine), or Atakám (a new neighborhood favorite of mine). For a quick lunch, try an étkezde, which is a type of simple restaurant, generally open only for lunch, which serves home-style dishes for very cheap prices. My favorites are Kádár Étkezde and Róma Ételbár. Café culture is still going strong in Budapest, so there are plenty of places to grab coffee and dessert. The Centrál Kávéház is a beautifully restored traditional coffeehouse with delicious pastries. The Művész, located near the Opera, is another favorite. And Auguszt Cukrászda (which has three locations) is a must-visit.
CT: Some people would be surprised to learn about Hungary's wine culture.  What are some properties of Hungarian wine that make it unique?  Any local favorites that people should try while they are in town?
CB: Since relatively little good Hungarian wine is available outside of Hungary, the local wine can be a pleasant surprise. Hungary has many local varietals, so even people who have tasted wine around the world will be able to find new flavors here. And, like the food, there is plenty of variety in the local wine, such as the full-bodied reds from the southern regions (notably Szekszárd and Villány), the lovely rosés, the increasing number of traditionally produced sparkling wines, the fresh whites (like Irsai Olivér and Olaszrizling), and of course the wines from Tokaj (both dry and sweet). My personal favorite from Hungary is furmint, a grape varietal grown mainly in Tokaj and Somló, which is made into both a dry wine and is used for the sweet Tokaji aszús.
Thank you so much for your time Carolyn! We cannot wait to put your suggestions into action during our next experience eating in Budapest.
Aside from her work as a journalist, Carolyn also co-founded Taste of Hungary, a boutique agency that arranges tours on food and wine in Budapest and Hungary.  More of her restaurant recommendations can also be found on The Hungary Dish.
Comments