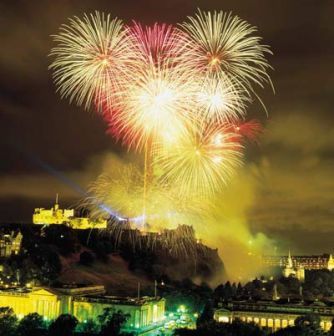 Unfazed by howling gales and the razzmatazz of a Christmas market complete with ice rink and funfair set out in staid Princes Street Gardens, beneath its iconic castle Edinburgh is preparing its cultural homage to the great Scottish festival. No, not Christmas which wasn't even taken as a holiday until mid-20th century but the preparations for Hogmanay when thousands invade the capital for street jollifications, fireworks, bands and flamboyant festivities.
On a quieter front the National Portrait Gallery has just been re-opened, restored to its former glory displaying an exuberantly refurbished Victorian interior but with new luminous galleries displaying a dazzling collection of portraits which trawl through Scottish history telling the story of this independent nation with its eminent philosophers, writers, politicians, painters and economists. Thematic besides chronological here are the Stuarts, taking the story way back before the Union with England and highlighting the Jacobite attempts to regain the throne after the Hanoverian 'takeover'. Tragic Mary Queen of Scots, her sleazy courtiers or unwise marriages bringing about her destruction is given pride of place ; notable painters such as Raeburn and Ramsay are well represented as well as modern heroes,  photography galleries and a fine new restaurant.
If one can brave the icy winds there are Ranger led walks round Arthurs' Seat , Edinburgh's volcano in the Royal Park in the middle of the city, to admire the geology or hear the history of the area round the Palace of Holyrood House or a short bus ride to Leith will introduce you to the somewhat decayed splendours of this 12th century port with its fish restaurants and historic buildings. Small private galleries sparkle with special Christmas exhibitions; the Zoo can now boast a pair of admirable pandas- the result of panda diplomacy with China and there is a luminous show of Cadell's glorious paintings of Iona and the South of France whence his inspiration as a Colourist painter in the Impressionist mode sprang. There is a buzz to this Unesco City of Literature even out of Festival time with avant-garde theatre productions; poetry readings in pubs and piles of books by local authors dominating the bookshops.
We hope to see you in Edinburgh!
Comments