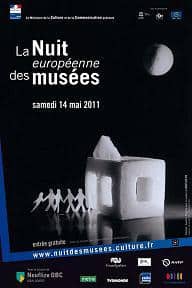 An evening at your favorite museum in Europe — For Free! May 14th is the 7th annual European Night of Museums with more than 3,000 in 40 countries. Museums will keep their doors open late, until midnight or later, with free admission. In the Ile-de-France region, where Paris is located, there are more than 156 museums participating. City favorites like the Louvre, Musée d'Orsay and Musée Rodin will of course be included. But, with more than one hundred fifty participants, there are plenty of "off the beaten path" museums and even cultural institutions opening their doors. Places like the UNESCO headquarters and the Musee du Quai Branly will participate. This is a great excuse to see something new, or explore old favorites.
A few special expos that caught our eye:
Petit Palais — Admire the gorgeous Petit Palais and their temporary exhibit on Charlotte Perriand, photographer and designer, from the 1920s.
Musee Jean-Jacques Henner — In the 17th arrondisment you can enjoy concerts from the neo-classical Les Fragments de la Nuit. There will be two performance, beginning at 7 and 9pm.
Chateau de Versailles — Until 1am a music and light show will be projected on the Chateau and its gardens entitled "Night and Forests".
You can also easily stay connected to this year's events and program. We love that the Night of Museums is very web-friendly with a facebook page, large twitter presence and flickr stream so you can check out photos from previous years and stay up-to-the-minute during this year's event!
The television station France 2 is hosting a photo contest in conjunction with the Night of Museums through their website france2.fr. You're invited to take a picture of your favorite work of art and submit it through the website, and through the facebook profile of the Night of Museums.
See the Nuit des Musee site a full event listings of the special expositions, concerts and presentations in Paris.
Comments