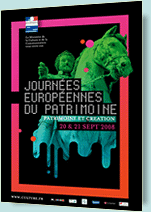 If you don't have any plans this weekend, then taking part in the Patrimony Days is a must. It's the once a year chance to see some unique sites, many of which are normally closed to the public. Here's my pick for this year…
Even though you can still visit museums during the weekend, it's much more interesting to go to one of the rarely open sites of the 15,000 options. It's advisable to stay away from the 'star' sites such as "Elysee Palace" – the Residence of the President, the French National Assembly or the Senat, after waiting hours in line you will then be hearded along through the crowded rooms. The following are some special sites I recommend… and might go to myself!
Le College des Bernardins – 20 rue de Poissy 75005, this beautiful 13th century college for Cistercian Monks is reopening for the occasion after 5 years' of renovations.
l'Atelier de Joaillerie Mellerio – 9 rue de la Paix, 75002, a unique visit to this jewelry workshop founded in 1631. Artifacts, special pieces of jewelry and drawings will be on display.
Comedie Francaise – 1 place Colette 75001, get a behind the scenes look at this mythical Parisian theatre.
Salvation Army Cite-Refuge – 12 rue  Cantagrel 75013, this is an fascinating site for anyone interested in the work of Le Corbusier or Modern Architecture. Designed along with Pierre Jeanneret in 1930, it was to hold the offices of the Salvation Army and temporary housing for up to 500 people. It is now a classified national monument.
This site is a perfect compliment for anyone participating in our Modern Architecture Walk as it is not included on our walk due to its location.
For the full programme (in French) see the Patrimony Days site.
Comments