We've come up with a list of spots that are must see sites for fall foliage in Kyoto. The fall season in Kyoto tends to be from early November to early December, but as expected, nature doesn't always follow a strict calendar schedule. 
Fall Foliage in Kyoto
On our Kyoto Temple Tour we visit the renowned Yasaka Shrine. If you continue your path through Yasaka Shrine, following the stream up past the waterfall to the foot of the eastern mountains, you'll find yourself in a particularly serene spot called Maruyama Park. This location is admired by Kyoto docent Daniel Milne due to its central yet overwhelmingly undisturbed atmosphere.  From the classic Japanese maple leaf to ginko trees this central spot is a must to catch the fall scenery.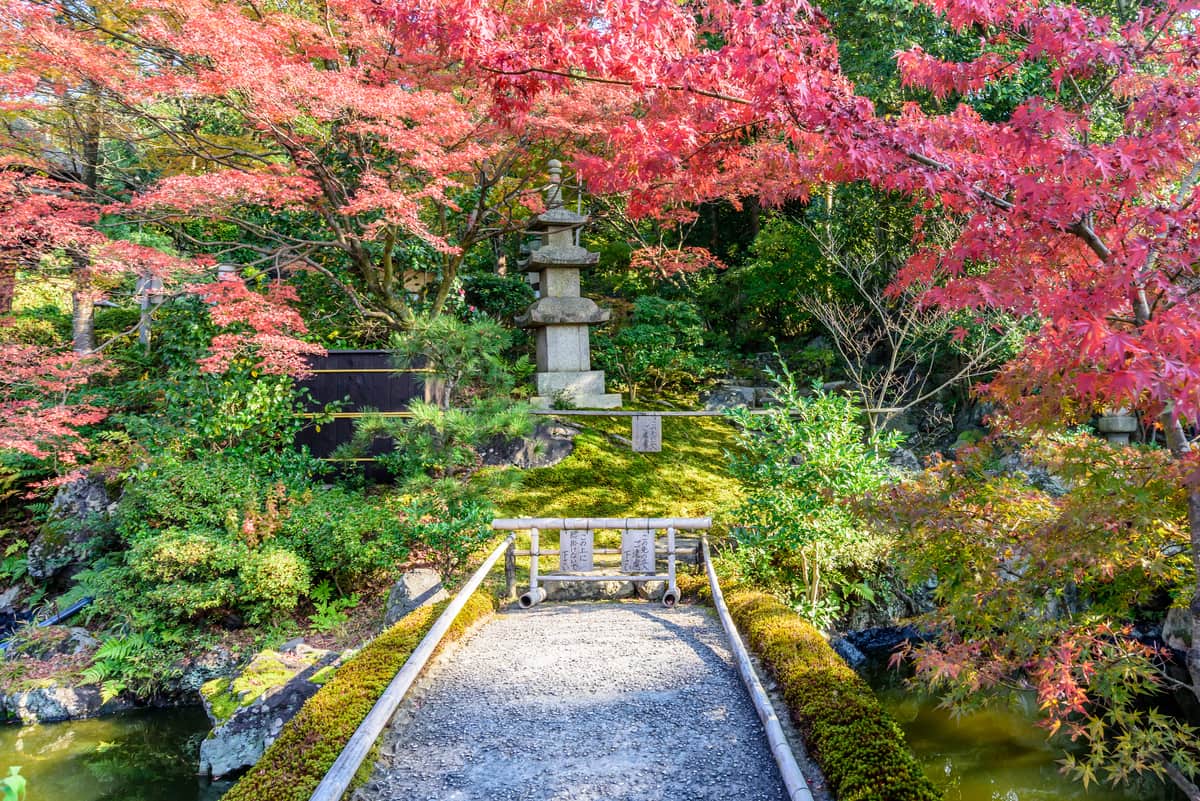 A little further away in Eastern Kyoto is Tōfuku-ji, another beautiful location to see fall foliage in Kyoto. Tōfuku-ji is one of the city's major Zen monasteries, and the view of its Tsūtenkyō ("Bridge to Heaven") with the autumn leaves is stunning. If you're lucky, you may catch docent (and Japanese knife-maker) Alexander Bazes observing one of his favorite Kyoto fall locales.
Fall Foliage in Kyoto: Kōtō-in and Eikan-do
Catering to family travel is essential in Kyoto and our next fiery red location can be found on our Kyoto for Kids Samurai tour. Kōtō-in, a sub-temple of its larger cousin Daitoku-ji, remains relatively undisturbed all year round, until the leaves begin to turn and the temple complex witnesses a crimson splendor. There lies a long and narrow path from the temple gates to the main buildings and it is enshrouded with impressive maples leaves and fall foliage at the end of the year. We wonder if the C17th-century military leader and samurai, Hosokawa Tadaoki, who once lived here would be impressed by the number of visitors his family temple now attracts.
A favorite spot of docent Karin Swanson is Eikan-do. What makes it charming is the beautiful reflecting pond which doubles the magnificent view of the flaring foliage. If you're lucky, you may catch an event which has people dressed in Heian period costume sailing in a boat on the pond, playing period court music. The effect of this can almost transport the visitor back to this era, to the Heian era. On the plus side, this site is near Nanzen-ji and can be part of a walk down the Philosopher's Path (see below).
An old favorite which is also wonderful to see during the cherry blossom season (see another one of our blog posts) is the Philosopher's Path. Nanzenji and the Philosopher's Path have wonderful vegetation which allows from stunning views during the autumnal weeks.
Fall Foliage in Kyoto for the Offbeat Explorer
Keen to head out into the Kyoto sticks and try something a little bit different for the fall foliage? Leave (pun intended) the city boundaries behind and walk through the northeastern hills until you find yourself at a beautiful temple dating back to the 17th century. Docent Gavin Campbell recommends Mashu-in Temple, a calm oasis surrounded by hills and mountains offering a terrific orange lens of Kyoto and its northern stretches from up-high. To reach this hidden gem, take the Eizan railway, get off at Shugakuin and walk up a rather steep hill for roughly 10 minutes.
For those who are keen to soak up a bit more of the autumnal opulence on display, from Mashu-In it's a brief 15-minute walk to Enkō-ji temple. This Zen temple has an enchanting pond, an abundance of maples and evening illuminations (as described below). If you are coming directly from Kyoto rather than the neighboring temple, take the Eizan railway, get off at Ichijo-ji station and continue up a rather steep hill for roughly 10 minutes. It's worth the additional trek out of Kyoto to these lesser-known spots – the yield will be well worth the trip.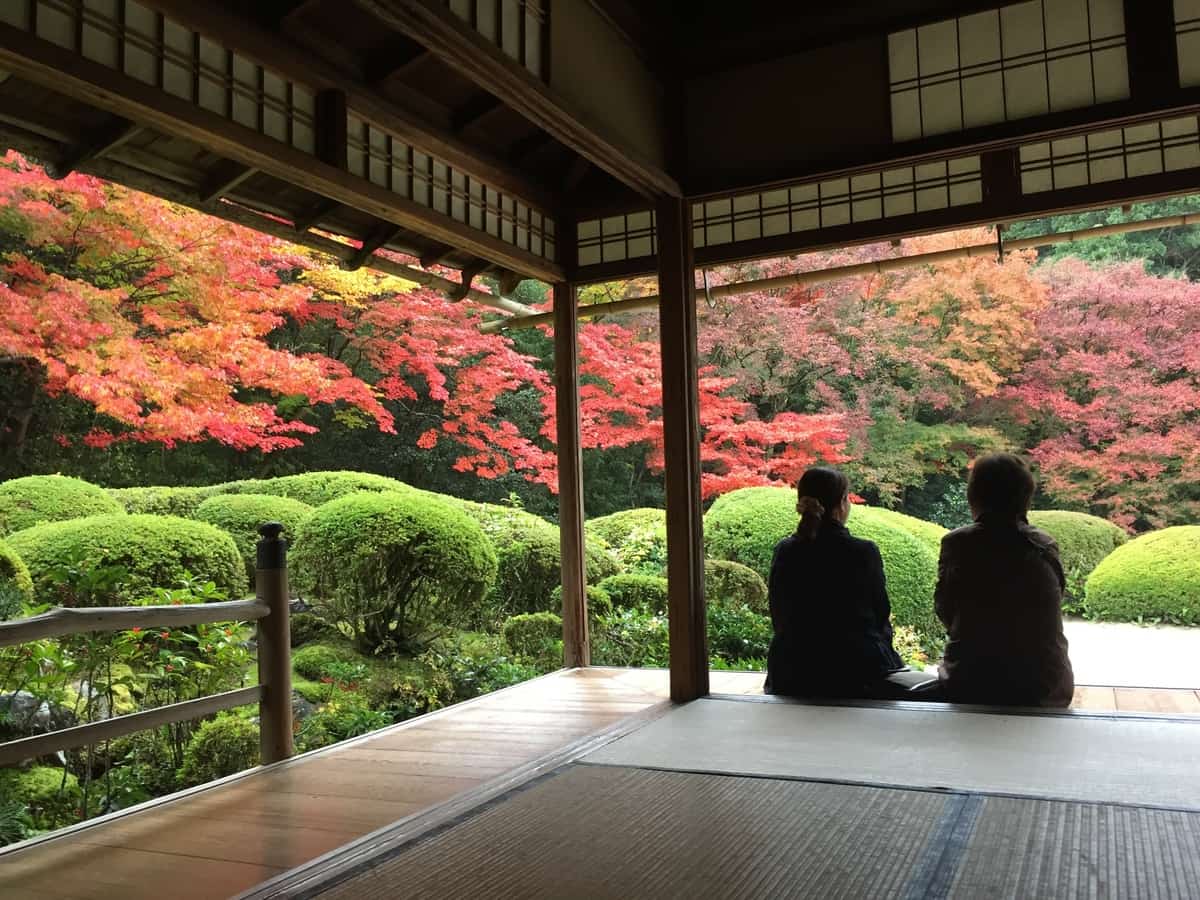 Fall Foliage in Kyoto: Bright Lights
It's not all about the fall leaves this autumn. Unknown to many tourists are the light shows that occur during the evenings in many temples. The shows integrate many of the maple colors into their animations which allow for an impressive and thematic experience for the Kyoto visitor. The best places to catch these are Kodaiji and Kiyomizu – two sites we visit on our Kyoto Temple Tour.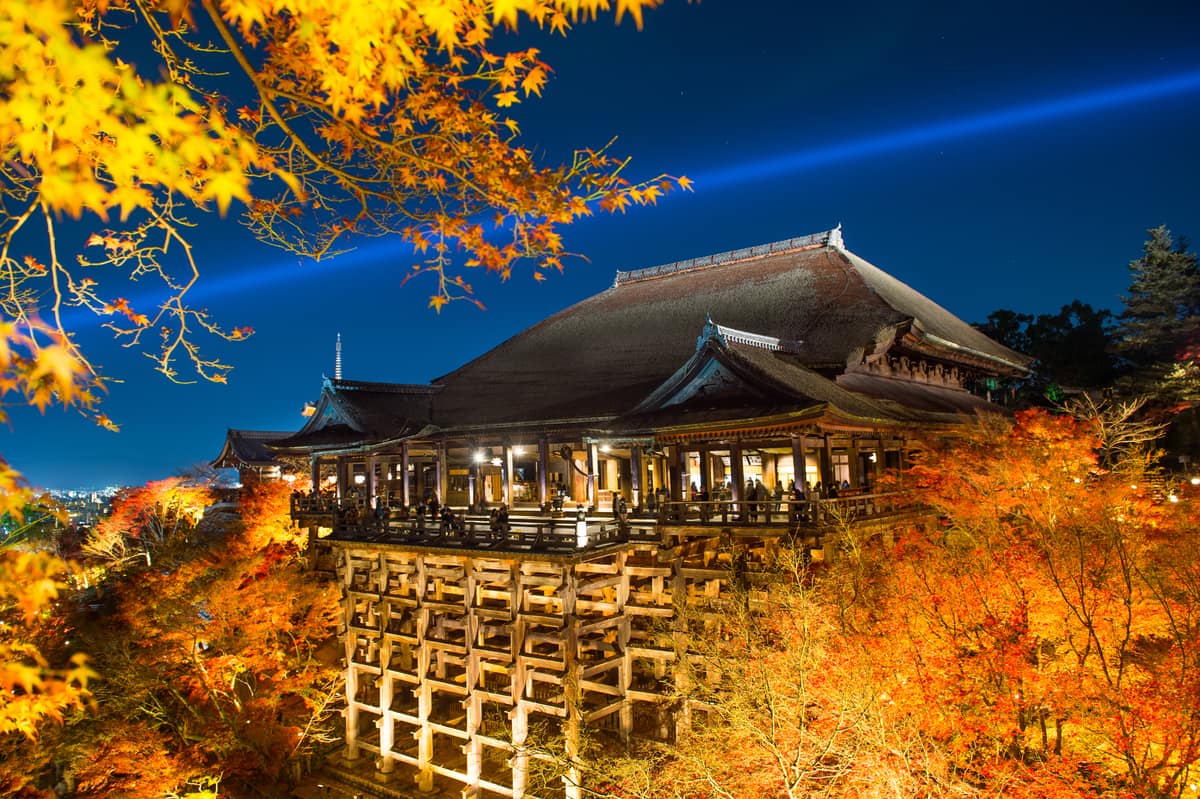 Comments