From Fashion Week to the 2015 World Expo, Milan is undoubtedly the place to visit this year. If you happen to be travelling in Italy throughout the beginning of December, it is a must see. After raking in more than 20 million visitors for the 2015 Milan Expo, the city is now back to its "normal routine."  Fortunately for us, the Milanese life is not "normal" at all, as it is filled with extraordinary things to see and to do.  We recommend making the trip during the celebration of St Ambrose and the dogma of the Immaculate Conception, which fall on December 7th and 8th.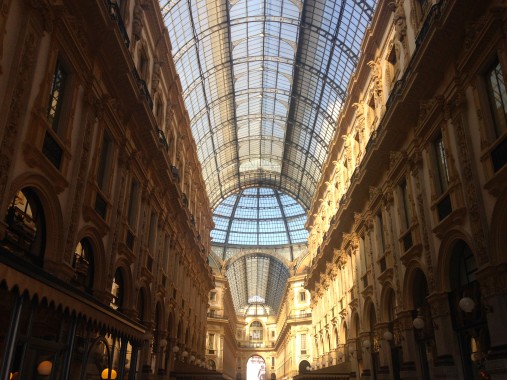 1 – It's a traditional and local celebration (and provides a taste of the city's rich history)
Ambrose (or Ambrogio, as he's called in Italian) is Milan's patron saint. He was made bishop, by popular acclamation, in 374 on the 7th of December. Since then, this day has come to be known as the day of Milan and hence the of big celebrations.
There's a long-standing tradition to celebrate this occasion with a Christmas market known as "Oh Bej Oh Bej", meaning "Oh beautiful oh beautiful" in Milanese dialect.
The market's location is more spacious and comfortable than the original one, even if a little less romantic. Anyway it is worth a visit.
Immerse yourself in the Christmas atmosphere and browse through handicraft decorations and antiques, mixed with lots of people watching.  With the cold weather, don't forget to grab a cone of fragrant caldarroste (roasted chestnut) to enjoy while walking around, and don't miss a visit to the castle nearby.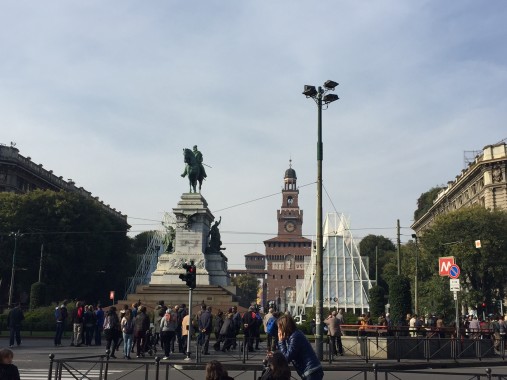 → Additional tip:  Make sure to visit the basilica of Saint Ambrose. Built between 379 and 386 AD, it is one of the most ancient churches in Milan and located just a few metro stops away.
2 – The opening night at La Scala
Arguably the most famous opera and ballet theatre in the world, La Scala traditionally opens up its doors for the season on the night of December 7th. The theatre has hosted numerous "La Prima", or first production, events like Giuseppe Verdi's premiere of Othello. The highly regarded cultural event draws the likes of local authorities and celebrities wearing glamorous attire.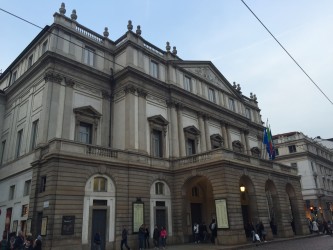 The opening show for 2015-16 season is the "Giovanna D'Arco" by Giuseppe Verdi, directed by Moshe Leiser and Patrice Caurier, and conducted by Riccardo Chailly. This unique opera made its debut in La Scala in 1845 and offers one of the most immense musical experiences in terms of quality.
Even if you aren't able to get your hands on a ticket, which can be very expensive and difficult to find, you will undoubtedly be in for a treat as you'll experience the city burst with excitement.
→ Additional tip: Take a stroll through Via Manzoni and make sure to take a peak into the Grand Hotel et de Milan, the former home of world-renowned Italian opera composer Giuseppe Verdi.  Verdi lived and wrote some of his greatest works at the Grand Hotel. He passed away here on the night of night of January 27, 1901.
3 – Panettone
With Christmas right around the corner, there isn't a better time for you to get your hands on a traditional panettone, the legendary sweet brioche cake. Requiring a long and complex preparation, the deliciously authentic pastry recipe includes butter, eggs, and flour, with raisins and candied orange cedar pieces evenly distributed throughout the loaf. Don't fret if you're a chocolate lover, the panettone is also available in numerous variations, including one with chocolate. There are many legends surrounding the origins of the panettone, but one thing is certain: its birthplace is Milan!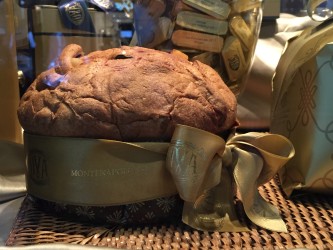 Where to find the best panettone?
A few of our favorites:
Cova: Established in 1817, this pasticceria – now in via Montenapoleone – has expanded to Japan, Hong Kong and China.  It was the favorite of widely celebrated opera composer Verdi, who used to buy panettone at this exact location for him and his second wife, Peppina, the opera singer.
Marchesi: Founded in 1824 and a local favorite, Marchesi was just recently acquired by Prada.  Marchesi has also expanded to via Montenapoleone. Both the new and the historical location, on via Santa Maria alla Porta, offer a charming atmosphere, and impeccable service. Although their traditional cakes and sweets are all outstanding, you can't make a trip here without trying the classic panettone.
Sant'Ambroeus: Established in 1936 and named after the patron of the city, you will be able to immerse yourself in the Milanese culinary tradition inside this very elegant pasticceria.
→ Additional tip: If pastries aren't your cup of tea but you still wish to experience authentic Milanese cuisine, there are plenty of amazing dishes to go around. Make sure to check out these other traditional plates such as risotto, "cotoletta alla milanese" (cutlet fried in butter) or, for the curious, a "cassoeula", a traditional winter plate consisting of savoy cabbage stewed with different section of pork. Although some say that the prime time for a cassoeula is in the months of January or February, when the cabbages have been frozen by the cold temperatures, it it nevertheless delicious also in December.
4 – The Holiday shopping
What better time to shop in one of the most important international fashion hubs of the world than the holiday season? And while you search for presents for your loved ones, chances are you'll probably end up finding a few special items for yourself as well.
For the perfect ready to wear shopping experience, make sure to check the windows in the Quadrilatero della Moda around the via Montenapoleone district, known as Milan's most splendid and extravagant shopping area. Visit a couple of hip stores like 10 Corso Como or Excelsior and then make you choice. Although a bit on the costly side, you'll surely walk out with the latest and most current stylish attire and accessories.
If you're a fan of design and decor, and have left some space in your suitcase, a visit to Cargo/ High-tech or Moroni Gomma is an enjoyable experience. The design area in La Rinascente also has an impeccable selection of timeless pieces ranging from home decor, to men's and women's fashion.
Any gourmand friends on your Christmas shopping list? Bring them something savory from Peck, the traditional temple of gastronomy, or Eataly, the Italian food chain that has slowly conquered the world.
→ Additional tip: If you have time and are not worn out from your world class shopping, visit the "Artigiano in Fiera", the huge crafts fair that takes place every year in Rho from the 5th to the 13th of December. With more than 3,000 exhibitors from around Italy and the rest of the world, it will be virtually impossible not to find something that catches your eye.
5. You Can Always Come Back for More
If you are dreading the cold and the possibility of snow in December, as you most likely won't feel like sitting along the Navigli while drinking your Negroni Sbagliato cocktail during aperitivo time… If you are worried that you won't be able to see all of the fashion icons and designers strolling around the streets of Milano, which they usually do during fashion week and Salone del Mobile, when the city is literally full of parties… If you are thinking that you will not make any purchases in the stores…Well, these are actually all very good reasons to come now! Why? To have an excuse to come back again.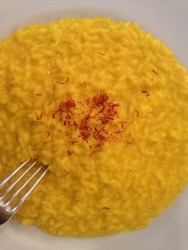 → Additional tip: do you have a couple of extra days at your disposal? There are amazing day trips outside of Milano, offering opportunities for leisure and relaxation.
You could enjoy hot drinks and fresh pastries at the Christmas markets in beautiful Merano or Bolzano, filled with the cosy and magical atmosphere of the holidays. If the snow allows it, skiing awaits you in the beautiful alpines in Valtellina or Valle D'Aosta.
Regardless of the reason, there is no doubt that Milan is a central location for technology, fashion, and culture in Italy. Although the city is 2,600 years old, Milan offers a contemporary twist with many hidden treasures. 
Comments