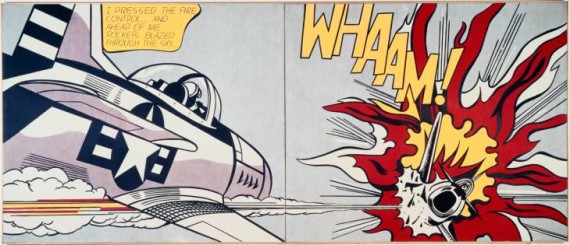 For three months this spring the Tate Modern, on London's Southbank, plays host to the first comprehensive retrospective of the work of Roy Lichtenstein in twenty years.  As one of the shining lights of Pop Art, Lichtenstein's comic-strip style paintings appear to need little by way of introduction; iconic and eye catching, his brightly colored and accessible works are immediately familiar to regular gallery visitors.
However, as this exhibition suggests, the simplicity of Lichtenstein's paintings should not be dismissed so easily.  As one of the more intellectual of the 'Pop Art' movement, his work incorporates commentaries on the mass media, authorship, social observation and art criticism. Visitors to the exhibition will be pleasantly surprised by the quantity of 'unknown' works among the 125 on display – his Mirrors series in particular should impress, as well as the serene and peaceful landscape series inspired by Chinese landscape tradition.  But these are not the initial draw to the exhibition.  "People will want to visit because they know the paintings, or think they do," says Context Travel docent, art historian Kevin Childs, "there's a familiarity about Roy Lichtenstein's paintings. They're almost iconic, but they're also intentionally simple and easily assimilated into the average gallery-goer's experiences."
It is interesting to compare Lichtenstein's work with that of his Pop Art contemporaries, whose paintings are seemingly far more complicated.  Lichtenstein's most famous paintings deal with comic-book action and popular romance as themes. Childs points out that there is far less of the 'what did the artist mean?' than you would get with Jackson Pollack or Mark Rothko. Nor is there the need to explore the often obscure biblical or mythological stories behind the works of older artists. Lichtenstein's paintings and sculptures appear to simply require an immediate response.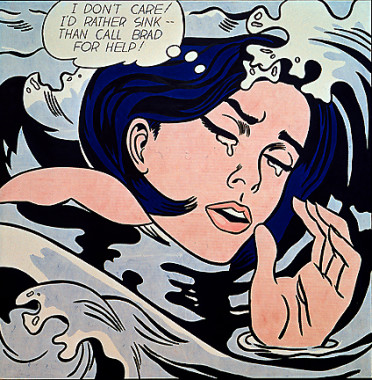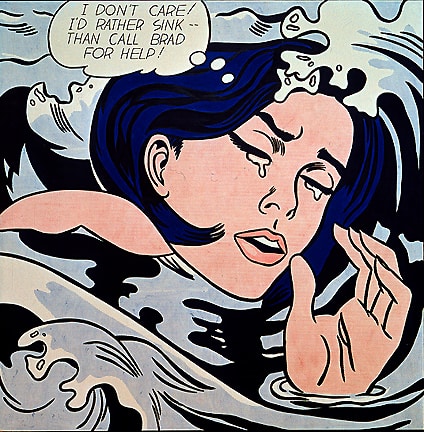 But there is much more to a Lichtenstein than meets the uninitiated eye.  It's important to look beyond the surface of a painting like Drowning Girl to explore what's really going on in the mind of Lichtenstein as an artist. "It's not just a rendition of an actual image, it's a painted rendition of what was originally a printed pop-fiction cartoon image, painstakingly constructed from individually painted dot and physically magnified to a point where the sentiment tips over into parody," explains Childs. This is a slightly unnerving realization – what we're looking at is a meticulously constructed painting, not a mechanically produced work that employed silk-screen painting and other technologies; a common misconception of Lichtenstein's work, and one which places him, incorrectly, in the same category as Andy Warhol.  Knowing otherwise begs all sorts of questions as to why he went to such an extent to make what appears at first glance to be a copy.
We are lucky with Lichtenstein, as there is a great deal of reported material which allows some insight into his mindset at the time he was making these images. A letter from 1967, for instance, delves into the Tate's own war painting, Whaam!, which shows a fighter jet firing a missile and its impact on an enemy plane. The image is derived from a popular boys-own cartoon book. Lichtenstein describes 'two almost separate paintings having little hint of compositional connection, and each having slightly separate stylistic character'. This letter is a useful tool for understanding the work, and Childs demonstrates that it reveals "how the two parts of the painting, a diptych in traditional language, actually show a temporal sequence of events, which, as the artist contends, may or may not be related."  It is rare to have an artist's own description of their work, and in the case of Whaam!, it provides deeper insight into the motivation for its composition.
Lichtenstein's paintings and sculpture also incorporate criticisms of the art world in which he functioned.  So many of his pieces were based on advertising or comic-book melodrama and they challenged the prevailing hierarchies, which tended to ignore commercial art.  One series of paintings, made in the mid-1960s and known as the Brushstrokes, is a commentary on the art movement that had dominated American art since World War II – Abstract Impressionism. Childs notes that this wry take on the movement is achieved by recycling its conventions through the medium of mass-produced pulp fiction.
Whether attracted by the bright colors and irreverent subjects of Lichtenstein's catalogue of works, or intrigued by the lesser known paintings and sculptures, the Tate Modern's retrospective is sure to be one the art world's highlights of 2013.
Like the comic-book images themselves, there's a great deal of humor here, which is not always a given in a retrospective of a major artist, but as Childs points out,  "who said art can't be fun?"
Lichtenstein: A Retrospective
Tate Modern
21st February – 27th May 2013
£14 (advance booking suggested)
Open until 20.00 on Sundays, with last ticket sale at 19.00.
Comments