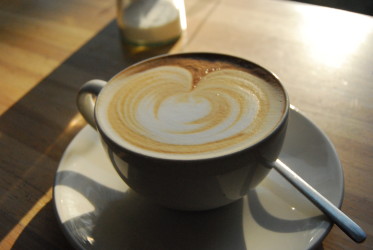 London offers a variety of places for a cup of coffee, but while abundance is not a problem, quality may be more questionable. That's why in the past year we have scouted a handful of favorite places that combine atmosphere, great location and high quality caffeine!
London Review of Books Cafe
Unless you are looking for this place, you are likely to pass it without a second glance. And yet, the LRB is not only one of London's best bookshops but also a delightful place to sip on espresso, lattes and cappuccinos as well as a variety of teas. The books make for a perfect surrounding, giving the cafe (and you) an intellectual and chic look.
I personally like having business meetings here. While it's not always quiet, it's a very inspiring place, with free wi-fi, an excellent location (right next to the British Museum), and a great selection of cakes and drinks.
Princi
Because the Italian in me never fully goes away, when I found out about Princi I went there every day for 3 weeks in a row. Located in SoHo's Wardour Street, Princi can be incredibly busy at rush hour, but even if you have to wait a little, it's worth the wait. Imagine Italian bar/rosticcieria meets Asian sleek style. Well, that's exactly what happened. Italian baker Rocco Princi and Chinese food entrepreneur Alan Yau joined forces to create this beauty. Coffees and cappuccinos are excellent, but also this is one of the few places in London where you'll find a crodino, and a proper spritz without paying an arm and a leg. Pizze and breads come out of the oven every 10 minutes. Salads, pasta dishes and other delicacies are available and clearly on display. All served by a friendly and efficient Italian crew..now you see why I never wanted to leave!
Kaffeine
A tiny place, almost hidden joint located just North of Oxford street. The limited space and almost spartan furniture should not throw you off, this independent coffee joint owned by a an Aussie/Kiwi team knows its stuff! Kaffeine serves some killer espresso (with a slight liquorice aftertaste, that I love) and a fantastic flat white. If you want more than coffee, try their baked goods, or even better, their salads.
Department of Coffee and Social Affairs
This place is living demonstration that Australians are serious about coffee. Here I have probably tasted one of the best cappuccinos in my life. The ambience is cool and hip, with bare walls and very basic furniture, but the crowd is made up of media people and Fleet street workers who come here for their daily dose of black drinks.
I love this place, the two owners are often here and notwithstanding their fame in the London coffee world, they are very friendly and keen to talk about their activity. Be prepared to wait, the perfect cappuccino, apparently, requires time. So take a seat, and maybe enjoy one of the delicious cakes they have on offer.
Monmouth Coffee
Nicely nestled in the heart of Covent Garden (and two other locations in the city), Monmouth Coffee is a must go destination for coffee lovers in London. The problem here, especially at peak hours, is actually finding a seat. So be armed with patience, or simply opt for a "coffee to go" experience. Along with being one of the best coffees in town, the peeps at Monmouth coffee can claim the role of initiator of the London coffee revolution. They have been in Covent Garden since 1978, and while the roasting of the beans has now been moved to their Bermondsey location, the Monmouth street shop remains the most famous, and busiest.
So, which one are you going to try on your next trip to London? While you have a think, we'll have another cup!
Comments