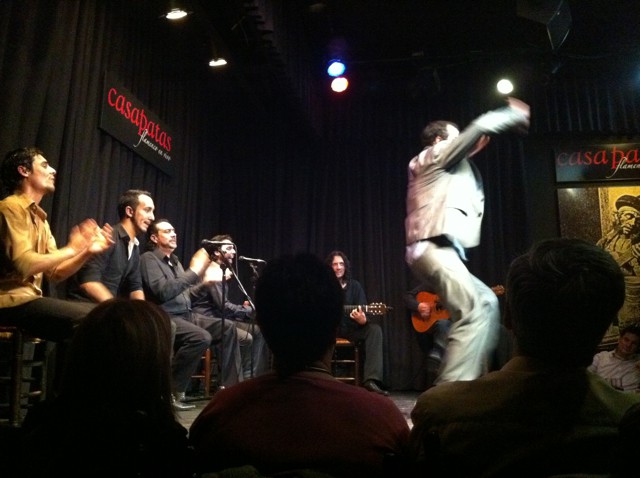 Last Tuesday, in Nairobi, the ministers of UNESCO added Flamenco to the list of Intangible Cultural Heritage of Humanity. Flamenco aficionados from Seville to Madrid erupted in joy, including our own docents in Madrid where we, coincidentally, just launched a Flamenco tour.
"Flamenco is a feeling," says Martin Guerero Gomez, director of the Flamenco cultural preservation foundation Casapatas, with which Context is collaborating on our tour. He waves his hand around the crowded, dark theater where the thrumming of Flamenco dancers is filling the space. "You need places like this—small, crowded places, late at night, with the singers all in black…."
We're proud to have Casapatas as a partner in this endeavor. In addition to staging some of the best, non-touristy Flamenco performances in Madrid, the organization also runs classes, charity events, and houses a fantastic collection of photographs chronicling the modern history of the artform—many of which were snapped by Martin himself.
"You have to get out and meet the guitar makers, the dress makers, and visit one of the small bars where Flamenco was born in order to truly understand it," says Sabina de Cavi, an art historian, Context docent, and amateur Flamenco dancer who will primarily be leading the walk. On the eve of the UNESCO announcement she gathered a group of us to "workshop" the walk at La Venencia, a small manzanilla (dry sherry) bar in Huertas where the Friday evening crowd bides its time until midnight when the Flamenco theaters in the neighborhood open their doors.
So, congratulations Spain and congratulations Flamenco on a recognition long overdue.
Comments