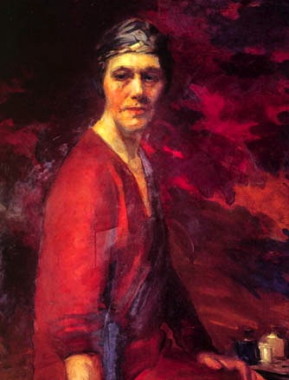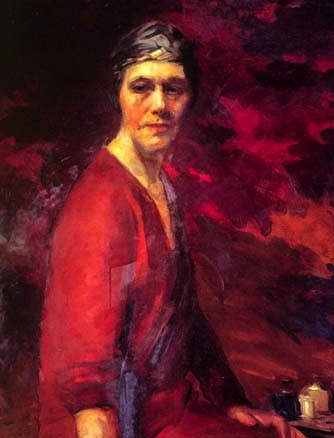 The Vasari Corridor is world-famous for its collection of self-portraits by renowned artists. Among the famed painters are names such as Bernini, Canova, Rubens, Rembrandt and Velazquez. Only twenty-two of these paintings are by female artists, of which one in particular caught our eye: Cecilia Beaux. Considering that only ten paintings in the corridor were painted after 1900, it is very impressive that Beaux, her self-portrait commissioned in 1924, was one of the artists invited to be part of the display. But who was Beaux? For someone so highly regarded that she was asked to paint her own portrait for the Vasari Corridor, it is strange that today she is all but forgotten.
A passionate painter of portraits, Ceciia Beaux realized early on that she wasn't very interested in other styles of painting, despite reputed talent for scientific illustrations and porcelain painting. Nor was she drawn by impressionism and the plein air technique that she explored during her time in Paris in 1888 and '89. Where Beaux excelled was with her portraits. Upon her return to Philadelphia in 1889, she quickly became famous, exhibiting her work in New York and Paris.
Taking a serious approach to her craft, and with a family who fully supported her choice of a career, Beaux's dedication to her art resulted in a prolific output. Requests poured in from both the elite of Europe and North America, most notably from the Roosevelt family. Awards and recognition followed, including the honor of being the first female to hold a steady teaching position at her alma mater, the Pennsylvania Academy of Fine Arts. She taught portraiture, naturally, and continued to teach courses for the next twenty years.
Lauded by Eleanor Roosevelt in 1933, as the "the American woman who had made the greatest contribution to the culture of the world," Cecilia Beaux was much celebrated within her own lifetime. She was often compared with John Singer Sargent and Mary Cassatt, and thought to be superior in talent. Now eclipsed by their fame, Beaux's work has been largely forgotten, although still displayed in museums throughout the world.  Keep an eye out for her the next time you are visiting the Sargents and Cassatts. After all, you won't find Cassatt in the Vasari Corridor.
Comments