Buenos Aires is a sprawling city that suffers from many of the same issues big cities have when getting around: an airport far from the city center, traffic congestion, and impossibly busy rush hours. However, unlike many Latin American cities, it has done a fantastic job of offering a variety of safe and efficient public transit options that may make even the adamant taxi user consider going public. For the best public transport tips and our suggestions for seeing the city, read on for our guide to getting around Buenos Aires.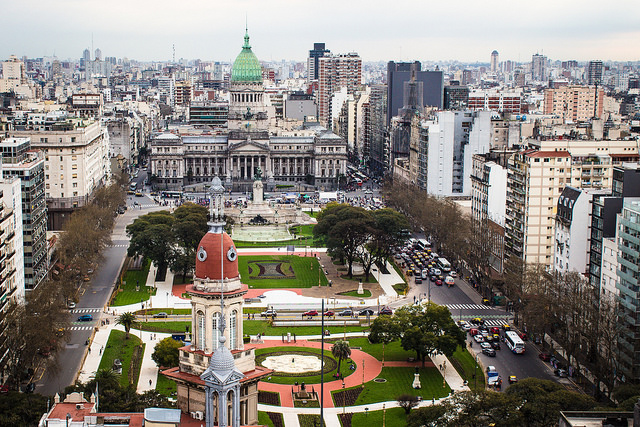 Getting Around Buenos Aires: From the Airport
Unfortunately, this is one area where public transport proves extremely inconvenient. There is no Metro from EZE, so short of an inexpensive but grueling 2+ hour bus ride on linea 8, the best way to go is taking a taxi. However, taxis in Buenos Aires aren't cheap, and more expensive car services are extremely expensive, even by American standards.. Expect to pay around ARS$700 (USD$35) or more to arrive to the downtown area from EZE in a taxi from an authorized booth within the airport, and up to ARS$3700 (USD$190) in a pre-arranged premium car service with English speaking driver. Why so expensive? Gas is over USD$5 a gallon, there are almost USD$10 in tolls each way, registration for these cars is around USD$3000 a year, and the cars themselves are comparatively very expensive to purchase in Argentina.
Once you've made it into the city, the cheapest means of getting around Buenos Aires is by public transport, which is is often just as fast, if not faster, than hailing a taxi or an Uber. The other large bonus about public transportation, besides being a more sustainable choice, is convenience: one card works on the subway (called Subte), bus, and regional train. Once you buy the all-in-one card, available at any Subte stop for ARS$25, which includes $5 pesos of credit, you can keep it and use it for the entire family for the duration of your trip.
Getting Around Buenos Aires: By Subway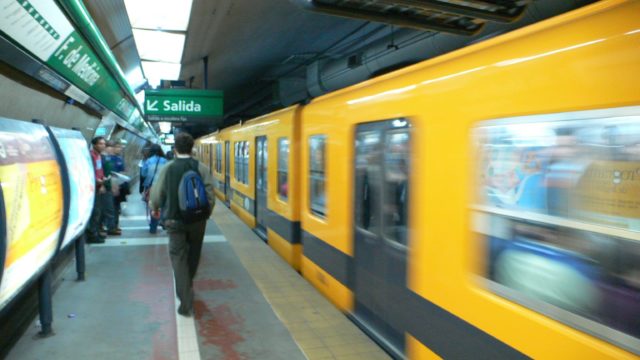 Besides buying your card here, this is also the best place to charge the card. Since one ride costs just ARS$7.50, you'd be fine for a few days on a single $100 pesos charge. To enter, simply scan your card at the turnstyle once for each person.
The metro system is quite simplistic, forming a rough tick-tack-toe grid over the city. There is one downtown north-south line (Line C) and a further out H Line that connects to several east-west running lines, each identified primarily by a letter, then by color.
You'll know recognize which train to get on by looking on the map and getting on the train labeled with the last stop on the line. Subways run every 3-4 minutes 5am-11pm, so it's very convenient.
One interesting caveat: cars ride on the right side of the road, but the subway, built by the English, rides on the opposite side of the track. So watch which way you are sticking your head into the track awaiting the train.
Getting around Buenos Aires: By Bus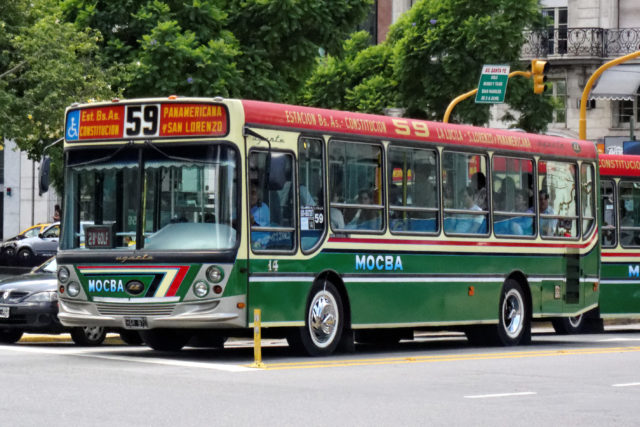 Buses may be a traveler's biggest public transportation fear, but those getting around Buenos Aires need not fear.  Google Maps is up-to-date with the bus system, so you can find accurate information using the website you're probably already familiar with. The major spine of the bus system lays along the gigantic north-south running avenue called 9 de Julio, which has specialized bus lanes. Thus, taking the bus (or colectivo, as it's known here) is often faster than a taxi along this route. If you're staying in San Telmo (or going there—perhaps for our Buenos Aires Food Tour), the oldest neighborhood in the city, it's quite helpful to use the bus.
Before boarding, take note of the stop name at which you wish to disembark. There should be maps at all major bus stations, and every station has a distinct name. Upon boarding, look for the magnetized card reader at the front of the bus, which you will scan once authorized by the driver. Before authorization, however, the driver will expect you to report to him about which area of the city you plan to disembark at. If your Spanish is shaky, simply write down where you intend to go and show the driver upon boarding. The driver will trigger a flashing light on the card reader, at which you can then scan your card and enter the bus. The process takes just seconds, but can be confusing if you don't expect and are greeted by an expectant bus driver.
The ride should cost about 6 pesos, but the value changes depending on the distance you travel.  Buses stop only at demarcated stops, so don't bother the driver with any specialized requests to drop you off between stops. If you have Google Maps on your phone, you can watch your progress real-time, even if you don't have data service, and the app is especially helpful if you've downloaded the offline maps. Buses are handicap accessible and stroller friendly, but the Subte is not, where sometimes there are elevators, but not always.
Another interesting caveat: Make sure you take a culturally curious look into the bus's interior design. There is a tradition here that the driver take pride in personalizing the interior of the bus according to their own tastes, usually in the style of their favorite soccer team, incorporating Jesus decals or fringe trimming along the windows.
Getting Around Buenos Aires: By Train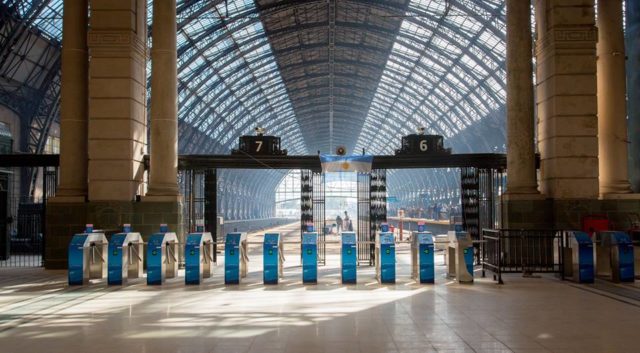 If you plan on leaving the immediate downtown area (or even if you don't) Retiro Station is a worthwhile stop for its architectural splendor. This station is the gateway to the largest metropolitan railway system in the world, and is a major transport hub between the Subte and trains. To get there, take the Subte C Line to the last stop north, Retiro, from which the train runs north-west. You can use your Subte card for the train, which only costs only 4 pesos. Trains depart according the a published schedule so you can be assured exactly when you'll be leaving and arriving to your destination. One good excuse to see the train is to get to MALBA, the meeting point for our new Buenos Aires Street Art Tour, or further on to Tigre for a customized day excursion around the delta and its floating islands.
Getting Around Buenos Aires: Taxi and Uber
Taxi: Taxis are readily available and safe. They run on a taximetro (taxi meter), which can really add up if you're trying to get across town during rush hour (which seemingly can be any hour of the day). Expect to get from downtown to Recoleta area spending ARS$150-300.
Uber is another relatively new option, though you may be waiting a while for a driver to pick you up. Additionally, due to constant strife between the taxi syndicate and Uber, you may get unlucky and visit during a moment in which Uber has been outlawed.
Bonus: Accommodation: Many clients stay at Four Seasons, and others at the Alvear Palace. Our personal favorite is the Alvear, because it's both beautiful and historic. If you're more the vacation rental home type, you may want to consider staying near Plaza Dorrego, San Telmo's main square. It's delightfully charming with cobblestone and the heart of the weekly antique fair on Sundays.
Looking for things to do once you've arrived? See our guide to visiting Buenos Aires.
Comments