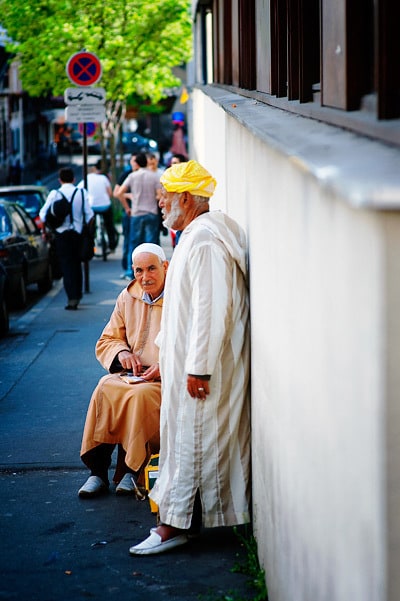 Travel writers Lara Dunston and Terence Carter have written around 50 travel guidebooks and scores of articles for magazines and newspapers all around the world, from National Geographic Traveler to The Independent. This year they embarked on a personal travel project called Grantourismo, a contemporary grand tour of the world where they aimed to travel more slowly and sustainably, to live like locals, and to do and learn things. They did a number of walks with Context in London, Paris, Venice, New York, and Istanbul which you can read about on Grantourismo.

Q. How did you come up with the idea of Grantourismo?
Lara Dunston: Terence and I were in the kitchen of my uncle and aunt's house in Australia one morning, making coffee while taking a break from a guidebook we'd been writing, and we were discussing the pros/cons of a recent research trip. We decided to develop a project that consisted of the best of both of the worlds we were working in – guidebook writing and travel journalism.
We wanted a project that would allow us to travel more slowly and settle in for a while in an apartment or house, a project that enabled us to engage more with locals, and experience places through people, rather than ticking off sights. We came up with the idea of a yearlong grand tour where we'd spend a month in each place, living like locals, doing and learning things, and writing about our experiences on our site: http://grantourismotravels.com/ We were lucky in that HomeAway Holiday-Rentals had a similar project in mind so we partnered up. Little changed from our original concept, other than we reduced our stays from four to two weeks per place and doubled the number of destinations.
Q. You have now been traveling for ten months for the Grantourismo project, what have you learned from this experience?
LD: We've learned that when it comes to travel, slow is best for us. We much prefer to settle in for a couple of weeks, rather than race through a place in a few days. We've also learned that we don't miss ticking off sights at all. We're more than happy to discover a place by walking the streets and soaking up the atmosphere, hanging out in a park, shopping at local markets, eating our way through a city, doing a walking tour with a local guide. We don't miss the fact that we may not have seen a city's number one must-do attraction. Most importantly, we've learned that it's the people that really make an experience of a place special. Our most memorable stays have been those where we've met fascinating people and made friends. Cape Town, for instance, is a city about which we have complex feelings, the poverty is appalling and there are huge economic divides between rich and poor, making it a city that was difficult for us to like easily despite its natural beauty. Yet by the end of our stay we really felt very fond of the place and it was because of the spirited people we'd met.
Q. You are both real foodies. During your travels you have eaten in wonderful restaurants, cooked with local chefs, and shopped in authentic markets. How was that? And were the people you met and talked to proud to share their culinary heritage with you?
Terence Carter: We have actually been dining out in fewer wonderful restaurants than we normally do when we work as travel writers or guidebook authors, and we've been enjoying cooking in our apartments and houses a lot. It's been brilliant exploring markets, taking cooking courses, and chatting with chefs and cooks, and then going 'home' to make something. I've never had a time on this trip when a cook wasn't willing to share their local specialty. With our cook in Bali, she shared some of her favourite recipes and I taught her a few Western ones that she wanted to add to her repertoire for guests. In Paris, I wanted to cook côte de bœuf and everyone from superstar chef Pierre Gagnaire to our local butcher in Montmartre to a woman running a fashion boutique had an opinion on exactly how it should be cooked – and their opinions were exactly the same! When it comes to things like stews (I've been doing a lot of slow cooked dishes this year), everyone has a different recipe! I think I had 20 different recipes in Jerez, Spain, for Rabo de Toro (oxtail stew) – people did agree that it had oxtail in it and it was a stew, at least! People can be very opinionated about their local specialties.
One of the funniest incidents of the trip was when Lara went to a butcher's shop in Ceret to buy Toulouse sausage so I could make cassoulet and he said that "That's not from here!" and refused to serve her because he knew that she was buying it to make cassoulet. In a typically French contrarian manner, Lara noted that he sold tins of cassoulet in his shop. Have to love the French for their stoic nature regarding cuisine.
Q. Did you get food poisoning during this trip?
TC: I think it's inevitable that you get sick when you travel so much, whether it's the food or the water. We've had some dreadful experiences over the years that have kept us bedridden for days – in India, Thailand and Turkey – but this year we've had just a few minor bouts, touch wood. I can think of a couple of times that I had the Imodium on the bedside table, and Lara has had to pop one or two on occasions, but nothing too dramatic. In Mexico, where most people end up getting sick, we ate much more street food than fancy restaurant food and we were fine. We didn't drink the tap water at all…
Q. Did you ever find resistance or skepticism towards your project and interests?
TC: No resistance in terms of asking people to have their portrait taken or teach me a local dish. Sometimes people running local specialty tours are wary because they've been taken advantage of from travel writers who don't have commissions or bloggers with a low-ranking travel site, but when they see our website, they're happy to get involved – and often disappointed if I don't have time to make their portrait.
The main skepticism has come from people who misconstrue the intention of the project. It's not about writing a general travel guide to a city or us trying to be locals. We're just trying to learn as much about aspects of local culture through the local people, and staying in a holiday rental is a much better place to start to achieve this. We also think it is a fantastic way to travel to 'road test' a city or destination, if you're thinking of moving there or buying a property there – why not rent for a month or three?
Q. One of the key elements of the Grantourismo experience is about staying in apartments instead of staying in hotels. Do you think this is for everyone?
TC: I don't know everyone, but what I do know is that people travel differently at different times of their lives and for different reasons. They also travel for different lengths of time. For me personally, if I'm going to be in a destination for more than three days, I'm going to look for a rental. Rentals are probably not suitable for people who spend a lot of time at the concierge desk – although we've stayed in some holiday rentals that have had concierges that are better than most hotel ones!
What I do like about the holiday rental experience is that it gets you out on the street. The first thing we do when we arrive at a new place is get out and find the local markets or supermarkets. You're not just an observer either – you need to figure out what the local names are for milk and sugar etc, and fill a shopping list. It might not sound like much, but it immediately gets you engaged with the place, far more than visiting a top ten sight or a church – unless you go to mass that is!
Q. Who would you suggest should still stick to a hotel instead of an apartment while traveling?

TC: If you're staying less than a couple of days, stick to a hotel. If you're on business and absolutely need the Internet, stick to a hotel. If you want a really glam holiday, staying at a brilliant five-star hotel can be hard to beat, however, we've also had some very luxurious holiday rentals in Bali and Costa Rica that came with staff! For romance and privacy, I'm torn. We've had some brilliant stays in some Four Seasons where the staff never just enter the room or keep ringing the damn phone, but that's not always the case with brands with lesser attention to detail. We've also stayed in some very romantic rentals this year, in Venice and Essaouira, so it really depends on what the destination has to offer. But if you're going to spend a week in a three- or four-star hotel in a destination, I'd be checking holiday rental prices – especially if you're travelling in a group, and especially if one person in the group is a decent cook and can rustle up some breakfast.
Q. How do you pack for such a long, diverse journey?
TC: My bags contain 30kg of camera gear! It's certainly not like a 'normal' person packing for a round-the-world (RTW) trip. Camera and computer gear comes first, everything else a distant second. Most people pack too many clothes and get home having not even worn items in their bag. We did ship a bag of winter gear to London in March and tried to have it shipped to Istanbul in early November, but due to a delay with Turkish Customs we didn't get it until a month later in Zell am See, Austria. We wore nearly every single item of clothing we had every day for two weeks in Budapest, where it was snowing.
Q. Do you read/prepare before arriving to your next destination? Or do you prefer going without a preconception?
LD: It depends. When we wrote travel guidebooks we would read a lot before we went to a destination, everything from books on the history and politics of the place to travel literature, so by the time we arrived we really felt like we had a feel for the place. With Grantourismo we don't have time to do research before we arrive, as we're moving to a different destination every two weeks, so we really hit the ground running, and that's where I have to say Context's walks are so brilliant. We can do a few walking tours and we feel like we have a really good grip on the history or aspect of the culture and society of the city. In Paris, for example, a city we've been to a dozen times, I think we learnt more on this trip by doing your walks – on the history of the Boulevards, of Montmartre, the recent immigrant history etc – than we learnt on all our previous trips put together! The same could be said of Venice where we also did a Renissance walk, and a fantastic Lagoon tour and even a wine bar-hop! We do try to buy a book in each place we visit. At the moment, Terence is reading a book on the history of food, and I've got a tome on contemporary African history and current affairs that sadly, I haven't had time to open.
Q And if you do read, what are the books you'd recommend for travelers looking into a round the world adventure like yours?
LD: For round-the-world (RTW) trip planning, I don't think books are necessary, as there is so much online, and on travel sites and blogs. We booked our round-the-world tickets with Round the World Flights and I think their website is actually one of the best resources around for RTW trip planning. When it comes to reading about specific places, I like to encourage people to go to a good bookshop in the destination they're visiting as soon as they arrive and try to buy a combination of classics and contemporary literature by local authors, as those books will reveal so much more about places than any guidebooks. This is obviously easiest in languages such as English, and then French, Spanish and Italian, so if the city you're going to doesn't have shops that sells books in your language, you'd better order a selection before you leave.
11. What role do tours have on your Grand Tour of the world?

LD: We see tours as a great way to kickstart a deeper exploration and discovery of a place. We like to do a few tours straight away so we feel like we've made some way into getting beneath the skin of the place and we can then settle in quickly. We like to do your foodie tours and market walks immediately – that way we know where to shop, what to buy, and what/where to eat. We like to do a history tour of the area we're staying in so when we're walking down our main street or around the neighbourhood, we're not just passing pretty buildings, but we're walking through history in a way.
Q.Do you like to walk?
LD: Absoutely! Walking is one of the main ways we discover a city. We're trying to promote slow and sustainable travel this year, so we're not driving, and we're using vehicles and public transport as little as possible. We find ourselves walking everywhere all the time. We love walking because you can discover cities in such an intimate way on foot that you can't by car, train, bus or even bike. When you walk you're bumping into all kinds of people from all walks of life, and isn't that what travelling is all about?
Comments