Our food choices have a tremendous effect on the environment and more chefs are becoming involved in sustainable cuisine by supporting local farms.  In Greece, eating sustainably comes naturally by tradition.  Food is not a necessity, it is an integral part of the Greek culture.  Every meal is celebrated with a menu comprised of locally grown, seasonal products cooked by using the traditional "grandma's recipe".
During my last visit to Athens, I followed our culinary docent Nikitas Patiniotis for a quick tour of the Varvakios, central food market of Athens just before his Beyond Feta: Food walk  and we talked about how sustainable Greek food is. Here is what I learned:
Varvakios market is vibrant and vivid with fresh tomatoes, lemons, green vegetables, cheese, olives, meat, poultry and seafood products.  Nikitas greets vendors as we walk by with a warm "kalimera" (good morning in Greek). It is great fun to know the producer or the farm where your food comes from while choosing the fresh local ingredients for your meal.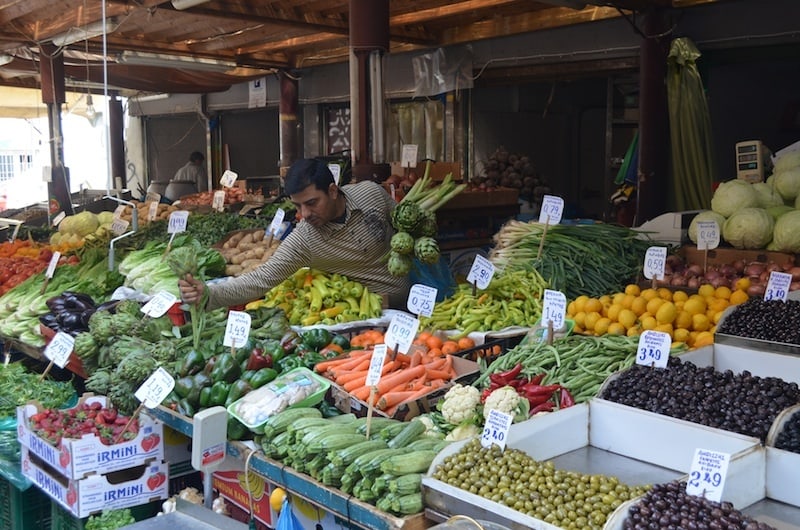 Local neighborhood markets, set up once a week in Greek cities and towns, only sell vegetables and fruits that arrive daily from the outskirts of Athens or islands, fish caught in the Aegean, lamb and goat products from the mountains and high valleys of Greece, and dairy products coming from the villages. As ingredients don't travel long distances to kitchens,  they remain fresh while the carbon footprint is minimized.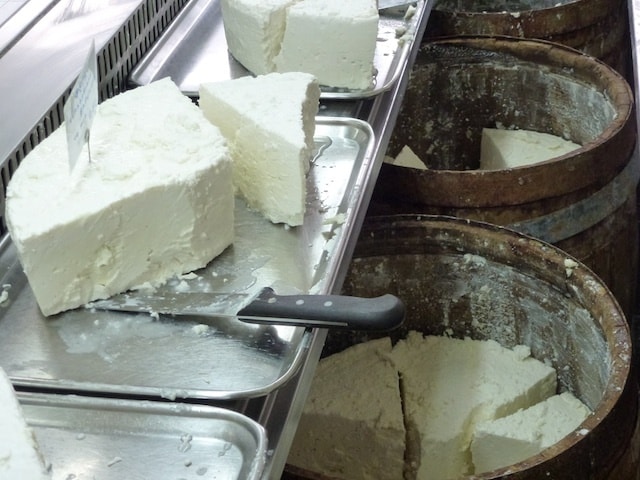 Greece has a deficit in beef production, as most of the country is mountainous and not suitable for raising cattle.  This makes beef one of the few imported products but nevertheless, Greek kitchens are abundant in lamb and goat based dishes, which are raised locally.
Most tavernas (small Greek restaurants) serve home made retsina accompanying their seasonal menus. Retsina is a unique resinated Greek wine with ancient roots produced mainly in Attica region which Athens is a part of.
Olive oil is described as "liquid gold" by ancient writers, and in Greece you are surrounded by this natural treasure. Olives and olive oil is used in cooking, preparing meals and also in cosmetics as soap or shampoo. Most of the delicious and healthy ingredients of a typical Greek dish may come from the tree nearby.
Knowing the source the ingredients, growing and consuming them locally, creating menus with seasonal flavors and fresh products, sustaining the heritage of family recipes, one can say Greeks by way of nature make the best of what their environment has provided.  Certainly a lesson for us all the learn.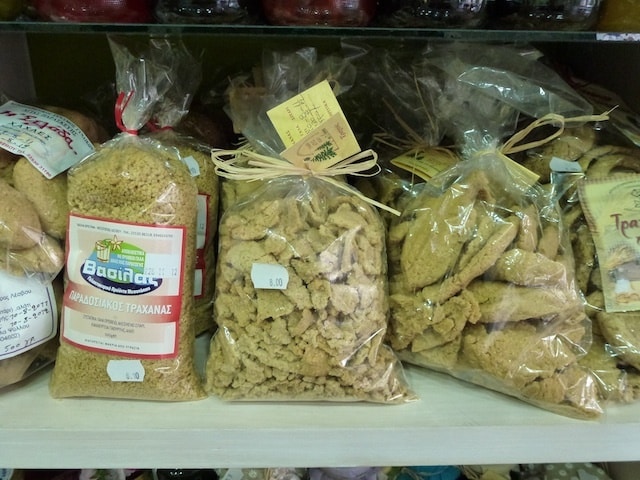 Comments