I'm convinced there is no better city in the entire world for food than Istanbul. I know that's a bold statement to make, and while some may disagree you only have to spend a few days eating here to understand why. Istanbul is one of those places that you can go just for the food and spend your time doing nothing but eating. Even after a week you will have barely scratched the surface and you'll ache to come back – I know because I did it.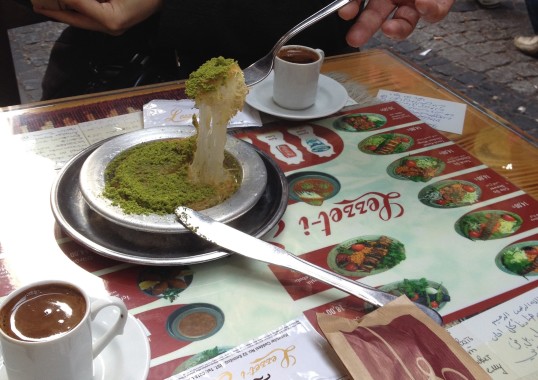 Breakfast in Turkey is an occasion in and of itself. I am not someone who longs for the first meal of the day though, a full breakfast spread is the thing of dreams. I just hate preparing it! Fear not, Istanbul has you (and me) covered. Get started early because a second breakfast may be in order. Here's how I would spend a full day eating in Istanbul!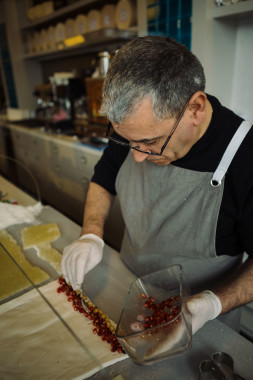 My favorite breakfast find is a tiny shop just off the Bosporus in Karakoy. There you'll find Karakoy Ozsut a family owned diner of sorts that does traditional Turkish breakfast like none other. Not only do they prepare amazing food, they have their own water buffalo farm where the milk and meat comes from. Order a full Turkish breakfast and you'll be greeted with plates of kaymak and thick, rich honey, caramelized walnuts, warm buffalo meat sucuk sausage, and thin slices of buffalo meat that rival Spanish jamon or Italian prosciutto, fresh tomatoes and seasoned olives, and menemen, a traditionally Turkish egg dish. It's the breakfast of dreams!
Cross the river towards the Spice Bazaar to discover a second treat. All meals should be followed with dessert and breakfast is no different. The small streets and alleys that lead to the spice bazaar and full of hole in the wall shops selling all varieties of food and drink. But, the best? The kunefe shops. Kunefe is a dessert eaten throughout the Middle East. It's made with shredded strips of a flat pastry dough like phyllo. The middle of the dish is made with a mixture of cheeses, topped with the shredded dough then cooked to a crisp and saturated in a sweet syrup. Split one if you must, but you may want to keep it all for yourself.
With such a big breakfast you won't need to lunch for awhile. Explore the Rustem Pasha mosque hidden in the Spice Bazaar and venture up the alleys lined with shops selling anything and everything you can imagine. For lunch grab a lahmacun from any number of sellers. These flat sandwiches resemble a pizza but don't let anyone hear you call it that. Rectangles of dough are smothered with finely minced beef and spices then baked in a super hot oven. Locals garnish theirs with a squeeze of lemon and handful of flat-leaf parsley. If you're really lucky you'll discover a tantuni shop and you shouldn't hesitate in ordering one to go. These thin pieces of lavash are wrapped up with beef, onions, tomatoes and peppers and seasoning – simple and delicious.
Like the Spanish, Turkish cuisine also has a fondness for small plate dining. The meze is the Turkish equivalent of tapas. You select a handful of things that sound good and then share them with the table. With small serving sizes you're able to try more! It won't be a challenge to find restaurants serving mezze but some of the best I've eaten were in Kadikoy in shops that are double duty restaurants and grocers. Fried fish, pulsed vegetables mixed with spices to create savory dips, and of course cheeses are all available. Don't worry if you don't speak Turkish just point and try a bit of whatever looks good.
To cap off an amazing day of eating you must try Turkish delight (lokum). Go with the traditional variety found in shops everywhere or go gourmet. At Sahi you're able to choose your own ingredients and watch them make it before your eyes. Everything is boxed for you to take home – if it makes it that far. I suggest trying the milk version as it is different from the other types of lokum found in shops.
There's no doubt that you'll find countless other food and snacks to try around the city, this list barely touches the top of the Turkish food iceberg. Let your nose (and stomach) guide you!
Amanda is an American expat living in Marrakech, Morocco. She writes the website MarocMama.com sharing culinary adventures and cultural experiences from around the world – and especially Morocco. Along with her husband she owns and operates Marrakech Food Tours, showing visitors to her adopted city the best eats. 
Comments