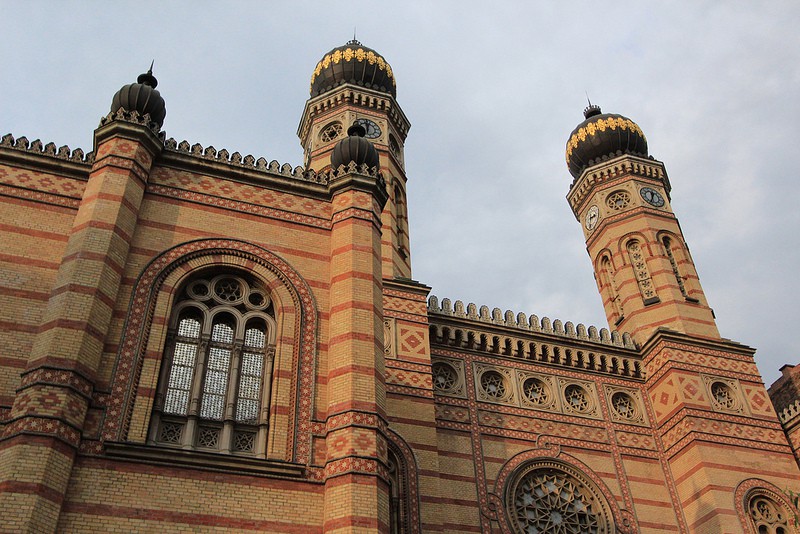 Budapest is home to the third largest Jewish community in Europe, and during Hanukkah the city is lit up by Hanukkah—special nine-branched menorah (candelabrum) used to celebrate this important Jewish holiday. Each evening throughout the eight-day holiday, one candle on the menorah is lit (the ninth, central holder is used to light all other candles), in commemoration of the historical reoccupation of the Holy Temple in Jerusalem, after a war against the Greeks in the 2nd century BCE. After retaking the Temple, the Jews found that despite only having enough oil for one day, they were miraculously able to burn it for eight—enough time to ritually cleanse the Temple and rededicate it.
Hanukkah is unique among Jewish traditions in that it is a very public celebration. Most Jewish ceremonies take place in private, and despite the fact that Jews never engaged in missionary work, during Hanukkah we say "spread the news of the Jewish miracle", display the menorahs in the windows of our homes, and encourage participation from the wider community. Due to the universality of the event, and because it often takes place so close to Christmas, Hanukkah has become a symbol of peaceful pluralistic coexistence, tolerance, and a joint celebration of the winter holidays.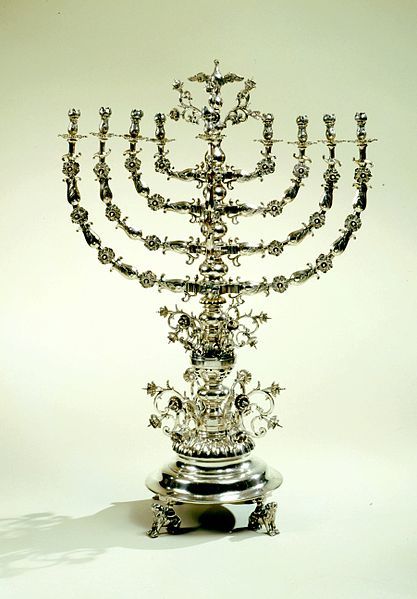 Today, throughout cities across the US and Europe, it is common to see joyful Hanukkah celebrations, organised by the Hasidic group known as Chabad Lubavitch. In Hungary, the festivities take place in three Budapest squares: Nyugati tér, Szél Kálman tér and Deák tér, where the ritual lighting is accompanied by Eastern European Klezmer music, traditional dancing and Hanukkah doughnuts (sufganiyot) handed out to curious spectators as they gather around the huge Hanukkah.
To groups like Chabad Lubavitch, this public revelry is a celebration of Jewish identity through an attractive, joyful, and even "trendy" representation of Jewishness, in order to reach out to Jews, to encourage them to be proud of their Jewish identity, and to bring them back to the traditions of the religion. In Hungary this goal plays a significant role, given that here the majority of Jews still choose not to be publicly Jewish, to deny their origins and keep their Jewish heritage a secret.
However, as part of the new Jewish revival after the fall of communism, many secular Jewish youth organisations have put on non-orthodox, countercultural Hanukkah festivals in a contemporary framework. In the last few years a group called Marom organised a Light festival called Negyed6negyed7, whose name refers to shed lights of the formerly dark Jewish ghettos of Budapest's sixth and seventh district. This part of the town is currently considered the hippest entertainment neighbourhood, with hundreds of ruin bars, Kosher-style restaurants, Jewish literary cafes and theatres, all in the shadow of a three spectacular synagogues: the art nouveau orthodox Kazinczy synagogue, the Great synagogue, and the Rumbach Street synagogue built by Otto Wagner.
A visit to Budapest during Hanukkah is magical. Not only for the festive cheer and beautiful winter celebrations, but also because such a public display of Jewish identity would have been simply unimaginable just a few years ago. Today, it's a chance to witness Budapest's Jewish revival in full swing.
Comments