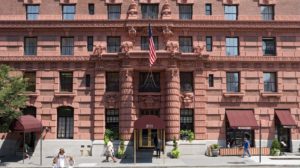 New York is a city filled to the brim with hotels. With all of the new, trendy boutique hotels opening in nearly every neighborhood, many of the long-standing historic and architecturally significant hotels often get overlooked. We asked docent and architectural conservator, Hansel Hernandez-Navarro to share some of his favorites in the city.
201 West 79th Street at Amsterdam Avenue
Manhattan: Upper West Side
1904 Harry B. Mulliken, arch.
12 story Beaux Arts hotel
This beautifully restored 1904 landmark building is one of the most elegant hotels in all of Manhattan. It is one of Manhattan's best French Beaux Arts buildings of the early 20th-century. Its 12 floors feature 142 individual rooms and 42 suites.  The staff is always helpful, polite, friendly, and willing to give advice. The location of the hotel can't be beat: one block to Broadway's shopping district, two blocks to the American Museum of Natural History, three blocks to Central Park and Riverside Park, ten minute walk to the Metropolitan Museum of Art, plus short walks to two subway lines.  The corridor along Amsterdam Avenue features a plethora of restaurants of every imaginable cuisine and culture; from New York Italian pizza, to authentic Jewish delis, delicious Chinese food, and fancy French treats.
Hotel Belleclaire
250 West 77th Street at Broadway
Manhattan: Upper West Side
1903 Emery Roth, arch.
Art Nouveau/Viennese Secessionist Style
This is another of a number of luxury apartment hotels constructed in Manhattan's Upper West Side at the turn of the century, and was the first major commission Roth received before embarking on a very long and successful architecture practice in America. The Hotel Belleclaire, with its references to Art Nouveau and Viennese Secessionism, represents a fascinating stylistic anomaly in the history of New York architecture.  Characterized by its round corner, arched bays, and suspended large bay windows, the building at one time featured a dome and rooftop amenities. Among its famous guest was the Russian author and champion of Socialist Realism, Maxim Gorky.  The building underwent an extensive restoration in recent years and has now re-emerged as an elegant boutique hotel. It is located only a block from the famous Apthorp Apartments, the full block Renaissance Revival building was designed in 1908, and the No. 1 subway line.
Incentra Village House
30-32 8th Avenue
Manhattan: Greenwich Village
1841 Greek Revival
This pair of brick houses feature three stories with muntined double-hung windows and wood cornices, splayed window and door lintels in very elegant Greek Revival fashion. They were built for William Faulkner, who ran a cart business in New York.  Located in the heart of the historic and designated Greenwich Village, the inn features a remarkable Victorian parlor with antiques and two working fireplaces, and even a baby grand piano from the 1930s. The thirteen rooms available are elegantly designed, and some are even theme-related. Some rooms feature kitchens and kitchnettes. Larger suites can accommodate up to groups of four.  Because of its location and charm, this inn captures the feeling and ambiance of early 19th-century New York.
Comments