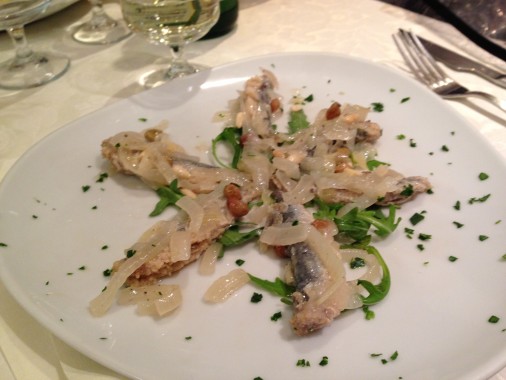 What was once a method for preserving fish has now become one of the most typical dishes in Venice.  You can find sarde in saor  ("sweet and sour sardines") in any restaurant or osteria in Venice and it is often presented in the form of cicheti (Venice's tapas-sized appetizers). Sarde in saor is a popular dish throughout the year, and traditionally served, along with bigoli in salsa and prosecco, during the Redentore, when Venetians take their boats into the Grand Canal and Bacino San Marco and eat and drink until around 11pm when fireworks begin.
Traditionally, sarde in saor were prepared by fishermen on their boat as a means of preserving the fish for many days. Originally the recipe was prepared with sardines, flour, onion and vinegar. Onion and vinegar confer the fish "saor" which is Venetian dialect for "sapore" (flavor). During the Renaissance people started adding raisins and pine nuts in order to sweeten the breath of the person eating the dish. "The use of these two additional ingredients is considered nowadays the winter version of the recipe, to give the dish more heft, but  we use them all the time" remarks Monica Vidoni, historian and Venetian food docent.
Although the basic idea of ​​treating fish (or vegetables) with vinegar to enhance its characteristics and extend its shelf life finds many parallels throughout the Italian peninsula (such as the Southern "scapece" or the Lombard "carpione") the saor recipe is a use unique to Venice. Why? First there is the inclusion of onions from the gardens of the lagoon islands or Chioggia, which is browned and made ​​sweet by a gentle steaming. This is what also gives a sweet and unmistakable flavor to traditional Venetian specialties (e.g. Fegato alla Veneziana and Baccala' alla cappuccina).  Another unique trait are the spices. Raisins, known by Venetian's as uva sultanina (sultan grapes), and pine nuts would have made their way to Venice from the Greek islands and Turkey. This voyage is a reminder of  Venice as the door to the East, and its place as the primary trade port for spices bound for western and northern Europe.
There are many different ways to prepare sarde in saor, one version adds thinly sliced lemon prior to serving, another one removes only the fish head leaving the spine in. We asked our Venetian food docent, Monica Vidoni, to share her Sarde in Saor recipe with us.
Sarde in Saor
When selecting the sardines: look (as with all fish) for clear (not cloudy) eyes, and firm flesh – stick your finger into a few; the flesh should be firm and your finger should not leave an imprint.
(all quantities are approximate – don't worry too much about precision in this recipe)
1 kg (2 lbs) sardines
1 kg (2 lbs) onions
1/2 liter (2 cups) white wine vinegar
1/4 liter (1 cup) white wine
30 grams (3.5 tablespoons) pine nuts
30 grams (3 tablespoons) raisins
flour
salt
pepper
vegetable oil
Rinse the sardines and remove heads (typically done by hand).  Remove spine and open each fish, butterfly style (optional).  Light flour, and then lightly fry in oil.  Remove and dry on paper towels.
Cut the onions very thinly.  Cook in oil until softened, then add vinegar and wine, salt and pepper; cook until liquid is mostly absorbed, adding pine nuts and raisins toward the end.
Spread the sardines in a layer, and cover with a layer of the onion mixture.  Depending on the quantity and the size of the pan, you may repeat this, alternating layers of sarde and layers of onion.  But you can also just pour the onion mix over one layer of fish; it will still taste fabulous.  Cover with foil or plastic wrap.  This dish should be eaten at room temperature.
This dish should sit for a minimum of 24 hours; the longer you wait to eat it, the better it is: sweet, sour, salty and succulent, all at the same time !
Comments