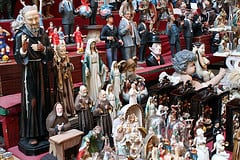 One of the best things about being in Italy for the holidays, is soaking up all of the sights and smells.  Italians love to decorate year-round, but really go all out during the holidays.  Leave time for a passeggiata before or after dinner each night , the Christmas lights and nativity scenes are not to be missed!  If you smell something delicious as you walk, stop to try it!  Keep your eye out for chestnuts being roasted on street corners, mulled wine sold from kiosks, and wonderful cakes and pastries in the bakeries.  Panettone (a light, bread-like cake with candied fruit throughout), pandoro (another bread-like cake, this time covered in powdered sugar) and panforte (a denser cake filled with candied fruits and often nuts) are some of the holiday specialties.  Check out our recommendation list below for a city-by-city guide to fun things to do and see in Italy through New Years.
ROME
-Rome's nativity scene museum, the Museo Tipologico Internazionale del Presepio, is open year-round, but is especially apropos this time of year.  It houses an amazing collection of nativity scenes, dating back as far as the 17th century and made from a myriad of materials.  Open Wednesdays and Saturdays, 5pm-8pm.  From Dec. 25th through Jan. 8th, the museum is open all weekdays, from 5pm to 8pm.  Entry is free, donations are welcomed.
–ice skating by Castello Sant'Angelo…the setting alone is magnificent, plus there is a small Christmas market nearby for those who don't want to skate.  Open daily, 10am to midnight, during the holiday season.
-one of Rome's biggest Christmas markets is in Piazza Navona.  Open late, this market is a little more touristy, but features a merry-go-round for the kids, nativity scenes, food stalls, and possible even a visit from Santa Claus or the traditional figure of La Befana, a benevolent old woman who delivers candy and gifts to Italian children on the Epiphany.
-while quite a few restaurants will be open on Christmas Eve and Christmas Day, they are notoriously reticent in clarifying their opening hours, or revealing their menus (often set menus at a set price).  Check our Tavole Romane's Food Tours in Rome blog for some good suggestions.  We also love Katie Parla's restaurant suggestions.  Her blog post is from last year, however the same restaurants are typically open year-to-year.  We highly recommend making reservations in advance!
-if you are looking to do something special with us, we are offering a holiday walk of the nativities, as well as a walk focusing on food specialties of the season.
NAPLES
-check out the Christmas exhibition and market at the Mostra d'Oltramare di Napoli (Viale John F. Kennedy, #54) with food, gifts and an ice rink!  The exhibition opens Dec. 14th – Jan. 8th, but is closed Dec. 24th, 25th, 26th, 31st and Jan. 1st.  Entry is free.
-a stroll down Via San Gregorio Armeno is not to be missed!  Year-round, this street is crowded with shops making figurines for presepi (creche or nativities) but during the holidays, the street really turns up the charm, with some vendors even dressing in traditional shepherds' clothing!  You can make an afternoon of it, also visiting the nearby Christmas market in Piazza Gerolomini.
-if you would like to learn more about Neapolitan Christmas Traditions, join us on our Naples holiday walk!
-on December 18th, there will be a candlelit Christmas Carol service at Christ Church Naples (Via San Pasquale, 15/b), which serves the English-speaking community of Naples.  The service is at 4pm.
FLORENCE
-The Heidelberg Weihnachtsmarkt in Piazza Santa Croce is a fun twist on the Italian Christmas market, bringing Germany to Florence, with wooden stalls featuring classic German sweets (strudel, candy, stollen) and other edible delights (wursts, spiced wine, and beer of course!), as well as traditional German toys and decorations.  Nov. 30th through Dec. 18th.
-visit the Chapel of the Magi, also included on our Medici walking tour, in the Palazzo Medici Riccardi to revisit the story of the three Magi.  Open weekdays and holidays from 9am until 7pm, closed on Wednesdays.  Tickets €2.5-€4.
-there is a traditional Italian Christmas market in Piazza Santo Spirito on December 18th, which typically features handmade crafts, local and organic foodstuffs, and other items of high quality.
–ice skating can be found in the Piazza della Liberta', daily until January 8th.  The rink is open from 10am until 11:30pm (1am on weekends).  Skates can be rented for €6.
-if you are looking to take an excursion outside of the city, the small town of Fiesole (reachable by bus, about 30 minutes or so) hosts a Christmas market Tuesday Dec. 13th and Wed. Dec 14th, in the medieval cloister of the Badia Fiesolana.  Tuesday will also feature a Christmas concert.  Hours are: Tues. 3pm-9pm, Wed. 10am-6pm.  If you go for the day, spend some time exploring Fiesole's Etruscan ruins.
VENICE
-as in most Italian cities, keep your eye our for amazing presepi, or nativities.  Holiday lights, outdoor markets and concerts will be plentiful, but only in Venice might you see Santa poling down the canal in his red boat!
-Campo Santo Stefano becomes a Christmas Village throughout December, with wooden houses and stalls selling Venetian crafts…warm up with some Vin Brulee (hot mulled wine)!
-on December 26th, the Basilica di Santa Maria Gloriosa dei Frari (also known simply as the Frari) offers a holiday concert from 4pm-6pm.  Entrance is free, so we recommend going early.  Campo dei Frari, San Polo district.
-January 6th features La Regatta delle Befane (boat races featuring La Befana or the good witch who gives out presents and candy) down the Grand Canal.  Members of various rowing clubs dress up as the Befana (think old crones in long skirts) and race each other down the canal.  The first one to reach the Rialto bridge, wins the giant stocking of gifts which traditionally hangs from the bridge.  The wives of the club members are typically also dressed as the Befana, and hand out candy and treats to the crowds.
A final recommendation for all of our cities: be spontaneous, and take advantage of holiday offerings as you pass by.  If you see a poster for an interesting holiday concert or event, see if there are tickets left.  Everyone in the piazza is munching on the same delicious-looking snack?  Follow the scent and try one yourself.  Often the most memorable trip experiences, are those you didn't plan on having!
Comments