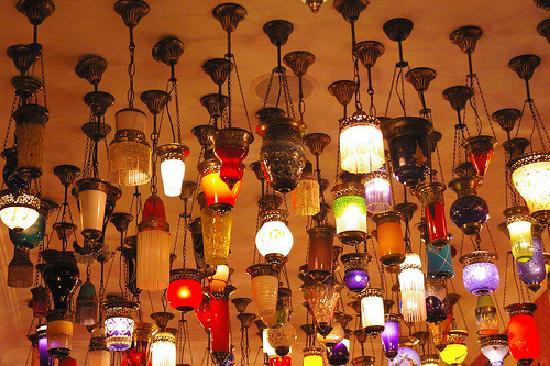 A few weeks ago we sat down docent Ann Marie Mershon, a co-author of the amazing Istanbul's Bazaar Quarter, and asked her to share her suggestions for good hotels in Sultanahmet, the historic center of Istanbul where it's tough to find a decent hotel. It's a question we get asked quite a bit, and in her role as a kind of unofficial ambassador of the city (Mershon also teaches in a local British school) she came up with some helpful ideas.
Istanbul is an amazing city, and some of us prefer to travel on a shoestring—or perhaps we'd rather save our money for great meals and tours rather than a fancy hotel room. So—are there any good hotels in Istanbul that won't break the bank? As an English teacher in Istanbul, I did some research and surveyed fellow teachers to find some excellent hotels in the city.
REMEMBER—this is Turkey. Always ask for a discount, especially for paying cash (up to 10% off). Many hotels will negotiate if they have rooms available. These prices all include breakfast, and the lowest rates are usually single rooms off-season.
1. At the top of my list is the Ada Hotel, a lovely hotel that overlooks the Marmara, not far from the Blue Mosque. It has a very unassuming façade—barely a sign, but that's where its humility stops. Each pristine room is tastefully decorated and outfitted with a tea kettle, coffee, and tea. Of course, the hotel also includes breakfast and a spectacular view on the top floor, overlooking the Sokullu Paşa Mosque, the broken minaret, and the Marmara. All that for 39 to 149 Euros. You need to call to get the lowest rates. +90 212-518-8475. Oh—it also has an elevator, a rare feature in small hotels.
2.  There's also the Hotel Türkoman, just a block from the Hippodrome, it offers a stellar view of the Blue Mosque and the Haghia Sophia from its top story restaurant/bar. There's no elevator, so be prepared to climb. The rooms are decorated with antiques and Turkish rugs, and they're always very clean (#80 on Trip Advisor*). A standard double off-season is 40 Euros, 60 Euros in season. +90 212- 516-2956.
3. Another good bet is the Alp Hotel, a renovated Ottoman house below the Four Seasons and the Haghia Sophia. The hotel has been recently remodeled, decorated in Ottoman style with modern bath fixtures. The rooftop terrace bar/breakfast room has amazing views, as do many of these hotels. Off-season rates start at 35 Euros, and high-season rates start at 55 Euros. +90 212-517-7067
4. Moving on, we have the Hanedan Hotel, another small hotel near the Alp Hotel, just below the Four Seasons and the Haghia Sophia. This is a quiet hotel, with tastefully decorated Ottoman-style rooms. Their terrace features views of the Marmara, the Blue Mosque, and the Haghia Sophia. Rooms run from 30 to 90 Euros. +90 212-516-4869
5. The Side Hotel is a long-time favorite of many Istanbul teachers. It's a pension and hotel, with cheaper rooms on the pension side. All the rooms are nicely decorated and clean with modern bath facitilies. The lobby area is a little dark, but the spacious top floor lounge and breakfast room features Ottoman furnishings, lounging pillows, and a spectacular view of the Blue Mosque and Haghia Sophia. Some people have complained about the gruff desk service. Rooms range from 25 Euros off-season (no private bath) to 110 Euros for an apartment. +90 212-458-5870
6. My last Sultanahmet recommendation is the Osmanhan Hotel, a bit pricier than the others, but this sweet 7-room hotel offers a discount for paying cash. The rooms range from about 60 to 120 euros a night. Their rooftop terrace restaurant starts your day with a delicious breakfast and spectacular view overlooking the Marmara. +90 212-458-7702
7. Another lovely hotel is the Uyan Hotel, located beside the Seven Hills Hotel just a few blocks from the Haghia Sophia. The décor includes many antiques, and the service is friendly. Rooms range from 66 Euros to 160 Euros for a deluxe room. In addition to its superb location, this hotel has been recently restored. It has an elevator and a lovely rooftop restaurant. +90 212 5189255
8. One of my favorite Istanbul hotels is the Kybele, a turquoise boutique hotel near the Basilica Cistern. Owned by three brothers, its trademark décor features antiques and colored hanging lamps. Thousands of multi-colored lamps hang from the ceilings of the lobby, breakfast room, and every guest room. A charming second-story outdoor terrace courtyard is refreshing on warm days, and a few steps up there's a meticulously painted and decorated Ottoman reading room. If you're really lucky, you'll also discover the "treasure trove" shop where you can sift through antique clothing, textiles, carpets, kilims, and antiques as you chat and bargain with Mike, one of the owners. Rooms start at 80 Euros (for a tiny double). +90 212-511-7766
9. One last addition is a private 2-bedroom apartment with a spectacular view overlooking the Marmara Sea. This building is 5 blocks from the Blue Mosque and about 6 blocks from the Grand Bazaar, but this apartment offers even more. It is owned by a master rug designer, the very charming Musa Başaran. He charges 100 euros a night for this fully-appointed apartment, including a kitchen, balcony, living/dining area, 2 bedrooms, a bath, TV and wireless internet (500 a week, $800 for two weeks, and $1500 a month). Off-season rates are discounted to these amounts in dollars. You can see photos on the web and email Musa directly.
Comments