What Milan lacks in looks, it makes up for in variety. Nowhere else in Italy you'll find such a diverse offer of museums, theaters, bars and contemporary culture in general. This diversity is also reflected in restaurants – it's not all about traditional restaurants with nonna in the kitchen.
Since the early 20th century, immigrants from Africa, South America and Asia have settled in Milan, opening restaurant that range from simple family eateries to top-notch fusion establishments. At the same time, people from all over Italy have moved to the city in search of work, bringing their traditional cuisine along.
I'm going to share with you five of my favorite restaurants in Milan, five establishments away from the tourist circuits, representative of the different facets of Milan's diverse dining scene.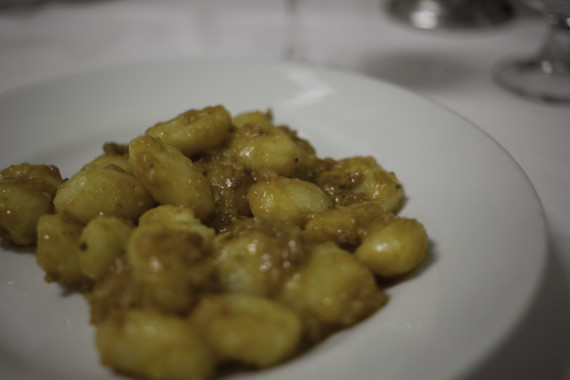 Trattoria Albero Fiorito
This is one of the last survivors of a humble species, the trattoria. Trattoria were simple, family-run restaurants offering cheap and filling meals. Many opened in post war times to cater to factory-workers.
Albero Fiorito is run by an often-grumpy couple from Friuli, and offers home-cooked soups, pasta dishes from €2, and main courses from €4 – washed down by tasty house wine. Walking into the restaurant is like stepping into a time machine that takes you back with the 1960s – but make sure you don't turn up after 12, as the place is always full and they don't take bookings.
And don't take pictures, or you'll be kicked out.
Address and opening times: Via Privata Pellizzone, 14. Open lunchtime only, Mon.-Sat.
Price: less than €15 per person
La Taverna
You'll find pizza on every other corner in Milan, from oily deep-pan affairs to paper thin ones. In my opinion, La Taverna is the best in the whole city. The pizza is Neapolitan style, runny in the middle with a thick, fluffy crust to mop up the tomato and mozzarella goodness. For something truly scrumptious, go for 'salsiccia e friarielli', a Neapolitan traditional topping of sausage and tangy, slightly bitter greens.
There are two La Taverna restaurants, both located near Corso XXII Marzo, a 10 min tram ride from the center. L'Altra Taverna has an outdoor section for alfresco dining, perfect on a warm spring night.
Address and opening times: La Taverna – Via Anzani, 3. Closed Sunday lunch and Monday. L'Altra Taverna – Via Cadore 8. Closed Tuesday and Thursday lunch.
Price: about €20 per person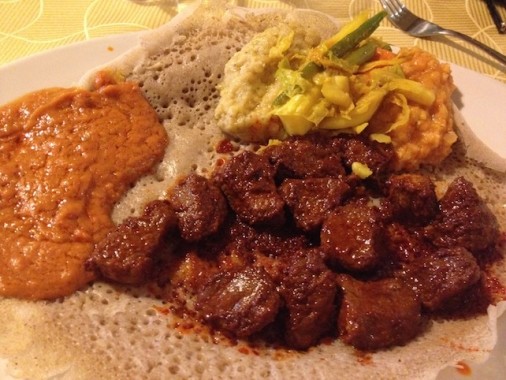 Kilimangiaro
The streets around Via Melzo and Via Lazzaro Palazzi in Porta Venezia have been home to the Eritrean community since post-war times. My father grew up in Porta Venezia and remembers going for zighini (spicy beef stew) in the 1960s with his family.
There are several Ethiopian and Eritrean restaurants in the area but my favorite is Kilimangiaro, serving tasty stews on injera bread, eaten with your fingers. Vegan food is also available by request – many Ethiopians and Eritreans keep a vegan diet for part of the year for religious reasons.
Address and opening times: Via Casati 7/9. Closed Sunday.
Price: about €20 per person
Temakinho
The Milanese love sushi – one of our favorite nights out is a 'sushino' with friends.
Temakinho is dedicated to the Brazilian version of sushi and offers rolls to die for, with creative ingredients like passion fruit, porcini mushrooms and fried salmon, washed down with fruity caipirinha. Make sure you book in advance, it's very popular.
Address and opening times: Ripa di Porta Ticinese 37 & Corso Garibaldi 59. Open every day.
Price: about €30 per person
Ratana
Milan also has its own traditional cuisine with dishes that often have their origin in the city's historical past. For instance, cotoletta alla Milanese is a lighter version of Austrian veal schnitzel – Milan was part of Austria for a century and a half. Cassoeula is a country dish made with cheap cuts of pork and cabbage, which perhaps originates from French cassoulet. A good place to try a modern and creative version of Milanese food is Ratana, offering a tasting menu and daily specials.
Address and opening times: Via De Castillia, 28. Open every day.
Price: about €50 per person
**
Margherita, one of our Deep Travelers, co-runs The Crowded Planet blog.
Comments